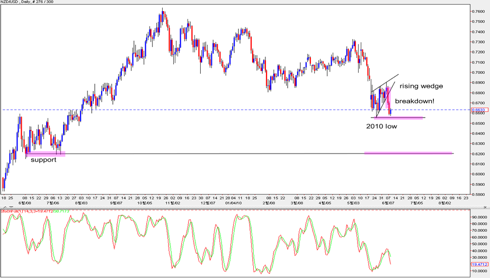 In my post last Friday about the NZDUSD, I asked if the Kiwi's recent surge against the greenback was about to turn sour. During the past couple of weeks. the NZDUSD had noticibly been rallying within a rising wedge formation. Technicals traders, however, deem this pattern as bearish since for them wedges just represent a correction in prices. I also noted last Friday that the pair was having a hard time in going past the 0.6850 resistance. The innevitable happened during Friday's US session when the pair eventually broke down from the rising wedge pattern. Worse, the pair even gapped down to during the start of Monday's trading as the Asian market priced-in  the recent events that had happened in the US and Europe.
Presently, the pair is trading around 0.6600. A break below its 2010 low or the 0.6550 psychological support could send it all the way to 0.6200.
On the sentiment side, the announcement of the Hungarian officials regarding the possiblity of a sovereign debt default by Hungary sparked some fears that the debt crisis in the euro zone are already preading across the continent. This, of course, led to a broadbased selling of the higher yielding currencies like the NZD. On a separate report, the weaker-than-expected US non-farm employment change (431k vs. 5521k) also added to the market's already weak confidence that further weighed on the non-dollar currencies.
Tomorrow's possible rate hike by the Reserve Bank of NEw Zealand coulg, however, provide some temporary lift for the Kiwi. The central's bank's rate is seen to be raised to 2.75% from 2.50%. DEspite the coutry's notable improvement in its jobless rate (from 7.1% to 6.0%), its retail sales account failed to meet its 1.2% growth projection during the last month with only a 0.5% gain. Nore also that its big brother, the RBA, halted its rate hikes this month due to a significant drop in housing. If the RBNZ does the same espcially given the market's projection, the Kiwi could once again take another blow. A rate hike, on the on hand, could slow down the currency's present decline.

More on LaidTrades.com ...
Disclosure:
No positions