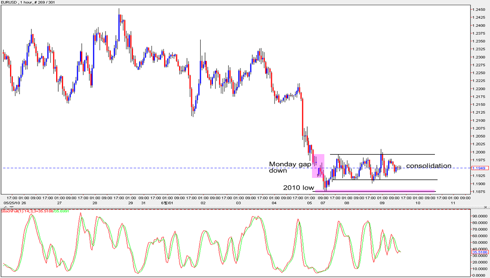 Remember when I told you in my last post about the fiber (EURUSD) that the anti-dollar currencies, the euro in particular, could gap down to start the week? Well, guess what happened? Ha! If you look at the pair's one hour chart, you can see that the pair indeed gapped down to open the week. Like the Aussie in my other post, the euro also continued to fall when the gap got filled up. It then fell by about a hundred pips to mark a new 2010 low at 1.1874. After, it rallied close to 1.200 before being boxed between 1.1911 and the latter. A break above 1.200 could send the pair back to the previous supports at 1.2100 or even at 1.2150. A fall below this year's low at 1.1874, on the other hand, could place it back on its course towards the downside target (1.1600) of the descending triangle that got recently broken in its daily chart. In any case, the pair would likely continue its trek downside over the long term until it breaks its long term downtrend line and reverses.
(Update) Fundamentally, the pair just cleared the rectangle's resistance at 1.2000 due to the rally in the US equities markets. US stocks as well as the non-dollar currencies are presently on the rise  (as of this writing) due to a 50% year-over-year advance in Chinese exports. Wow! Given this, the euro could aim for 1.2100 or 1.2150 over the short term before encountering some selling pressure again. While a 50% jump sounds astonishing in a way, it also means that China has 'crowded out' the exports of the other countries like the ones in the euro zone. This, of course, does not reflect positively on the euro zone's economy and the EUR. Another factor that could eventually push the euro down is when Greece defaults or postpones its dues. In fact, according to  recent poll,about 75% believes that Greece would default soon while 40% sees the country abandoning the euro. If any of these two takes place, the euro would definitely take a blow. Dollar-parity, anyone?

More on LaidTrades.com ...
Disclosure:
No positions