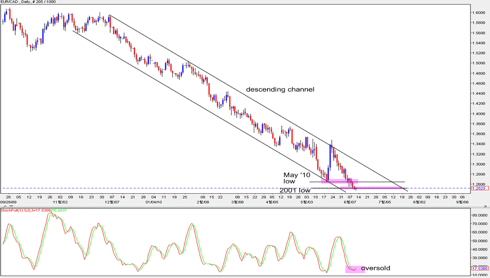 The Canadian dollar has continued to gain against euro for several months now. Notice that the EURCAD pair hasbeen sliding along a descending triangle. In my last post (click here) about the pair, it already marked a new 2010 low in May at 1.2642 before staging a strong rally. This week, though, it was already able to move below  the mentioned level and mark a new low at least for this year. At present, the pair is trading around 1.2500 which is very near its 10-year low. A break of this level could send it very close to parity. But with the stochastics in the oversold territoy, it could range for awhile before continuing its descent. In any case, the pair would likely fall unless it is able to break the decending channel's resistance and reverse.
On the fundamental side, I guess by now we pretty much know what is behind the weakness in the euro. The debt problem in the euro zone, especially the one in Greece, has been plaguing the region. Recently, Hungary also joined the party with some statements that it could p[ossibly fall into default as well. Just this week, 75% of the people that were polled think that Greece would eventually pass on their dues while a good 40% believes that the country would drop using the euro as their currency. While this poll is just a tally on the market's outlook and is not representative of what is really gonna happen, it still pretty much affects and weighs on the current valuation of the higher yielding assets and the euro.  Any suchevent would more likely reduce the euro closer or even past the Loonie-parity.
Canada's economy, on the one hand, is one of the better ones this year with its GDP rising by 0.6% during the first quarter of the year. Given its stellar retail sales and the sustained improvement in its housing market, the Bank of Canada had recently upped its interest rate to 0.50% from 0.25%, making the Canadian more attractive than the euro. The Loonie's advantage in interest rate plus Canada's stronger economy favors a decline in the EURCAD pair.

More on LaidTrades.com ...
Disclosure:
No positions