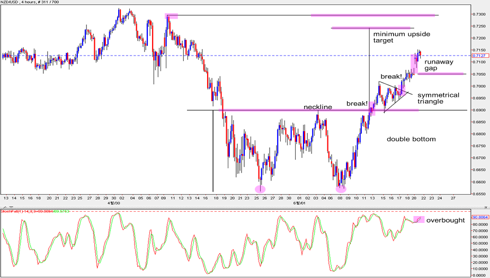 Like what I said in my previous blog about the NZDUSD pair last June 17, the could be a short term buy on it. At that time, the pair had already broken out from a double bottom pattern. It then continued to consolidate within a symmetrical triangle before breaking out again. Furthermore, it also gapped up to begin this week's trading. Presently, the pair is trading around 0.7100. However, I think that the New Zealand dollar will pare some of its gains over the greenback for awhile and consolidate probably within some continuation pattern (triangle or box) or even retrace given its overbought conditions before moving up again. If it slips, it could fall back to the bottom of this week's gap before making a move towards its minimum upside target just above 0.7200.
Fundamentally, news that China will shift its currency policy from being fixed and pegged to the USD to a more market oriented one sent the higher yielding currencies higher and the US dollar weaker during for the most part of yesterday's trading. However, the early rally was not sustained and the Kiwi manged to close only with a modest gain. In any case, the forecasted improvement in New Zealand's current account balance from -NZ$3.57 billion to 0nly -NZ$ 0.30 billion could support the NZD. The result of this will be billed tomorrow. However, today's big time economic updates from the euro zone, Canada, and the US could definitely sway the currency's valuation especially if there are any deviations between the actual result and the market's forecast. Germany will report the latest result of the Ifo business climate survey which is seen to cool off a bit to 101.2 from 101. while Canada is set to release its inflation figures for the month of May with its headline number projected to print a modest 0.1% gain from last month's 0.3%. The US, on the other hand, is anticip[ating a 6.17M number from its May exiting home sales. An upside from any of these accounts would likely spur some risk taking which would consequently lift the NZD.

More on LaidTrades.com ...
Disclosure:
No positions