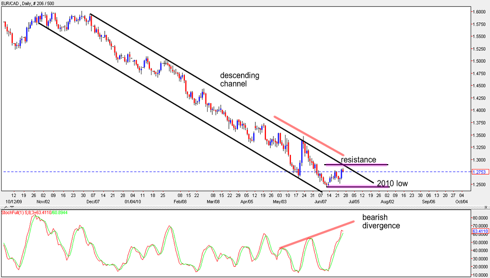 Hello Forex peeps! Here's an update of the EURCAD that I posted last June 10. As you can see, the pair continued to slide along a nice descending channel which began November of 2009. As I have mentioned in my previous post, the pair indeed rallied a bit after marking a new 2010 low of 1.2447. At that time, conditions were already overbought and those who had shorted the euro may have covered at least part of their positions to pocket some profits.
At present, the pair is trading around the 1.2750 area. In my view, it still has room to move up since the stochastics is not yet in the overbought area. Though, if it rises, it would likely meet some selling pressure right at the resistance of the descending channel. The presence of a bearish divergence, where the price registers lower highs and the stochs marks lower lows, likewise indicates a possible turnaround soon. If and when it slides and weakens, it could revisit its 2010 low yet again. So as long as the channel remains in tact, the pair would likely continue its journey down south.
Fundamentally, both equities and the higher yielding currencies retreated yesterday when the US Federal Reserve cautioned the market that the recovery in the US economy is "uneven" due to the developments oversees, implying the debt crisis in Europe. The US's latest housing figures proved to be weak which prompted the central hold their accommodative monetary policy. Today, the higher yielding currencies like the Canadian dollar could once again weaken if the US's durable goods orders and unemployment claims figures fail to impress. The core durable goods orders for the month of May is seen to have grown by 1.1%, though, its headline number is projected to have wilted by 1.2%. Its initial jobless claims for the week ending June 19, on the other hand, will likely post a 461k tally. 
More on
LaidTrades.com
...
Disclosure:
No positions