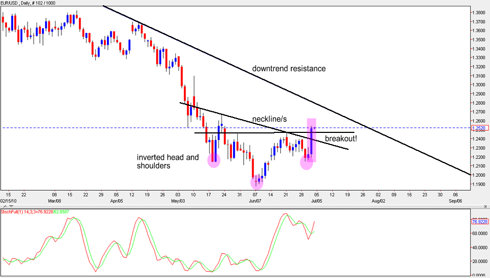 Good day euro fans! Now, if you're one of the lucky ones who are still long on the euro then yesterday was your lucky day as the EURUSD pair surged by more than 200 pips! The EURUSD opened at 1.4957 and closed at 1.5163. Contrary its previous inclination which I mentioned in my last post about the pair back in June 21 (kindly check it here), the euro has also beaten the odds with one swift move yesterday. Now, it appears that the euro bears went back inside their caves as the bulls came rushing. Looking at its daily chart, it seems that the pair has broken out of a inverted head and shoulders formation. If this gets validated then the pair could continue its rise though it would likely meet some heavy selling pressure at the downtrend resistance. A break of this downtrend line would give the euro bulls some additional room to run. But if the downtrend holds and the euro falls again then its immediate supports would be at the head and shoulders neckline, 1.2200, and its 2010 low at 1.1876.
Like what I mentioned in my other blog earlier today (see it here), yesterday's price action is a bit off since any downbeat economic updates from the US usually leads to a sell-off in the anti-dollar currencies like the EUR. Instead of crashing after a barrage of weak reports (initial jobless claims, ISM manufacturing PMI, and pending home sales), the euro soared by its most single day gain in a year of more than 200 pips. We all know that the euro zone is still hampered with debt concerns as Spain has been recently placed into the watch list by the international ratings agency, Moody's. Yesterday's price action, though, indicated that investors have 'priced-in' the US's lackluster fundamentals into its currency. The money flow  among currencies, though, remains to be influenced by risk sentiment, where the USD and JPY are favored over the others during times of risk aversion, assuming that this trend holds. However, given yesterday's trading, its quite hard where the currencies will head following today's NFP report.
Speaking of the NFP report, currencies as well as the equities markets would surely experience some volatility upon the release of its June result today at 12:30 pm GMT. US firms have likely slashed about 110k workers in June which would cause the US's unemployment rate to rise to 9.8% from 9.7%. Another drop in equities would happen if this is indeed the case or worse.
More on
LaidTrades.com
...
Disclosure:
No positions