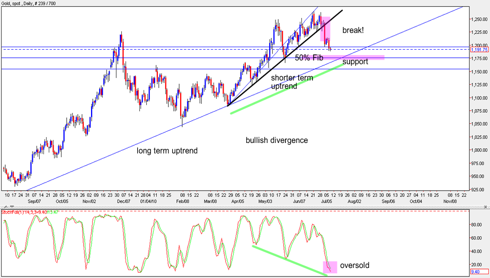 Good day finance fans! Here's an update on the price action of gold which I last posted on June 28 (kindly see my previous entry here). As you can see, the price of gold has weakened after it marked a new all-time high at $1,265.05 per ounce on June 21. Gold has a possibility to dip a little more since it has already broken its shorter term uptrend line. Despite doing so, its long term uptrend remains to be intact and as long as it is, the price of gold would likely trek higher over the longer time frame. With the stochastics in the oversold area, traders could indeed buy it back up any time soon. The presence of a bullish divergence, where the price registers higher highs and the stochastics mark lower lows, also suggest a likely bullish continuation in the coming days. In my opinion, a good long entry point here would be at the intersection of the 50% Fibonacci retracement level that I drew and the long term uptrend line. A break, however, of the long term uptrend line would be a sign of some sour things to come.
Remember that investors generally buy gold during times of economic down swings since unlike most other assets, gold does not lose its intrinsic value. With most of the biggest economies in the world already turning bearish as indicated by the breaks downs in their equity indices (S&P 500, Dow, Nasdaq, FTSE, SSEC), investors and traders alike would surely pull out their funds away from these market and into somewhere where the value of their money could be at least maintained or better. Since gold has been on a bull run as exhibited by its uptrend for almost two years now, investors would likely place their money in it. And given the influx of new funds that that came out of equities, the demand for assets such as gold would likely increase, which of course, would jack up its prices.
If the breakdowns in the mentioned indices worsen and if the Stoxx 500 follows suit, gold will likely be more in demand. Now, if I wish to ride the gold's uptrend, I could either invest in gold itself or in the commodity currencies such as AUD, NZD, and CHF. I could likewise invest in the listed gold mining companies.
More on
LaidTrades.com
...
Disclosure:
No positions