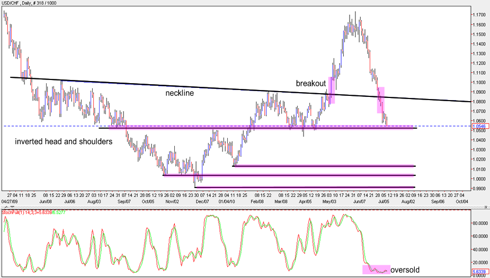 Here's an update on the USDCHF pair which I last posted on June 29 (check my previous entry here). As you can see, the pair had reached a high of 1.1731 after breaking out from an inverted head shoulders formation. For awhile then, things were looking bright for those who were long. Unfortunately, the pair had ran out of gas and has sunk since reaching the mentioned high. It even fell further when it went back inside the neckline of the inverted head and shoulders.
At present, the pair is trading just above 1.0500. Though, it looks to be consolidating again into probably a bearish flag or pennant before moving lower again. Nonetheless, the 1.0500 support should prevent it from falling lower. A break of this level, however, could send it back down to 1.0100, 1.0000, or 0.9900. But given the pair's oversold condition and its recent sharp slide, traders could take some profit, which would cause the pair to rally a bit. If it does, the neckline of the previous head and shoulders would again act as a resistance.
Last week, the unexpected upside in Switzerland's KOF Economic Barometer (2.25 versus 2.17), contributed to the increase in the demand for the Swissy. The pair's decline even became faster when traders and investors alike sold off the greenback despite the US's weak employment, manufacturing PMI and home sales figures. Usually, the opposite occurs since investors tend to fly back to the safety of the USD whenever there's risk aversion in the markets. But last week was a different story.
No other economic reports are due for the rest of the week in Switzerland. Given the lack of economic flows, the pair could stay range bound for awhile. Though, the pair's short term valuation may be affected by the high impact economic updates from the UK, euro zone, and Canada. Stay tune for these upcoming accounts!

More on LaidTrades.com ...
Disclosure:
No positions