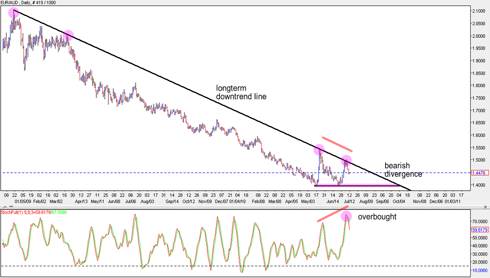 Good day forex people! Here's an update on the EURAUD pair which I last posted way back on May 26 (kindly see that post here). As you can see on today's chart, the pair has continued to slide when it hit a resistance just below 1.5500 after moving past above the shorter term downtrend line. It then fell only to rebound for awhile when it found some support at 1.4000. Its rise, however, was halted yet again by the same downtrend line. Given its overbought condition and the presence of a hidden bearish divergence, where the price registers lower lows and the stochastics mark higher highs, suggest a likely move lower. The 1.4000 marker would be its likely support if it continues to trek south. A break of the downtrend line, though, could bring it back near 1.5500.
The euro's rally was recently overturned by the Aussie. Despite the decision of the Reserve Bank of Australia to keep its benchmark rate unchanged at 4.50%, traders still picked up the Aussie given the governor's somewhat bullish outlook on the country's economy. He mentioned that Australia will likely benefit China's growth since the former is one of the biggest supplier of raw materials to the Chinese.
A couple of other economic reports supported the AUD. First is the better-than-expected May trade balance which came in at A$1.65 billion which was way over the A$0.53 billion projected. Its April's number was also positively revised to A$1.12 billion from A$0.13 billion. Australia's labor market also showed some improvements with firms adding another 45,900 workers in June (vs. 15.3k estimate), which pulled the country's jobless rate down to 5.1% from 5.2%.
No other reports will come out of Australia for the rest of the week. France, on the other hand, will publish its May industrial production which is seen to have gained by 0.3% in after dipping by 0.3%. Germany recently posted an upside in the same account. Such could also be the case for France. In any case, a rise of at least 0.3% could give the euro some short term lift against its peers like the AUD. Between the euro zone and Australia, the latter, however, remains to be the stronger one. And between the euro and the Aussie, the latter remains to be the more attractive given its interest rate advantage (4.50% as against 1.0%).
More on
LaidTrades.com
...
Disclosure:
No positions