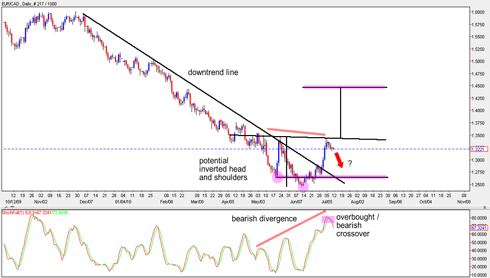 Hello FX fans! In my blog back in June 24 (please check that entry here), I thought that the EURCAD would continue to slide as it traversed a nice looking descending channel. After just four days of trying to break through the downtrend resistance, the buyers eventually won, causing an immediate upsurge in prices. The euro soared over the Canadian dollar after the pair broke above the downtrend, marking a new monthly high at 1.3426.
At present, it appears that the pair is starting to lose its upward momentum. With the stochasting just turning south, traders could take some of their profits, causing the euro's valuation to weaken again. Notice, though, that a potential inverted head and shoulders could be in the making. Are the euro bulls just laying off to set-up a possible uprising? It's possible. In any case, if the pair continues to dip, its likely support would be around 1.2750. A break above 1.3500, on the other hand, could propel the pair all the way to 1.4500.
On the fundamental side, the projected 17,900 increase in Canada's June employment change could lift he Loonie some more especially if the latest tally comes in better than expected. Canadian housing starts for the same month are also predicted to be at 193,000 which is an improvement on the previous month's 189,000 count. Remember that Canada's May building permits unexpectedly skidded by 10.8%. Should this slide continue in the following month, then there could be a downside surprise in the upcoming housing starts release later today. A worse than projected score here could then result in a loonie sell-off. In the longer run, weak Canadian data coupled with the present weakness of the USD could reflect positively on the EURCAD.
More on
LaidTrades.com
...
Disclosure:
No positions