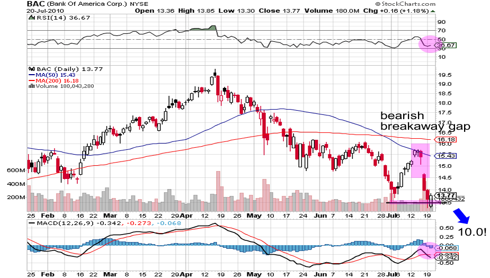 The Bank of America, the largest bank holding company in the US in terms of assets, or the BAC in the New York Stock Exchange reported that its second quarter net earnings had slipped by 3% to $3.12 billion from $3.22 billion in the same leg the year before. Still, the company managed to hike its consumer loan business which caused its quarter-over-quarter net income to expand by 15%. In any case, the drop in its revenues from last year led investors to sell-off its shares.
As you can see from the chart, the shares of BAC made a bearish gap following the company's earnings report. At the present, BAC is exchanging just above the 13.50 support. A break below this level would be critical as its next support would already be at 10.0. Technically, a move lower seems to be more probable. Notice that its shares are already trading below the 50-day and 200-day moving averages. Given this, it would therefore need a lot more buying interest to keep it afloat. Both the RSI and MACD are likewise showing some bearish signals with the former having a score of less than 50 and the latter just turning negative. What's worse is that a bearish gap is usually followed by a couple more gap downs. Time to sell at strength?

More on LaidTrades.com ...
Disclosure:
No positions