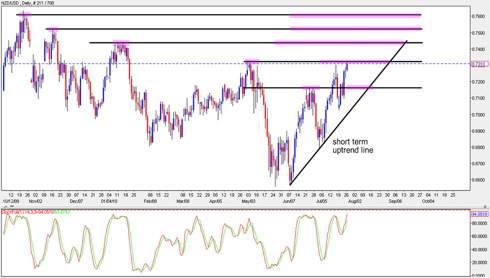 Hiyo peeps! On this post is the daily chart of the NZDUSD pair. As you can see, the pair has been generally trading sideways for the past several months now. Though for the past two months, it has been showing some promising upswings. After falling to a low of 0.6560 back in June, the pair has seen rallied all the way back to 0.7300. If only I was able to buy at June's low, I would have netted about 740 pips already in just two months! Oh well. In any case, the pair now is approaching a critical resistance just above 0.7300. A failure to successfully clear this level could push it down near the short term uptrend line again which is somewhere around 0.7150. A break of the high just above 0.7300, on the other hand, could propel it to 0.7400, 0.7500, or even 0.7600.
On the economic front, it looks like the New Zealand dollar or the Kiwi would be on the bright side of things for this week. You see, on Wednesday at 9:00 pm GMT, the Reserve Bank of New Zealand (RBNZ) is widely expected that it would raise its interest rates from 2.75% to 3.00%. While there is still an outside opportunity that the RBNZ would surprise the markets by not raising its rates, the NZD would still move higher at least up until the release of the central bank's decision. From today until Wednesday, the market still has a lot of time to price in the projected rate hike. The recent rally in the global equities as well due partly to the stellar corporate earnings in the US could also ease the market's tentativeness.
In any case, as what I've mentioned, the RBNZ could also postpone its rate hike due to New Zealand's weaker-than-expected retail sales figures. New Zealand's headline retail sales only grew by 0.4% during the last month compared to the 0.6% consensus. The country's core retail sales likewise tallied a dismal 0.2% dip. Moreover, the softer-than-anticipated quarterly CPI of 0.3% could likewise factor in the bank's decision to hold any rate increases. So if the bank does not hike, then the Kiwi would most likely take a hit.

More on LaidTrades.com ...
Disclosure:
No positions