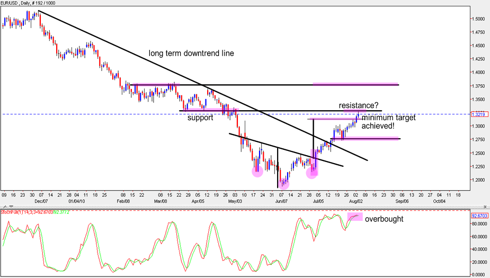 Good day FX maniacs! Here's an update on the fiber or the
EURUSD
pair. As you can see, the pair has managed to bounce off the 1.3000 support and the uptrend line which I noted in my previous post (kindly see it
here
) to mark a new 3-month high. You see, the pair has been rising since it bottomed out back in June 7. And in the process of doing so, it also broke out from a inverted head and shoulders and escaped from its downtrend line, placing it back on the bullish track. If you look at its present chart, you will see that it has recently achieved its minimum upside target (gauged by projecting the height of the pattern from the point of breakout) which I mentioned way back when it had just broken out from the inverted head and shoulders. Still, the pair could be up for a retracement soon. For one, there is a resistance around 1.3270. Moreover, the stochastics is already indicating that conditions are overbought. In case it weakens, it could fall back down to 1.3000 or 1.2750. On the positive side, a break above 1.3270 could propel it higher towards 1.3750.
Fundamentally, the 1.99% jump in the Dow Jones Industrial Average (DJIA) yesterday led investors to dump the US dollar in favor of the higher yielding assets which consequently pushed the anti-dollar currencies like the EUR higher. Corporations in the US like the Coca Cola Company and Chevron topped the market's second quarter earnings forecast, lifting the confidence of the general investors and the market as a whole. A bunch of second and third tier US forms are scheduled to release their financials this week. Now if most of them post some handsome profits for the same period again, then the equities markets together with the non-dollar currencies could still rise. Missed profits, on the other hand, coupled with some profit taking actions could, however, temporarily push the equities and the likes of the euro down.

More on LaidTrades.com ...
Disclosure:
No positions