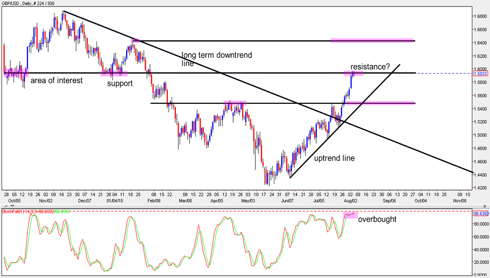 Good day FX friends! On today's fx menu is the daily chart of the cable or the GBPUSD pair. In my last post about the pair back in July 16 (kindly see it here), I took note of the British pound's bullish streak over the greenback. Though at that time I mentioned that it could meet some selling pressure at 1.5500. For a time it did but it used the former downtrend line to propel itself above the mentioned level. And after it broke above the 1.5500 marker, it never looked back. As you can see, the pound has continued to pound the US dollar. However, the Sterling pound could be encountering some resistance just below 1.6000. Notice that around this level had been an area of interest before. Given this and the cable's overbought condition (as indicated by the stochastics), the pair could dip for awhile or move sideways before moving north again. If it retraces, it could fall back to 1.5600, 1.5500 or right at the uptrend line.  A break of 1.6000, on the other hand, could push it all the way to 1.6400.
Fundamentally, the pound has been getting the nod from the general public due to the rally in the global equities market. This rally, of course, has been buoyed by a combination of profit taking from short positions, renewed confidence in the market, better economic data from the major economies like the US and euro zone, and upbeat earnings from European and US firms.
The highlight of this week, though, for the UK and the GBP, will be the monetary policy decision of the Bank of England (NYSE:BOE) tomorrow at 11:00 am GMT. The central bank is generally expected to hold its interest rate at a low of 0.50% and its asset purchase facility at £200 billion. Sir John Gieve, a former deputy Governor of the BOE, and Charles Goodhart, a previous member of the bank's Monetary Policy Committee, however, say that the interest rate could be hiked sooner than initially projected to control inflation. Both even noted that the rates could go somewhere between 1.00% to 1.50% by the same period of the next year. A rate hike, of course, would make investments in the UK more attractive, thus, increasing the demand for the GBP as well.

More on LaidTrades.com ...
Disclosure:
No positions