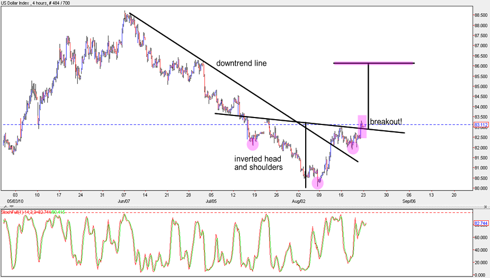 Welcome to another week of FX trading! In today's fx feature is an update of the US dollar index. In my last post, I took specific note of the inverted head and shoulders pattern that was brewing at that time (please see my previous blog here). And guess what, the index has broken out from the formation already! You see, the index had been trading on a downward slope for quite some time. Though as you can see from its chart, it already moved above the said downtrend and had recently reversed as well. Given this recent price action, I can say that the index and the US dollar (versus the other currencies) itself will most likely head higher in the days to come. The USDX'a minimum upside target is seen to be somewhere around 86.00 (estimated by projecting the height of the formation from the point of breakout). Still, the index can go lower though neckline of the pattern should prevent it from falling any further.
The week will kick off in the US with the release of its exiting homes sales for the month of July tomorrow (August 24). Existing home sales are seen to fall slightly to 4.66 million after it tallied a score of 5.37 million the other month. New home sales for the same month are projected to have reached 355,000, better than the 350,000 that was marked previously. If the US logs in a weak existing home sales then the new home sales for the month could come out frail as well. Durable goods orders, which unexpectedly contracted in June, are projected to have increased in July. The core figure is expected to have gained by 0.6% after sliding by 0.9%. The headline figure is also anticipated to have gained expanded by 3.0% after dipping by 1.2%.  But since last month tally was suddenly changed to worse, July's figure could fall below the market's consensus. If any or all of these accounts fail to impress, risk aversion could rise which then could send investors to the safety of the greenback.

More on LaidTrades.com ...
Disclosure:
No positions