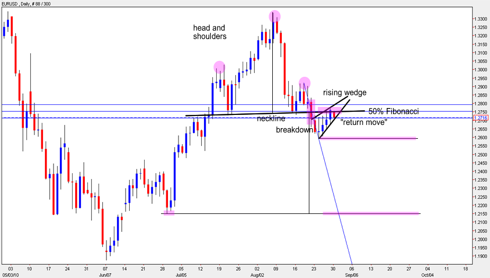 Good day to you my Forex friends! Here's an update on the EURUSD or the fiber as what they call it on Wall Street. The last time I covered the pair (please see my previous post here), it had just broken down from a head and shoulders formation. Since then, the pair has rallied to form what appears to be a rising wedge pattern. In case you do not know, a wedge is generally a continuation pattern as it just represent a short term rebound in prices. Such rally could be due to profit taking or short covers. At present, the pair is encountering some resistance at the neckline of the head and shoulders. If it's unable to move past the neckline and it falls below the support of the rising wedge, it could slip at least back to 1.2600 level. Further weakness could push it all the way down to the previous low at 1.2150.
The highlight of the week for the euro zone will be the the European Central Bank's monetary policy decision on Thursday (September 2). The ECB is expected to hold its interest rates again at 1.00% following a drop in German yields. 30-year yield, for your information, have dropped to below 3.00%. And despite the "cheap" borrowing costs, inflation at least in Germany remains subdued. In fact, the latest month-over-month German CPI reading reads at 0.00%. With consumption and inflation low, the ECB would likely be a little dovish about its short term forecast on the euro zone's economy as a whole. Such could then send investors back to the safety of the USD.

More on LaidTrades.com ...
Disclosure:
No positions