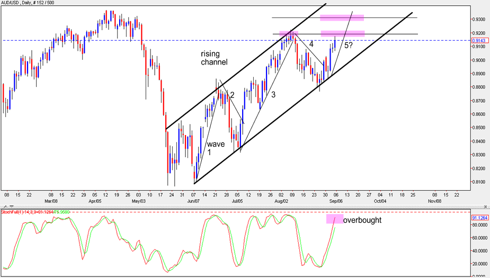 Good day to you my fellow FX men and women! Today I present to you the daily chart of the AUDUSD. As you can see, the pair has been trading within an ascending channel since the middle of May 2010. Of course, the pair would more like trend higher as long as the channel's support does not buckle. The Aussie, however, could meet some resistance at the pair's previous high near the 0.9200 level. With the stochastics in the overbought area, it could rest for a while before making another move to the north. A move past the 0.9200 level could push it towards 0.9300. The Elliot Wave Principle (NYSEARCA:EWP) also seems to confirm this potential price action. If my wave counting is correct, the AUDUSD could already be in its fifth wave. This then suggests that the next short term up-move would more likely surpass the peak at 0.9200.
Recent economic data in Australia goes to support the positive sentiment towards the Aussie. For one, the corporate profits of Australian firms for the second quarter of the year have unexpectedly soared by 18.9% compared to the market's 5.9% growth forecast. The firms' 1Q scores were also positively revised to 4.3% from 3.9%. The country's building approvals have also expanded for the first time in 5 months. The account surprisingly rose 2.3% in July after dipping by 3.4% during the previous month. Retail sales for the same period have also shown some good figures, expanding by 0.7% in July and 0.4% in June. More importantly, the country's second quarter gross domestic product (NYSEMKT:GDP), has surpassed the market's 0.9% forecast with a 1.2% growth. the first quarter's overall output expansion was also revised upwards to 0.7% from 0.5%.
On Tuesday (September 7), the Reserve Bank of Australia will have its monetary policy decision. While the bank is still expected to hold its benchmark interest rates at 4.5%, the bank's tone would more likely lie towards the hawkish end of the spectrum given the improvements economy. Any positive outlook regarding the country would of course be bullish on the Australian dollar as well.

More on LaidTrades.com ...
Disclosure:
No positions