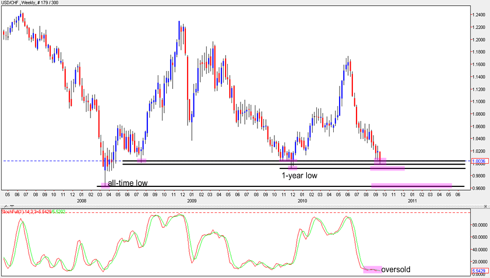 Welcome to another day of FX trading! In today's fx feature is the weekly chart of the USDCHF. As you can see, the pair has been losing a lot ground for several weeks now. After hitting a high of 1.1731 last May 31, it has slid since then. In fact, it had already touched the parity level early today. Still, previous supports around the 1.0000 psychological level have kept the price from falling any further. If if the 1.0000 marker gets breached, the pair could revisit its 1-year low at 0.9916. A break of this low could send it towards the pair's all time low at 0.9635. But with investors protecting the price at 1.0000 and an oversold condition, the pair could, however, stage a rally.
Renewed confidence in the global markets have weakened the dollar's valuation against its peers as of late. Both the DJIA and the broader S&P 500 have again logged in some beautiful gains yesterday, rising by 0.78% and 1.11%, respectively. Yesterday's jump in confidence which was reflected in the rise in the equities markets was because of the Basel III agreement that was concluded yesterday. The Basel III is an international regulatory code that requires banks to raise their common equity to 4.5% from 2.0%. This equity will be used by the banks as buffer in case they encounter liquidity problems from say investor withdrawals and the like. In the East, China's handsome industrial production (13.9%) and retail sales (18.2%) growth further supported the market's optimism.
The highlight of this week for Switzerland is the Swiss National Bank's monetary policy decision on Thursday (September 16). The SNB is expected to keep its interest rate unchanged at 0.25%. The bank, though, is very notorious in intervening in the fx market to prevent the Swissy appreciation. They do so because a higher Swissy negatively impacts their export industry. With the Swissy trading at an all-time high against the euro and flirting with historical highs versus the Us dollar, the SNB could indeed meddle in the market. If it does, then a sudden spike against the Swiss franc could occur. Nonetheless, even if the SNB intervenes, its effect would just be temporary. Market sentiment is still stronger and as long as optimism remains, the Swissy could strengthen still.

More on LaidTrades.com ...
Disclosure:
No positions