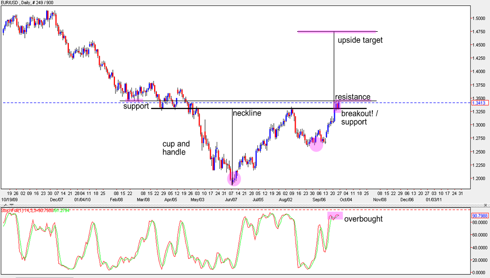 Hiyo FX peeps! Did I get your attention? Yes. I believe that its very likely that the EURUSD pair could gain by about 1,250 pips. Now that's a lot! As you can see from its daily chart, the fiber has recently broken out from a very nice cup and  handle formation. At present, the pair is trading just above the neckline of the pattern. With the stochastics in the overbought territory, it could exchange in a range-bound fashion for awhile before moving north. Now, a move past the 1.3500 resistance could send it on the way towards its minimum upside target (computed by projecting the height of the pattern from the point of breakout at 1.4750.  If all go well, it could achieve this target in about 6 months which is also the time that it took to form the pattern.
Despite the recent dip in Europe's Purchasing Managers' Indices (PMIs), the business climate in Germany as measured in the German Ifo Business Climate Index surprisingly jumped to its highest score in more than three years this month. The index came in at 106.8 which is over the market's 106.3 estimate. This rise indicates that German companies can withstand the weaker international demand. On the other side of the globe, in the US, the Fed's inclination to place another set of stimulus programs to support the slowing growth in the US's economy has of course weakened the greenback to the benefit of the other non-dollar currencies like the EUR. This plus the rally in the US equities markets have also urged investors to move away from the USD in exchange of the higher yielding assets and anti-dollars like the euro.
Just now, the US's core durable orders for the month of August have grown by 2.0%, which is almost twice of the 0.9% forecast. The previous month's change was also positively revised to -2.8% from -3.8%. These numbers signify that the chances of the earlier threat of a double dip recession in the US economy have gotten lesser and lesser.
For next week, the CB Consumer Confidence in September is seen to fall to 52.5 from 53.5. But given the strong rally in the global equities markets for the past two weeks which show the manifestation of consumer confidence in the markets, it is therefore possible for the index to have a better-than-expected result. A better-than-projected mark, as we know, could spur some risk taking and EUR buying.

More on LaidTrades.com ...
Disclosure:
No positions