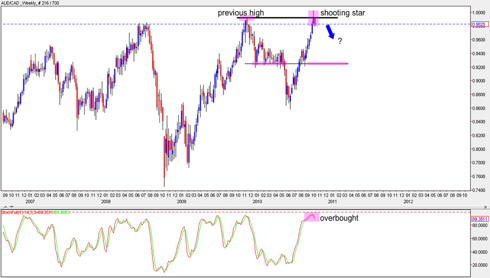 Good day FX friends! Today, I present to you a look at the currency cross, AUDCAD. As you can see from its weekly chart, the pair has been trading very well since it touched a low of 0.8579 back in June this year. Since then, the Australian dollar was able to take the Loonie's number as the pair hit parity (1.0000) and even went on to reach a high of 1.0023 last September 23. Technically, however, the pair's recent uptrend maybe starting to reverse already. For one, it failed to completely overpass its previous high at 0.9915. The pair has also formed a shooting star candle pattern, indicating that the prior move up north maybe losing momentum. With the stochastics also in the overbought region, the pair could indeed weaken by either moving sideways or reverse. If can find support just above 0.9200 in case it does reverse. On the positive side, a successful breach above the shooting star's high could propel the pair to its next notable high at 1.0550.
The Reserve Bank of Australia decision not to increase its interest rate from 4.50% to 4.75% caught the market by surprise. As a result, the Aussie lost some of its appeal. The rapid rise of the currency against most of the majors have prompted the RBA to postpone its rate hike. Still, the central bank remained somewhat hawkish stating that "If economic conditions evolve as the board currently expects, it is likely that higher interest rates will be required, at some point, to ensure that inflation remains consistent with the medium-term target." Aside from this suprise, the weaker-than-expected growth in the country's retail sales (0.3% versus 0.5%) also placed some selling pressure on the Aussie.
On Canada's side, its latest employment figures will be out this Friday (October 8). Canadian firms are seen to have added 11,300 more jobs which would have brought the country's jobless rate down to 8.0% from 8.1%. Improvement in the labor market, of course, would reflect positively on the economy of Canada and on the CAD at least in the short term.
More on
LaidTrades.com
...
Disclosure:
No positions