After being the Oil and Gas industry for as long as I have it always amazes me that we ever find anything at all.
In the old days, I would watch the "Geologist" looking at his maps, his squiggly lines, and listen to his talking points and wonder, does he really have any clue at all?  Most of the time we would get out there in the middle of nowhere, bring in equipment that barely worked and drill holes in the earth on a wing and a prayer.
How things have changed.  Yesterday a buddy of mine sent me some photos he thought I would be interested in.  He didn't tell me where he got them, until after he got my impression.  When he told me he had downloaded these from an Australian Blog I just laughed out loud.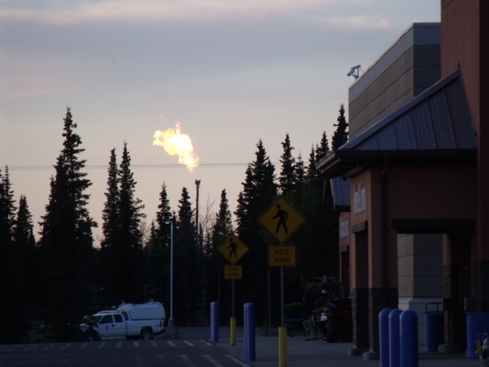 It seems we are in a very small world, made ever smaller by the Internet.  The photo, attached, shows us a gas flare.  What make it unique, it looks like a standard 100 ft tower with natural gas flaring?  Then you notice that it is right next to a Wal-Mart in Kenai.  That part is interesting, what is more interesting is the size and duration of the flame.
Of course this is the Kenai Loop 1 well that Buccaneer is drilling right here in Alaska.  Buccaneer is also the company that recently partnered with AIDEA to bring a Jack Up rig to the Cook Inlet.  Obviously, they can find gas.
A flare like this, without compression, and flowing freely tells us something.  First, they made a well.  When you have a marginal or under performer, the flame would not be 30 ft high.  My experience tells me that it is flowing several MMCF, at least two and probably as much as 7 to 9.  I can imagine the champaign was flowing and the office cheers could be heard all the way down in Australia.  The fact that it is right outside Wal-Mart tells me these guys are good operators. 
Getting a permit to drill in the neighborhood must have been very tuff.  I can imagine all the hearings and time it took to secure the location.  Another tidbit, it is sitting on Marathon Road.  For those that don't know, that means that this well is sitting on the infrastructure to bring it to market.  Infrastructure probably built by… you guessed it, Marathon Oil.
So what does this mean?  Enstar had better get there act together and get his baby hooked up.  We need this gas in the system, now not next year when the brown outs are being threatened. 
Great Job Buccaneer, I guess the Renaissance guys really can find hydrocarbons.  I have to ask though; does Jim Watt actually shop at that Wal-Mart?  Is that how he found out about the natural gas in the parking lot?