Financial Market Report for October 26, 2010
In today's news
1) Stephen Bernard of the Associated Press reports that overseas in overnight trading that Britain's FTSE 100 fell 1.1 percent and France's CAC-40 fell 1.1 percent. Germany's DAX fell 0.7 percent.
2) MarketWatch reports stocks to watch today include:
DuPont, DD, is expected to report third-quarter earnings of 33 cents a share, according to a consensus survey by FactSet Research.
Ford, F, is likely to post third-quarter earnings of 36 cents a share.
Coach. COH, is expected to post fiscal first-quarter earnings of 55 cents a share.
3) Ali Akbar Darini of the Associated Press reports that Iran injects fuel into first nuclear reactor.
4) C. Fred Bergsten of The Council on Foreign Relations, CFR, writes in Foreign Affairs: The Dollar and the Deficits: "Even as efforts to recover from the current crisis go forward, the United States should launch new policies to avoid large external deficits, balance the budget, and adapt to a global currency system less centered on the dollar."
5) Xe.com reports that the European Financial Stability Facility, EFSF, a Eurozone fund for countries whose seigniorage has been compromised and unable to issue sovereign debt, BWX, does not plan to raise any money unless there is a request from a eurozone government, its CEO said.   
"'We will not pre-fund,' Klaus Regling told a bond conference on Tuesday, when asked if the EFSF would issue a small amount of bonds just to be present in the market.
To help a euro zone country, the EFSF would issue bonds (euro bonds) on the market which would be backed by up to 440 billion euros ($618 billion) worth of guarantees from euro zone governments.
To get funding from the EFSF, a euro zone country would have to pay interest rates similar to those paid by Greece under its own 110 billion euro emergency funding programme, or around 5 percent, Regling said."
6) Ambrose Evans Pritchard of TheTelegraph reports Greek premier George Papandreou threw open the door to fresh elections and vowed to liberate the nation from "slavery and surveillance".
Spreads on 10-year Greek bonds jumped 31 basis points to 9.57pc and the euro tumbled 2 cents to $1.385 against the dollar as investors awoke to the risk of political upheaval in Greece, not helped by warnings from bond giant PIMCO that Athens will default within three years.
"We have not yet escaped the danger. I am sounding the alarm," said Mr Papandreou.
While he promised to stick to the EU-IMF austerity plan, he threatened to go to the country if upcoming local elections fail to give his socialist PASOK party a clear mandate. "There can no deadlock in democracy, the people have the power to decide," he said.
The main opposition group New Democracy has yet to give a watertight pledge that it would abide by the terms of the EU's €110bn (£97bn) rescue, or the "Memorandum" as it is known.
PASOK itself is fraying at the edges in any case. A socialist rebel candidate from the "anti-Memorandum" bloc leads the polls for the Athens region.
Mr Papandreou is responding with populist gestures, granting pensioners a €300 bonus and rejecting calls by Brussels and his own central bank for further belt-tightening. "There will be no new measures on wage-earners or pensioners, they have paid enough," he said.
The fiscal picture is extremely delicate. Eurostat is expected to raise Greece's budget deficit for 2009 to 15.1pc of GDP from 13.3pc. Public debt will rise to 127 pc instead of 115 pc, bringing the country closer to a debt compound spiral.
Mohamed El-Erian, chief executive of Pimco, said the EU-IMF package prevents Greece from growing its way out of the crisis and will test political consensus to destruction. He said it would be healthier for both Greece and Europe to opt for orderly debt restructuring.
Most investors seem to agree that the EU-IMF plan is unworkable, merely buying time for German and French banks to shift Greek liabilities on to EU taxpayers. A Barclays survey found that 82 pc of clients expect the eurozone to face a debt restructuring, a sovereign default or even a full break-up by 2013.
Hans Redeker, currency chief at BNP Paribas, said global attention may switch back to Europe once the US Federal Reserve clears the air on quantitative easing next week.
"We are seeing a complete failure of the EU to agree on common foundations for how to solve the eurozone's problems. Germany is demanding a mechanism for controlled bankruptcy but the high-debt states refuse to accept this," he said.
"And over the next few months we are going to find out what fiscal consolidation in Europe really means."
(My comment is that Mr Papandreou is saying that austerity plans have reached their limit in Greece). 
7) Joe Weisenthal of Business Insider provides the Chart of the Day: Housing Is Now Clearly Double Dipping.
8) MyBudget360 relates there are
4,800 colleges and universities in the U.S. and many are putting students into massive amounts of debt
. A few months ago a troubling milestone was passed.  In the United States college loan debt outstanding has surpassed
credit card debt
.  As of June 2010 $829 billion in student loan debt was outstanding compared to $826 billion in credit card debt.  Higher education by looking at a handful of metrics is clearly in a bubble.  The only question that remains is when will it burst?  Bubbles tend to go on longer than many people expect (i.e., the
housing bubble
) but when they burst they carry long-term ramifications for the economy.  Bubbles have unique sociological phases that they go through.  For example, at the height of the housing bubble people started questioning whether home prices were really worth it.  When people woke up from their sleep-walking and questioned ancient mantras like real estate never goes down, then the bubble implodes either by the sheer size of debt or by people shunning the market completely.  In education, the mantra has always been "going to college is worth it no matter what the costs" but the costs are now so high that we do have to question whether college is worth it.  Let us take a look at a few reasons why higher education is in a bubble and why it will certainly pop
9) Economist Mike Mish Shedlock writes in article Thanks to Fed, Bubble Builds in Junk Bonds; We Know How Bubbles End:  "As long as there is a strong bid for junk, the stock market is unlikely to crack hard. Yet, we know how bubbles end.
 The Greenspan Fed ignored the dot-com bubble, even encouraged it because of misguided Y2K fears and belief in productivity miracles. When that bubble burst, the Fed promptly embarked on creating a second, far bigger bubble in housing and debt.
Now the Fed is actively promoting still more bubbles as a solution to god knows what, since the Fed's policies are not helping the real economy one iota. In fact, the Fed's policies are helping neither the real nor unreal economies unless you consider creating another opportunity for Goldman Sachs and select hedge funds to short at the opportune time, appropriate "help".
The Fed's misguided policies have not done a thing for small businesses, the unemployment rate, or the real economy in general but they have induced a mad dash for yield in junk bonds, easily in a bubble state right now. Byran Keogh writing for Bloomberg says Fed-Induced Rally Makes Riskiest Debt Priciest relates: The lowest-rated junk bonds are the most expensive corporate debt following a Federal Reserve induced rally in high-risk assets, adding to concern fixed-income securities are overvalued.
The extra yield investors demand to hold global bonds rated CCC or lower instead of government debt is about 10.1 percentage points, or 3.4 percentage points narrower than the average over the past 12 years, according to Bank of America Merrill Lynch index data. Debt with B ratings is the only other part of the market trading tighter than its historical average.
The rally in the lowest-rated company bonds has sparked a surge in issuance. MGM Resorts International, the biggest casino operator on the Las Vegas Strip, Energy Future Holdings Corp. and other companies have sold $6.5 billion of bonds this month rated CCC+ or lower by Standard & Poor's or Caa1 or lower by Moody's Investors Service, data compiled by Bloomberg show.
Goldman Sachs plans to sell $1.3 billion of 50-year debt at a 6.125 percent yield as soon as today, according to a person familiar with the transaction. The offering may include bonds with a face value of $25 that can't be called for five years, the person said.
The cost of protecting bonds from default in the U.S. held near the lowest level since May. The Markit CDX North America Investment Grade Index, which investors use to hedge against losses on corporate debt or to speculate on creditworthiness, increased 0.1 basis point to a mid-price of 93.5 basis points as of 12:21 p.m. in New York, according to index administrator Markit Group Ltd.
Goldman Sachs said bonds rated CCC+ and lower by S&P or Caa1 by Moody's were "expensive" given expectations for economic growth, and recommended clients buy higher-ranked company bonds instead. John Lipsky, the No. 2 official at the International Monetary Fund, said last month that global economic growth in the second half of the year will fall short of the fund's forecast of 3.75 percent on an annualized basis.
"You don't want to stand in the way of the search for yield," said Alberto Gallo, a global credit strategist at Goldman Sachs in New York. "But on the other hand it is a very volatile part of the market. And it can be particularly sensitive to a further slowdown in the economy."
Yields on U.S. investment-grade debt fell to a record low of 3.55 percent this month, the lowest borrowing cost on record in data going back to October 1986, according to Bank of America Merrill Lynch index data. For CCC bonds and lower, yields dropped to 11.63 percent yesterday, the lowest level since November 2007, the data show.
I add that the US Federal Reserve Balance sheet has toxic debt taken in from banks for which it traded out US Treasuries under its QE 1 TARP Facility. These "assets" have a market value like those traded by the mutual fund FAGIX, which trades much like Junk Bonds, JNK.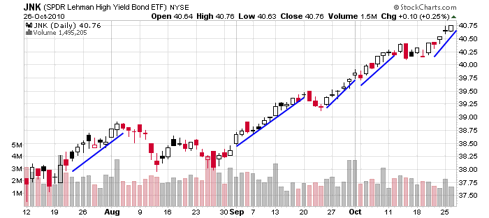 10) Tim Johnston of FT.com reports that the G20′s reassuring message that they were going to try to avoid competitive currency devaluation is good news for Asian currencies that have appreciated strongly against the dollar – the Thai baht is up 11 per cent; but it doesn't solve the problem of the wave of money unleashed by quantitive easing in the west sloshing ashore in Asia in search of better returns.
Thailand re-instituted some light capital controls on the bond market two weeks ago, putting back a 15 per cent withholding tax on foreign investors' bond profits, but so far the stock market has escaped, partially because there has been less foreign interest in equities.
Thailand's SET Index moved above the 1,000 point mark for the first time since 1996 on Tuesday, reflecting the ebullient confidence of Asian markets, but it also underlined concerns that cheap western money could be fuelling bubbles in the region. 
The SET is so far up a little over 38 per cent on the year (42.2 per cent in dollar terms), significantly outperforming the dollar-denominated FTSE/ASEAN index, which is up 26.3 per cent.
The renewed interest in Thai stocks is being driven by a combination of the strength of the economy, which is expected to grow 7 to 8 per cent this year; the expectation that there are still more currency gains to be had; and the fact that the country's dodgy politics meant that many portfolio investors were underweight at the beginning of the year.
But the SET's new muscles shouldn't hide old weaknesses. The market is still relatively shallow, with a market cap of just $2780 - one eighth the size of Hong Kong, EWH,  and its somewhat erratic progress is disproportionately driven by relatively few big domestic players, some of whom have in the past not been very kind to minority shareholders.
But despite that, and the fact that on Tuesday the index ducked back down below the 1000 point parapet after a quick look, the short-term outlook is for more strength.
The G20's reassuring message that they were going to try to avoid competitive currency devaluation is good news for Asian currencies that have appreciated strongly against the dollar – the Thai baht is up 11 per cent – but it doesn't solve the problem of the wave of money unleashed by quantitive easing in the west sloshing ashore in Asia in search of better returns."
Currency Traders Sell The Emerging Market And Major Currencies, Starting Competitive Currency Deflation
Competitive currency devaluation started today October 26, 2010, just one day after I wrote the article Currency Traders Drive World's Currencies Higher And Dollar Lower To Claim Sovereignty Over Currencies …. Stocks, Bonds And Commodities All Rise Higher On Today's Lower Dollar.
Today, in the early morning of 10-26-2010, a Finvis Screener shows the currency traders sold  a number of currencies, except for the British Pound Sterling, FXB.  All of the following traded down: FXA, FXE, FXM, FXC, ICN, FXS, SZR, FXF, CYB, BZF, XRU, FXY, BNZ, DBV, and CEW.
The emerging market currencies, CEW, is -0.65%, the Euro, FXE, -0.66%, the Swedish Krona, FXS, often a fast downer, is -1.97%, and the enigmatic Yen, FXY, -0.65.
The Swiss Franc, FXF, -1.68% and Switzerland shares, EWL, -2.10%.
The New Zealand Dollar, BNZ, -0.50% and New Zealand Shares, ENZL, -1.50%
The Russian Ruble, XRU, -1.36% and Russian Shares, RBL, -0.95%
The Indian Rupe, ICN, -0.34% and India, INP, -0.46%. 
The Australian Dollar, FXA,  -0.51% and Australia, EWA, -1.0% and the Australian Small Caps, KROO, -0.92%.  
The Canadian Dollar, FXC, -0.55%; the Canadian Small Caps, CNDA, -0.75%
The Brazilian Real, BZF, -0.35%; the  Brazilian Small Caps, BRF, +0.52%
The Mexico Peso, FXM, -0.73%; the Mexico shares, EWW, -0.37%. 
The US Dollar 200% ETF, UUP, is trading up today, suggesting that the US dollar, $USD, is up.
The USD/JPY is trading up 0.37% at 81.08; and its inverse ETF, JYN, is trading 1.02% lower.
A rise in the US Dollar, $USD, is not condusive to investing long stocks.
The Euro Yen Carry Trade, EUR/JPY, is trading down at 112.87; this can be seen in the chart of FXE:FXY, falling lower out of a consolidation triangle from 1.140 to 1.135. Carry trade investment is coming our of European Shares, VGK,  which is down 0.60%, the 200% European ETF, UPV, -1.61%,  Ireland, EIRL, -2.1%, European Financials, EUFN, -0.94%, Spain, EWP, -0.85%. The Euro, FXE, fell to 138.04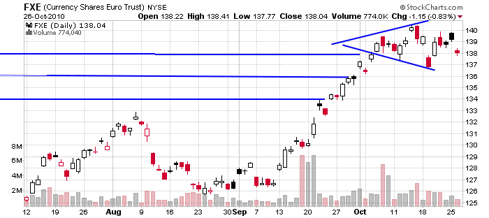 The canaries of the stock market coal mine warn investors to get out!
International Consumer Discretionary, IPD, -1.36%; at major market turns, this ETF makes dramatic moves.
China Small Caps, HAO, -0.94%
US Health Care Provider, IHF, -0.77%
Utilities, XLU, -0.44%, are now in their fourth day of sell off and are trading at 31.67, down from their recent high of 32.22 on October 20, 2010.
US Steel, X, -3.3%; Reuters reports Steel makers signal lean times as demand stalls.
Consumer staples, XLP, -0.55%. 
Israel, EIS, -1.52.
The crown jewel of the Milton Friedman inspired world floating currency trade regime, Emerging Europe, ESR, is off 1.3%, Poland, EPOL, -0.30%. And Austria, EWO, which funded many currently unpaid home mortgage loans throughout Developing Europe, -1.1%. 
The European Financials, EUFN, relative to the Financials, IXG, EUFN:IXG, are falling lower as bond vigilantes are taking action calling the European Financials lower, as they have many subordinate Anglo Irish Bank Bonds, which will be given an 80% haircut by Ireland, EIRL, as it moves to resolve a bank insolvency, that came mostly out of reckless real estate development.    
The Ted Spread, TED, is rising from its late September low.
Carry trade investment is coming out of metal manufacturing XME, which  is -1.1%, and Steel Manufacturing, SLX,  -1.9%, Copper Mines, COPX, -0.65%, Basic materials miner, BHP Billiton, BHP, -1.01%.
Debt deflation is manifesting in stock deflation with Sweden shares, EWD, are down 2.1%, on the drop in the Swedish Krona Yen Carry Trade, FXS:FXY.
Prior to today, Thailand, THD, shares have been up 50% year to date, the Emerging Markets, EEM, 11%, and World Shares, ACWI, 6%. Thailand Shares, THD, -0.6%. The emerging markets yen carry trade, CEW:FXY, is trading lower. Emerging Market shares, EEM, -0.30. The Emerging Market Small Cap Dividend, DGS, -0.43%. Frontier market, FRN, -0.65%. World shares, ACWI, -0.60%, and World Shares, VT, -0.73%.
The Asia high yielding stocks, DNH, are trading lower, -0.81%
Singapore, EWS, -1.30% and Hong Kong, EWH, -1.25%
Japan, EWJ, -1.38%, and the 200% Japan ETF, EZJ, -2.72%.
The biofuels ETF, FUE, is manifesting a massive bearish engulfing candlestick and is off 8.55%.
Housing, ITB, -0.77%. 
Volatility, VXX, and turned up, and Inverse Volatility, XXV, turned down. 

Today, October 26, 2010, the currency traders are exercising their sovereignty, and acting as currency vigilantes, introducing competitive currency deflation, and taking profits on the currencies and carry trade investing that they have rung up.
Debt deflation is manifesting as bond deflation, in the longer out corporate bonds, BLV, falling  0.59%, while the shorter duration corporate bonds, LQD, falling only 0.27%. World corporate bonds, PICB, are down 1.15%.
The 30 Year US Government Bonds, TLT,  -0.87%; The US Ten Year Note, IEF, -0.34%. Currency traders are acting as bond vigilantes calling the interest rate on the 30 Year Bond, $TYX, up. And they are calling the interest rate on the US Government Note, TYX, up as well.  World Government Bonds, BWX, are down 0.42%. Emerging market bonds, EMB, -0.19%. Currency traders see Ben Bernanke's QE II as monetization of debt and are acting as bond vigilantes calling bond interest rates higher. The further distant bonds are from the Ben Bernanke QE II death star, the less destruction they experience.
The 300% US 30 Year Treasury ETF, TMF, is off 3.4%. and the 200% US 30 Year Treasury ETF, UBT, is off 2.1%. The Zeroes, ETF, ZROZ, is off 1.3%
Today, investors are selling, repeat selling the "inflation protected bonds", LTPZ, -1.02%, TIP, -0.45%, STPZ, -0.23%.
Debt deflation is manifesting as commodity deflation in Tin, JJT, falling  0.49%; and Timber, CUT, fallin 0.39%. 
The New York Composite, NYC, -0.71%
Small cap pure value shares, RZV, -0.14%. The ratio of small cap pure value shares, RZV, relative to small cap pure growth shares, RZG, RZV:RZG, is trading lower now for the third straight day suggesting that a debt deflationary bear market has started with the currency traders calling the worlds currencies, DBV,and the emerging market currencies, CEW, lower, in response to Ben Bernanke's and the US Federal Reserve QE 2 plan to massively print money to buy short term US Debt, SHY, and most likely mortgage-backed bonds, MBB, to support their value at the US Treasury, which total well over 1 Trillion, and which are owned by many banks, KBE, and the mortgage GSEs, Freddie Mac, and Fannie Mae.  Some investors can't wait for the mortgage financing and securitization bail out and have closed out of their short term US Government bond positions, as SHY, fell strongly 0.09% lower. Total bonds, BND, fell 0.18%; and are now trading below support at 82.52. The currency traders today manifested, exercised and established their sovereignty over stock and bond markets world-wide by popping the Great Global Financial Asset Bubble.   
Monetization of debt and negative interest rates create an investment demand for gold, GLD, which is up 0.18%. Whenever a central bank acts to monetize its debt, food commodity prices rise, FUD, is up 1.06%. agricultural commodity prices, RJA, are up 0.10%.
Chart suggests that Golden Star Resources, GSS, is set for a fall from $5.00; gold mining stocks will not preserve one's wealth; only personal ownership of gold will preserve one's wealth.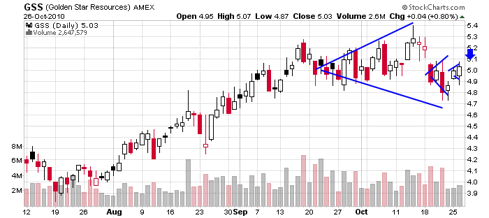 Today October 26, 2010, the world has gone beyond an important tipping point: the world's population has passed from the age of prosperity to the age of austerity and debt servitude, with the currency traders acting as currency vigilantes selling the worlds major currencies, DBV,  (chart shows positive because of its US Dollar component), and emerging market currencies, CEW, causing yen based carry trade trades to unwind globally, that is, causing disinvestment from world stocks, ACWI, and the emerging markets, EEM, and the frontier markets, FRN. 
Yes, a debt deflationary bear market has commenced in both stocks, VT, and in bonds, BND, in response to the US Federal Reserve's planned massive dollar printing QE 2.  Currency traders also acted as bond vigilantes, in calling the Interest Rate on the US 30 Year Government Bond, $TYX, and the Interest Rate on the US 10 Year Note, $TNX, higher. 
Simon Rabinovitch of Reuters reports: "China Minister Says Dollar Printing "Out of Control".  Dollar issuance by the United States is "out of control", leading to an inflation assault on China, the Chinese commerce minister said in comments reported on Tuesday. Chen Deming, speaking at a trade fair in southern China, said that exporters had done a good job of preparing themselves for exchange rate changes as well as rising labour costs, but were suddenly confronted with new challenges. "Because the United States' issuance of dollars is out of control and international commodity prices are continuing to rise, China is being attacked by imported inflation. The uncertainties of this are causing firms big problems," Chen was quoted as saying by the official Xinhua news agency."
Neil Reynolds of the Globe and Mail writes: "Next week's U.S. midterm elections will deliver a verdict of a kind on America's debt. By all accounts, the people want their government to restrain spending and to cut taxes. By all accounts, the White House and the Federal Reserve, and their strangely self-confident economic advisers, want another trillion-dollar, debt-financed jobs program. Championing this debt, Christina Romer, the former head of President Barack Obama's Council of Economic Advisers, expresses perfectly the great divide: "I would never sacrifice the well-being of 300 million people for a principle." In this clash of wills, fought in defence of a timeless principle, an urgent question arises: Can government of the people survive the inherently expansionist instincts of the spendthrift state?"
Joseph Stiglitz writes in The Guardian in response to the British austerity plans: "The few instances where small countries managed to grow in the face of austerity were those where their trading partners were experiencing a boom. … Lower aggregate demand will mean lower tax revenues. But cutbacks in investments in education, technology and infrastructure will be even more costly in future. For they will spell lower growth, and lower revenues. Indeed, higher unemployment itself, especially if it is persistent, will result in a deterioration of skills, in effect the destruction of human capital, a phenomena which Europe experienced in the eighties and which is called hysteresis. Lower tax revenues now and in the future combined with lower growth imply a higher national debt, and an even higher debt-to-GDP ratio. … Austerity converts downturns into recessions, recessions into depressions. The confidence fairy that the austerity advocates claim will appear never does. … Consumers and investors, knowing this and seeing the deteriorating competitive position, the depreciation of human capital and infrastructure, the country's worsening balance sheet, increasing social tensions, and recognising the inevitability of future tax increases to make up for losses as the economy stagnates, may even cut back on their consumption and investment, worsening the downward spiral. … Britain is embarking on a highly risky experiment. More likely than not, it will add one more data point to the well-established result that austerity in the midst of a downturn lowers GDP and increases unemployment, and excessive austerity can have long-lasting effects. … It is a gamble with almost no potential upside. … Austerity is a gamble which Britain can ill afford."
I, theyenguy say: "The World's Sovereign Debt, BWX, as well as all the mortgage-backed securities, MBB, that the currency traders cannot run down through currency deflation, must be and will be applied to every man, woman and child, on planet earth. I believe a Seignior, that is a top dog banker, will institute unified regulation of banking globally, as referred to in the James Politi and Gillian Tett Financial Times article NY Fed Chief In Push For Global Bank Framework, and that The Seignior will oversee all matters of debt and credit, and will implement a global currency system."
Disclosure:
I am invested in gold bullion