This article was originally published on May 6, 2016 at miningWEALTH.com.
We're currently in the final stages of preparing an extensive report on rare earth investing and have decided to preview a couple of sections in advance. The report will be released in 3 sections: supply/demand, investment principals, and analyses of individual investment opportunities.
This is an excerpt from the report, and it focuses on a rare earth company that we believe has virtually zero-chance of getting into profitable production, namely Hastings Technology Metals (ASX: HAS) (FRA: 5AM). Surprisingly, Hastings has recently been able to raise nearly A$10 million at a premium to the market valuation as investors expressed confidence in the company's recent PFS data for its flagship Yangibana Project. It is proposing a mine in Western Australia, not far from Mt. Weld, which is the only significant prmary REE mine currently in production outside of China. However we believe Yangibana to be utterly superfluous considering its proximity to Mt. Weld, and the fact that Yangibana ore hosts REEs at a fraction of the grade being mined by Lynas.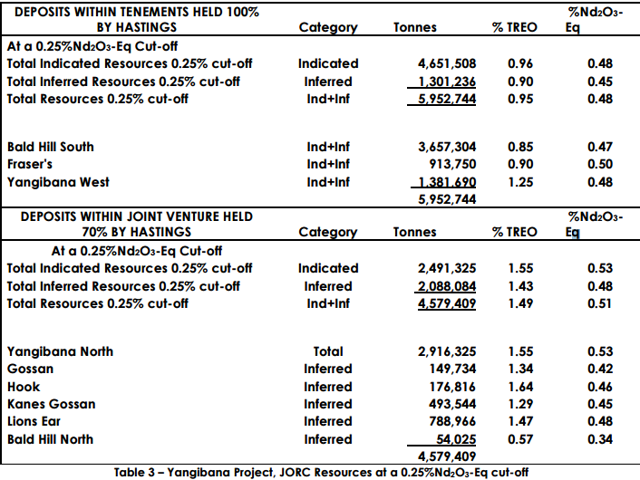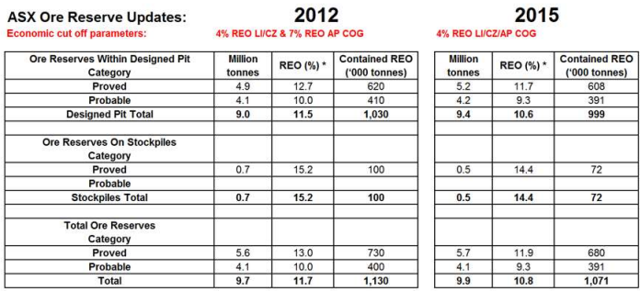 Critical to this comparison is the fact that Lynas is not generating positive cash-flow at current REE prices, despite the fact that its ore grade is 5-10X higher than that found at Yangibana.
Both companies have hard rock monazite deposits with similar REE distributions. Hastings shareholders and management will be quick to point out that Yangibana has a favorable Nd/Pr distribution (~26% vs. Lynas' ~23%), but frankly the advantage over Mt. Weld's CLD resource is irrelevant in the face of Lynas' grade advantage.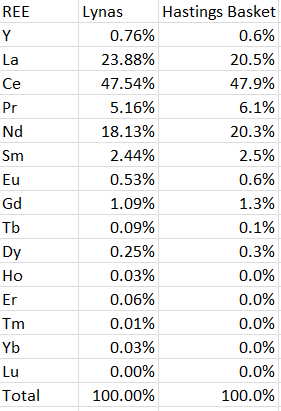 Lynas' deposit is bigger, higher grade, more certain (proven and probable reserves vs. indicated and inferred resources) and owned by a company with the capacity to process the resource into marketable REE products. Given that Lynas is going to increase its production anyway we wonder why Hastings sees a need to develop Yangibana other than to maintain appearances. Even if demand for Nd/Pr skyrockets beyond Lynas' capacity to supply them we believe that there are several projects that would outrank Yangibana considering its ore grade and poor economics.
On a relative basis we see no reason for Hastings to develop Yangibana unless we see a dramatic change in market conditions. But it is just as bad on an absolute basis: this is an underwater project, although the recent positive PFS announcement certainly suggests otherwise. Hastings is able to report a positive NPV/IRR because it assumes REE prices that are dramatically higher than today's prices. It justifies doing so by saying that it won't start mining until 2019 and so it can use an analyst's projection of what the prices will be then rather than market prices today. We know and respect the work of this analyst-Ryan Castilloux of Adamas Intelligence-and think that he may even be right about where prices of some REEs will be in 2019. But the disparity between these prices and current market prices is considerable, and it is unwise to make investment decisions based on the former. Note that these figures only include prices for the REEs that Hastings values in its PFS news release.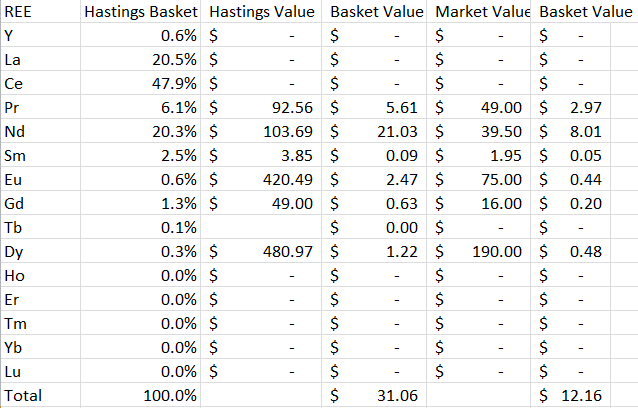 The company's estimates are way out of line-they are ~2.5X higher than market prices. As you can see this is a serious problem, since the project is not economic at today's prices. The following table is found in the above-cited PR.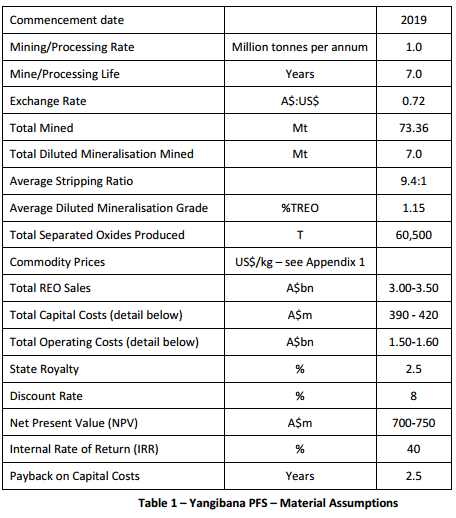 Note that the PFS news release doesn't include year-by-year production/cost data, or cost data on a per-kg. basis, meaning we can't be sure whether the company will have variable costs throughout the mine life. But with the company's basket value sitting at ~40% of the values used for the PFS it is evident that the "total REO sales" figure is below the total opex figure in the above chart, meaning that the project is a dud before we even consider capex.
Clearly the project is sharply in the red, but this hardly surprises us. This is a 1.2% TREO hard rock monazite project that is going to cost ~$300 million to bring in production (depending on the exchange rate) and will produce a kilogram of TREO (the full suite) at ~$15/kg. To our knowledge Hastings is not exploring the recovery of any by-products or co-products, and we believe that this is critical today considering how low REE prices have fallen.
Right now the mine life is only 7 years, which is unusually short considering the project's initial capex. We believe that before the company can attract the hundreds of millions it will need that it first has to expand the mine life. Prospective customers may also be less likely to commit to Hastings unless it can ensure supply for a longer period of time.
Aside from poor project economics Hastings has provided us with very little information regarding processing, and chemical processing in particular. This is one of the primary hurdles into production for any REE company, and those companies that don't go out of their way to explain and justify their processing methodology are hardly worth our time. Even with such an explanation REE projects are very risky: we note that Molycorp was never able to get its Mountain Pass hydrometallurgical costs in line with its estimates prior to the mine being put into care and maintenance, and that Lynas has still not optimized its hydrometallurgical recoveries after a few years of production. We do know that the company will be producing rare earth double sulfates RE, Na(SO4)2 which will be shipped to a toll separation facility (unnamed, but Hastings has a partner in mind). This, however, is new, since in the company's latest presentation (November, after the updated scoping study was released) refers to caustic cracking, in which the rare earth phosphate is dissolved using sodium hydroxide. The switch is actually a big deal and there is no public explanation to our knowledge. Furthermore, the company provides virtually no details regarding its process, nor its rationale for choosing it. The following "flow-sheet" provides a very basic outline of what Hastings wants to do, but for us it leaves more questions than it answers.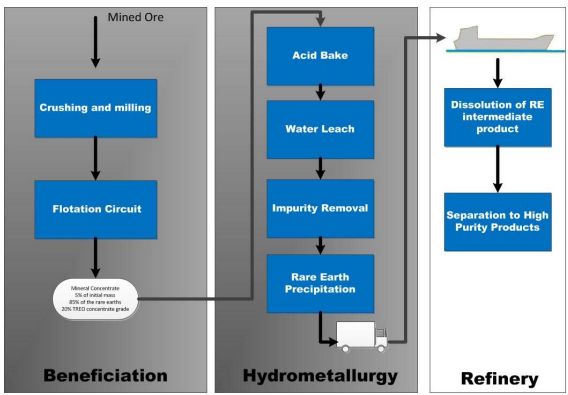 Compare this with the flow-sheet found in the Steemkampskraal FS produced by the now bankrupt Great Western Minerals (the project is now owned by Norway-based Scatec's REE subsidiary: REETech. Great Western was also preparing to extract REEs using double sulfate precipitation.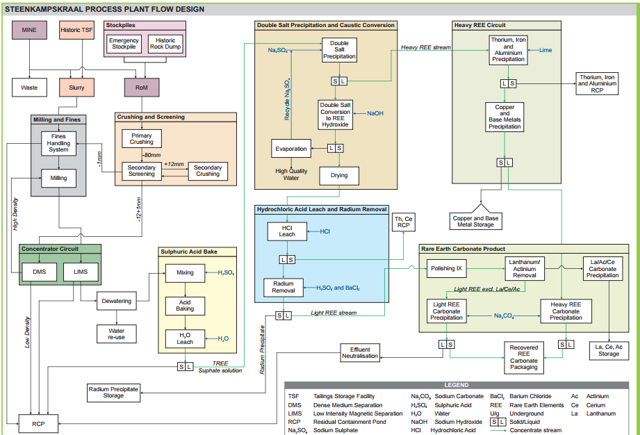 (For a larger version see Great Western's FS from 2014, p. 165, which can be found on SEDAR)
We find a more generic flow-sheet in Extractive Metallurgy: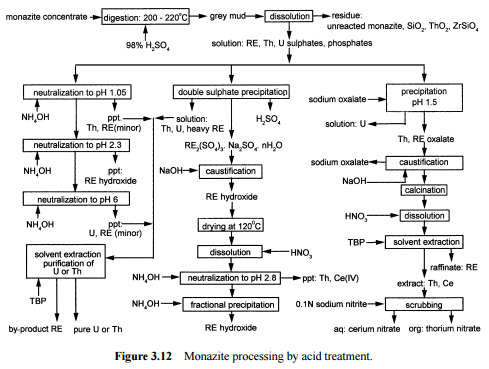 This gloss over a critical aspect of the project, accompanied by management's audacity to use unrealistically high REE prices leaves us highly skeptical of management's motives, as well as its understanding of the complex task ahead of it. We also point out that Hastings has one of the higher valuations in the REE space with a share price of A$0.09 and a share count of ~480 million (post financing) for a market capitalization of A$43 million or an estimated enterprise value of A$30 million or US$22.5 million. We think there are companies with better valuations, better projects, and management teams who provide a more realistic idea of what their projects will look like and what costs will be.
If you thought this assessment was insightful and are interested in more no-nonsense insight into this complicated yet potentially lucrative sector sign up for our premium service. We will be releasing an extensive analysis of the REE sector shortly that provides prospective investors with a level of detailed insight that is unavailable anywhere else. Feel free to contact us with any questions. Contact Ben directly through Twitter: @TheWealthMiner