As a disclosure, this would be my first article here on SA and I won't be going into details on the stock performance and fundamentals of KKD.
First I will go in detail it's location and its surroundings, any potential competitors and ammenities around the location that attracts customers in general. If you're unfamiliar with the place, think of a outdoor strip mall, with lots of people. The strip mall, is called ATT 4 Fun, and given its location, rental and land costs is quite high.
Taipei, while being a relatively small island, is packed with things to do, things to eat, and places to visit. The public transportation in the city is extremely efficient as it accurately displays the time of arrival of any train or bus and if it is delayed or not. The blue line, also called Bannan line connects most of the major districts together. Prices range from 15NTD to 60NTD, depending on the length of travel. The new Krispy Kream store, opening on December 12, 2013, is about a 10 minute walk away from Taipei City Hall. The address is specifically Song Shou Road, Taipei, No. 18. A map of the location can be found here: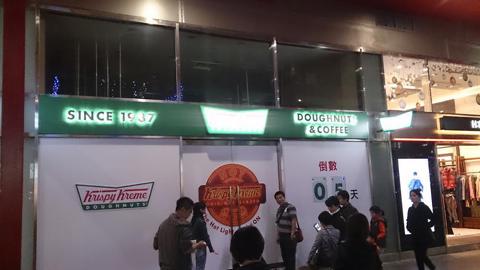 Note that there are no drive thru's at this location.
Things to do around
You probably want to first find a place to stay if you're just visiting, the Grand Hyatt, a 5 star hotel is just around the corner. This location is the heart of the Xin Yi district. And of course, if you're in the area, it's pretty hard to miss the massive building, towering above the city, Taipei 101, once holding the record of the world's tallest building for 6 years. Inside and around, there's tons of shopping and food to eat. Across the street from Krispy Kream, Shin Kong Mitsukoshi is a huge department store chain covering 3 buildings with daily street performers, food and lots of shopping. Directly infront of Krispy Kreams, is Viewshow cinemas, more shopping and, generally populated with young teens.
So why is this location so important? High traffic. You can always count on having traffic in this area. While parking may be an issue, public transportation dominates the travel method in everyday Taiwanese life.
Competitors
As I mentioned several times, there's lots of food around the area. Given that there is so many in the same area, I will first start off with the options that are closest to farthest way and the ones who I think may pose a threat. In the same building as Krispy Kream, we have a McDonald's, 2 x Irish Potatoes, and Mister Donuts. Across the street at Shin Kong, we have Gordon Biersch, Starbucks, another Mister Donuts, and many cafe stores (named in Chinese) that also serve ice cream, snacks and sandwhiches. Just a block away, we have Very Thai and TGI Friday, just to name a few of the popular restaurants.
Taipei events
Every year during the first week of June, there is Computex, the world's second largest Computer trade show (largest in Asia). There's generally three locations, one at Nangang Exhibition hall which is quite a ways away, at the Hyatt hotel in suites, and at the Taipei World Trade center both are minutes away from Krispy Kreme. In order to get to these events, you could take the MRT to Taipei City Hall, and Krispy Kream is on the way to the venue. There is usually events ranging from organized events at the trade center to street performers at the strip mall attracting tourists and locals.
Taiwanese life style
After living here for a while, I notice a few concerns from Taiwanese when they eat. They love hot foods. More importantly, they always watch how sweet their foods are. Everytime you order bubble tea, they ask how do you like your ice and sweatness level. In most stores, a regular bubble tea is pretty sweet already. Given KK's most popular item on the menu is their Original Glaze, it looks like a sugar coat to most people who eat it. Why does it taste so good? Because of the sugar coat. I don't see this as a deterant for those who like the food, but its sweet flavor may be addicting or repelling.
Another concern in terms of costs, is milk. This is a must need ingredient for the coffee. In Asia in general, there is a lot of powdered milk. Cows are hard to come by in these jam packed city and is quite expensive. If I go to a supermarket, a 2L carton of 100% real milk is about 160NT (about $5). Compared to Costco in Bellingham, you could get 2 one gallon jugs for the same price. Ever since 7-11 started serving coffee at all locations, Family Mart (another convenient chain store), and others followed suit, milk has been increasing in price and low of supply.
Current Popularity
Krispy Kreme have already held two events prior to opening. At both events, they incorporated Facebook to get the word out that they were given 10,000 donuts in total. At the time of writing, there is about 36,300 people on their page. At both events, they gave out donuts to people who had their page liked (they needed to prove it on their phone). 36k people is a lot, given that the page was created on August 14, 2013 this is very fast growth. From these numbers, it seems that the word is already out to people and has already caused a buzz in the community.
Conclusion
Only a few days left to the grand opening, and I hope this gives everyone a bit more insight on the background of this new high traffic location. The target location is a picky one, both in a very competitive area, but also you have the concern of subjective taste buds. If you check over on their Facebook page they already promote Krispy Kreme as an American company, something Taiwanese think very highly of.
Fixed costs and operational costs I believe is on the high side for this franchise at this specific location. It will be an interesting 5 years as in total, 10 stores will be opening in Taiwan, this being the first.
Disclosure: I have no positions in any stocks mentioned, and no plans to initiate any positions within the next 72 hours. I wrote this article myself, and it expresses my own opinions. I am not receiving compensation for it (other than from Seeking Alpha). I have no business relationship with any company whose stock is mentioned in this article.
Additional disclosure: This article to express and share an international point of view based on having physically seen the new location, and its surrounding. I will try to make it to the grand opening and may do a follow up article.