Krispy Kreme (KKD) Taipei made its grand opening last week in busy Xinyi District on 12/12 with a huge marketing push months before opening. With over 50 thousand fan likes on their Taiwanese Facebook page in such a short period of time, I believe the brand has attracted quite the attention and fan base in Taipei. I had made a blog post on how well Day 1 went here, but after 1 week, how is it going to affect the growth of international expansion?
Opening Day
On opening day, there were a few perks for people to line up for Krispy Kreme donuts. Gold, Silver and Bronze cards were handed out to the first 12 people. Being the first customer at the door, gets 1 year (52 boxes) of Original Glazed donuts. Being customers #2-4, you get half a year (26 boxes) of Original Glaze, and being #5-12 you get 3 months of donuts (13 boxes). The remaining prizes were Share Cards, which were given to customers #13-200 with 1 month of donuts (4 boxes). The first 200 people all were given a tag so no one could bring a family member to bud into the line, so to say, and they were given a free Krispy Kreme t-shirt. Unfortunately, I was not early enough to get one, however everyone who lined up were given a small token of appreciation - a key chain light.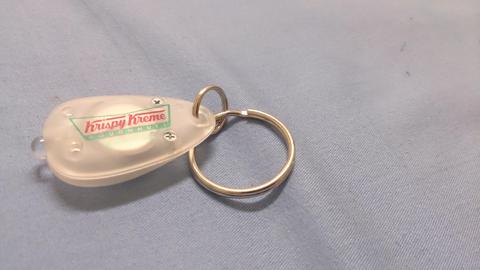 When I got to the opening at 9:30, 1 hour before opening on a rainy day, there were already 300 people ahead of me, all of them knowing that the Share Cards were given out already.The first person who started the line was already at the door at 4am. That is the first point I see Taiwanese being so excited for Krispy Kreme. How long was the line up? Lets bring up Google maps. You can see it's location here:
goo.gl/maps/N8FXm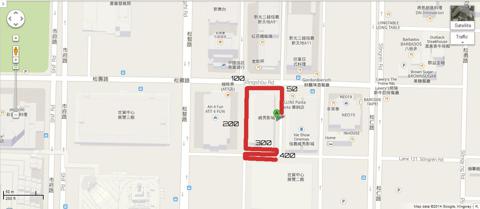 I have added numbers on this map to show person count of the line up. As you can see, at the end, the staff had to snake the line to prevent blockage of the road. I was around the 300th person, and I did not leave with my 4 boxes of donuts until 1pm, 2.5 hours to serve approximately 300 people. To speed up the line, when I got to the 50th person mark, they had opened the express lane so that people who wanted to buy a box (dozen) of assorted or originals could get in and out quicker. However, I believe this was implemented only after people were commenting on their grand opening photos on Facebook saying that the line was moving too slowly. On the other hand, this shows how fast they responded on Facebook to handle the situation.
During the line up, I was very surprised at how many boxes each person had been buying. Each bag could only hold 2 dozens, and most of the people had their bags full. Once I got to the door, I was greeted with a staff handing out an original glaze donut to each person. After being in Taiwan for a few years, I did miss the warm melting sugary coating in my mouth. I was also very surprised that the staff all spoke English, even to each other.
Pricing
While the average income of Taiwanese is less than an American household, there was no stopping Krispy Kreme to price their products very similarly to American stores.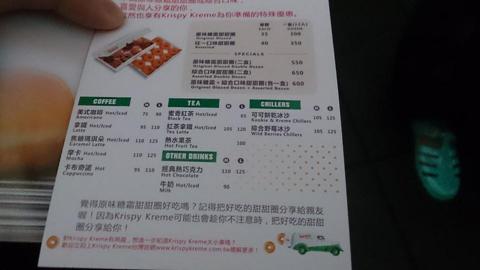 At time of writing 1 USD = 29.88 NTD.
While Krispy Kreme opened very late into fourth quarter, I believe 2014 will continue to grow strong and bring high demand. I had received a message from a friend who was at the location, 1 week after the grand opening, and over 50 people were lined up in the cold and rain to get donuts and coffee. Even on weekdays, I have friends checking in on Facebook and saying how long the line is, but very satisfied after being served.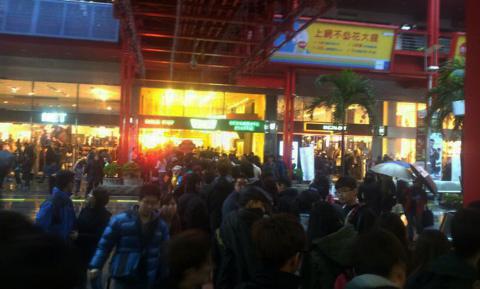 Room for growth
Opening 1 store is simply not going to cut this demand. As CEO of Krispy Kreme had mentioned, demand is there, and they now just have to execute. They plan to open 9 more stores over the next 5 years. But they are not going to stop there.
Taipei is a very small nit city where transportation is very efficient. Transport trucks are small, and for many delivery companies including Fedex, these trucks take care of all deliveries. However many food deliveries use scooters to get around the city. In the brochure above, you can see a delivery truck. It has been posted on their Taiwan Facebook page that delivery will be available soon (FAQ in Chinese). This is a huge benefit to Krispy Kreme as no donut store in Taiwan currently has delivery. In comparison, McDonald's does delivery and food can arrive within 20 minutes of placing your order over the phone. I do not expect Krispy Kreme to use a truck like in the photo below for delivery but scooters to save gas.
Another photo that my friend sent me is this truck, which is parked near the 200th person line up is on the map above. This is the backdoor entrance for Krispy Kreme.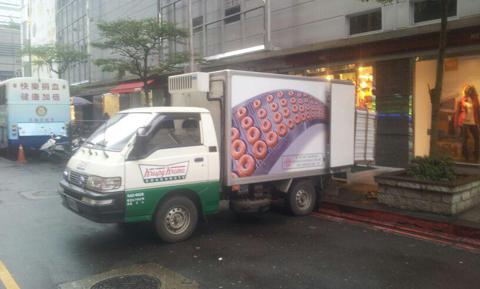 That's a lot of dough, for donuts. This is mostly likely for inventory refill. From this photo, you can roughly estimate how large their inventory for the store is.
Competition
Before February of this year, the donut competition was between two companies, Japan-based Mister Donut, and American based Dunkin Donuts. Since then, Dunkin Donuts had pulled out and Mister Donut was the only choice for this pastry with currently over 50 stores across Taiwan. However, I believe the downfall of Dunkin was their choice to not produce donuts in store to show that they were freshly made. Krispy Kreme regularly turns on their hot light, which they aggressively campaigned. I could smell Krispy Kreme donuts 2 blocks away which to me is an indicator of freshly made food.
By choosing to have fewer stores, a delivery option, and higher traffic, they can keep their overhead much lower than having multiple stores.
Conclusion
While there are very few reports on how well the new store is doing, I'm glad to say that the grand opening till now has been very well received and should continue to grow as we progress into 2014. The location chosen for the very first store is a well suited location for high traffic. They had planned and trained their staff well before the opening and their marketing has been aggressive and effective. What I am very interested in 2014 is their start of donut deliveries, as office parties, and large group purchases are a common thing in Taiwan. I strongly believe the same model has been applied to new store openings globally.
Disclosure: I have no positions in any stocks mentioned, but may initiate a long position in KKD over the next 72 hours. I wrote this article myself, and it expresses my own opinions. I am not receiving compensation for it (other than from Seeking Alpha). I have no business relationship with any company whose stock is mentioned in this article.