It is good that Kospi is maintaining 1990 support range and but that does not give any comfortable situation. Unless Kospi is breaking 2015 range in the upside or at least give us a sign that it is going to stay above that range we may not see a better environment and for this I think it is better get full confirmation at this higher level.
Last day was good and we may see some good early days but if it fails to test 2015-20 range or breaks 1990 level in the downside then Kospi may not create a good environment below 1950-60 range. In fact there is a chance of creating a bearish pattern in that level but that is still far.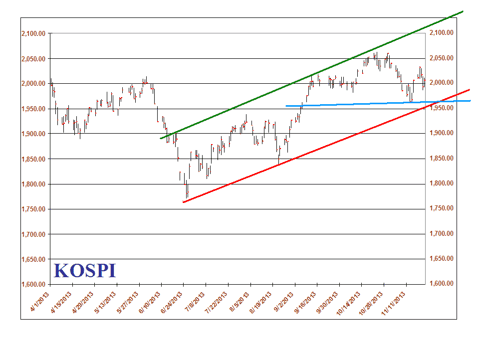 It looks like that kospi is moving on a upward channel and if that trend continues in coming future then Kospi may start a new up trend if it able to break around 2050 level in the upside which it failed to break during near about last two years. So that must be a big challenging job for Kospi. I think it is better to talk about this bullish option when Kospi will be breaking 2030-35 range.
NOTE: Please see the disclaimer of my blog which is also applicable here.
Disclosure: I have no positions in any stocks mentioned, and no plans to initiate any positions within the next 72 hours.