Some people started to scream shorting OpenTable since last October. Only time will tell if they are right or not. However, at this moment, they must be in pain or had covered their positions since the stock has rocketed to $95 now. It is usually a bad idea to short a good company. (One example would be Tilson's short on Netflix and he did cover it for now.)

OpenTable has shown its capabilities to grow. When you look at the chart below, you have to appreciate its "consistency" over the past 4 years. In the most recent quarter at Q4 2010, its revenue increase 61% year over year. While North American revenue increased 44%, the international revenue was 226% higher due to the acquistion of the toptable.com last September.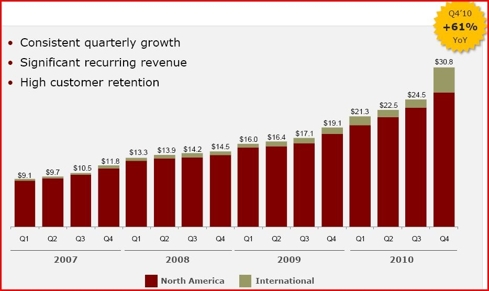 On February 8 Tuesday after the market closed, the company reported EPS of $0.21 and Non-GAAP EPS of $0.33. Revenue rose to $30.8 million from $19.2 million. Analysts had expected $30.3 million. This is only $500K ahead of estimates. Bank of America/Merrill Lynch reported more negative comments than positive ones next morning. 

Many other reports later came out to praise the achievements of OPEN such as Just Desserts at OpenTable, OpenTable Keeps the Momentum Train Going. Even Cramer joined the promotion of OPEN on Thursday's Mad Money. The stock price then shot up to almost $95.

Most of the those reports were touting the earning of $0.33 beating the analyst's estimates of $0.22 On the surface, this is of course a whopping 50% surprise to the street. Congratulations to the achievement of OPEN management team!?

How did analysts come out with $30.3M revenue which would make $0.22 EPS? With just a mere $500K extra revenue ($30.3M estimated to $30.8M actual), it provides a surprising 50% more earning from $0.22 to $0.33. The margin at Q4 is 16.7% versus 16.2% one year ago. Not much is changed here. Did analysts think profit margin will go down a lot and cause the company earn less?  Was the analysts' earning estimate way too low for a mere $0.22 non-GAAP for a growth company selling P/E at 188 ?

First, let's take a look at the EPS estimate by analysts. It seems that EPS estimated is usually less than what was already been achieved in previous quarter. While in Q3, OPEN has earned $0.23, in Q4, it was only estimated to be $0.22. I wonder why it's OK to not grow for such a high growth company? 




The estimates for Q1 and Q2 2011 are now standing at $0.23 and $0.26. ( see the table below.) What is the probability OPEN can best both of them? It should be high since many are quite comfortable to pay a company with P/S of 24.  If OPEN can do another $0.33 non-GAPP as it did in Q4 2010, should the P/E go passing 200 or 300? I guess the market can always have more irrational exuberance.





I hate that Mr. Market does not give me a chance to buy this wonderful company. However, as a business owner, the crucial thing is why stock-based compensation cost me $0.11 in a quarter, which is 33% of my profit. Is this a true one-time event?

OpenTable's management has been consistently reporting its earning in GAAP and non-GAAP numbers so it's quite easy to compile the table below. The lower numbers from EPS is mostly due to the stock-based compensation. It has been "consistently" rewarding its employees quarter over quarter with on average a 36% costs on what the company earned in that quarter.  Analysts typically exclude one-time charges. Since this stock-based compensation is not an one-time charges, the 21 cents EPS in Q4 2010 is the real earning to shareholders rather than the 33 cents which many promoted. Do the shareholders still think it has surpassed the street expectation by 50% or it is now 5% below what they estimated? I guess the latter opinion only lasted for the first two trading hours when the stock price dropped from $86.89 to $80.60 on Wednesday morning after the earning was released on Tuesday.





In addition, OpenTable insiders have sold 1.15 million shares in the past 6 months. This probably would worth $60 to $70M while the revenue of the company is only less than $54M. Is this acceptable to the owners of the company? I guess they will have a lot more shares to sell since they award themselves so many more shares every quarter.

If you are the owner of OPEN, will you provide this kind of compensation every quarter to your managers? While your hard-earned money is still in, your managers have taken more than 1/3 of the money out to his pocket in a consistent base. If you are a momentum player, enjoy and be careful about Mr. Market. If you think like a business owner, think twice.


Disclosure: I have no positions in any stocks mentioned, and no plans to initiate any positions within the next 72 hours.