I started this blog 2 weeks ago, on December 30th, 2012, as a 6 month experiment to debunk the conventional wisdom that trading options is the quickest way to blow away a large fortune and end up with a small one...or, for that matter, end up a pauper. It is precisely for this reason that I chose my blog's name: Options2Wealth so that I may have a platform where, in a totally transparent manner, I can prove that when done right, anyone with just $10,000 and only six months, can make a small fortune trading options.
In the next 6 months, I hope to achieve a personal goal, that I am not ready to share here just yet...And in order for me to achieve my goal, I'm constantly on the lookout for safe investment ideas that have monster potential and do not require my constant attention...I recognize that this is a tall order but as I explained in an earlier post, I currently have a day job as the founder and ceo of a start-up that needs my continuous attention and focus..therefore, the only time that I can devote to this endeavor here are my weekends...All the more reason that should I achieve my goal, it will be especially sweet AND I will be able to put to rest the erroneous thinking that playing options is akin to playing Russian Roulette.
This brings me to the subject matter on hand: SunPower and why I consider it to be the safest, short-term play (next 3 to 6 months) with truly monster potential.
I'm on record here that I had allocated 40% of my $10,000 Options2Wealth play portfolio to SunPower...this allocation decision was made by me and publicly stated here in my "Let the Games Begin" post on December 31st, 2012 (see here: media.seekingalpha.com/instablog/6566781... )
My decision to invest was made before the January 2nd, 2013 news of SunPower's $2.5 Billion purchase order from Warren Buffett's MidAmerican Energy Holdings, and the subsequent 47%+ spike in SPWR's share price on January 3rd., 2013...
The reason behind my bullishness then was very simple: I believed that compared to its peers, SunPower was ridiculously undervalued. Now, after this $2.5 billion order and a substantial spike in its share price, today I'm even more convinced that SunPower is more undervalued now than when I first made my decision to invest 2 weeks ago!
When one considers that industry giant, First Solar (NASDAQ:FSLR) trades at a Price to Sales multiple of 0.94 (which, btw, I believe is also quite low) and the new kid on the block SolarCity (SCTY) trades at a multiple of more than 9x, then SunPower's 0.42 certainly defies logic. And when you consider that SunPower offers the industry's most efficient solar panels, then this price disparity is even more ridiculous.
And for those who missed out on the gains earlier this month, the news is very good.
Not only is the price down more than 10% from its closing peak on January 3rd, additionally, I believe the chances of the stock testing $7.50 are pretty good. As I had mentioned in an earlier post on my methodology, I am an avid fan of the Point and Figure charting system, and based on my technical analysis of SPWR's P&F chart, it would be best for the stock's long term health if the stock did at least a 3 Box reversal, and even better, a 4 box reversal. Should it do a 3 box reversal, SPWR's stock price will, at a minimum, need to print $7.50 and for a 4 box reversal, it will need to print $7.00. Should the stock make the reversal, then the ride back up will be a doozy.
I have a very substantial position in SPWR and I'm sitting on a significant amount of cash hoping and praying that the stock price will make at least a 3 box reversal so that I can increase my already large position. Of course my Options2Wealth account does not have any cash left because I've committed my remaing cash balance to buying Apple options tomorrow morning.
I have included SPWR's P&F chart below. As you can see, currently the columns of Xs go all the way up to $9.00, the price that the stock printed on January 3rd. In order for the stock price to make a 3 box reversal and for the column of Xs to switch to a column of Os, the stock will need to print my target price of $7.50 and for it to extend the column of Os further down, the stock will need to print $7.00 to print the next box down. I don't expect the stock to make a 4 box reversal, but in case it does, it will be a very early 2013 Christmas present...LOL! Should the stock zoom back up, I will be a very unhappy camper in spite of the fact that I own a very large position...As I said in the title of my blog post, SunPower is the safest monster stock on the NASDAQ and I want more and more and more at a better price than it's Friday's close...
:-)
Let's see how the stock's price action plays out this coming week...
kp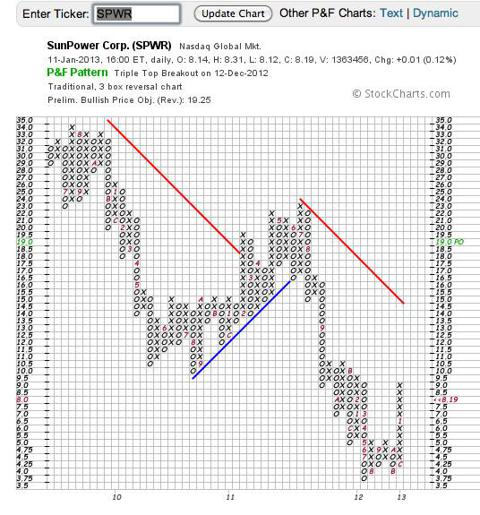 DISCLAIMER: All postings made here are strictly for my personal record keeping and in no way, shape or form, am I even remotely suggesting others to follow my Buy and Sell moves. Trading options is definitely not for the faint of heart as one's portfolio can move up, or down, anywhere between 10%-30% during a single trading day. Feel free to follow my progress here, but PLEASE do not follow my moves. However, if, in spite of all my exhortations, should you decide to do so, be advised that you, and ONLY YOU will be responsible for any losses that you may suffer...In other words, the onus is strictly on you.