In my original post this past Sunday on this subject, I had mentioned that I would buy Apple February options the next day (January14) based on my speculation that Apple will announce an agreement with China's largest mobile service provider, China Mobile when it announces its first fiscal quarter 2013 earnings on Monday, January 21st, 2013: tinyurl.com/dyxhall
Well, yet again, all my careful planning took a backseat to market action...A few hours after I wrote my Sunday afternoon post, rumors started to circulate (out of Japan, South Korea, etc.) that Apple had cut its iPhone component orders with its suppliers by more than 50%...These initial rumors gained further currency when the Wall Street Journal reported the same before the markets opened on Monday and then, on cue, at the opening bell, Apple gapped down on heavy volume with investors heading for the exits in a frenzied fashion...Talk about a mass exodus...The best analogy that comes to mind is the annual Running of the Bulls festival in Pampalona, Spain: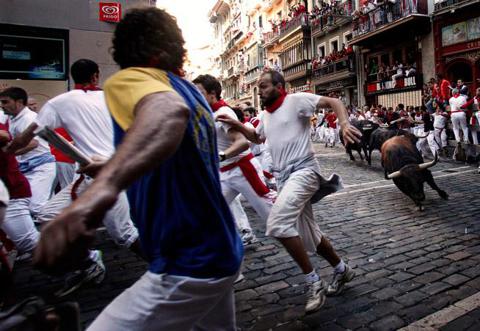 Now back to Apple...on Monday, within the first 5 minutes of trading, Apple stock broke a critical support on its P&F chart and that stopped me from buying those options that I had said I was going to buy...phew!
Here is how that break looked on Moday morning: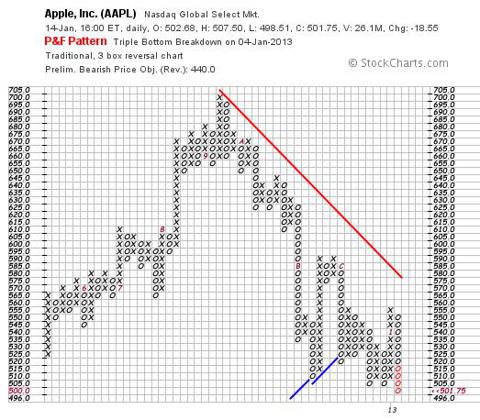 Unfortunately, like the Festival, the stampede continued for the 2nd day on Tuesday...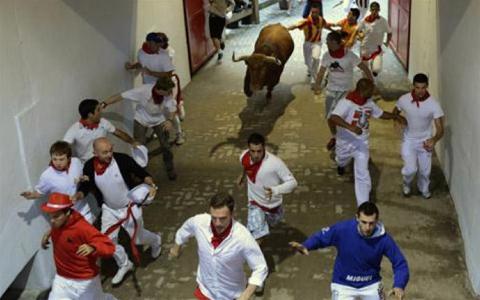 For the sake of Apple and its many investors, I just hope that this price drop in Apple stock does last as long as the Festival which, I believe, goes on for 8 days!
And this how Apple's P&F stock chart looked like on Tuesday: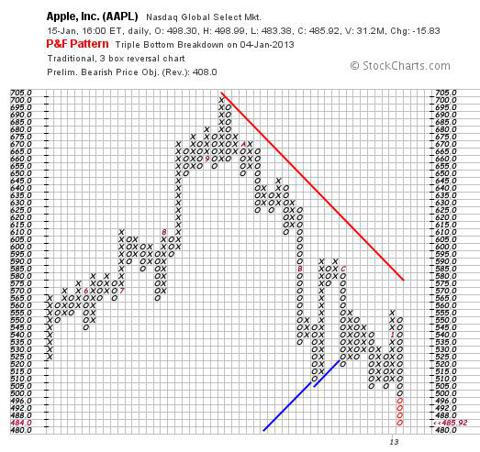 Sure looks pretty ugly, alright...
However, all this price action does not negate my Sunday's speculation...In fact, what this means is that I now have an even better entry point for my option purchase...LOL!
I am beginning to think that this may be the final capitulation before the stock starts to climb back up from the recent abyss...
So...depending on today's price action, I will go ahead and put my money where my mouth is and add to my severely underwater Apple CALL position and use up the $800+ in my Options2Wealth account and buy some juicy Apple CALL options as well...
Again, as I mentioned in my original post, this purchase is based on my reading of the tea leaves and is pure speculation...Of course, I do however believe, my speculation(s) are based on some of the recent news emanating out of Apple...
The markets open in about 30 minutes...let's see how the price action plays out...
kp
DISCLAIMER: All postings made here are strictly for my personal record keeping and in no way, shape or form, am I even remotely suggesting others to follow my Buy and Sell moves. Trading options is definitely not for the faint of heart as one's portfolio can move up, or down, anywhere between 10%-30% during a single trading day. Feel free to follow my progress here, but PLEASE do not follow my moves. However, if, in spite of all my exhortations, should you decide to do so, be advised that you, and ONLY YOU will be responsible for any losses that you may suffer...In other words, the onus is strictly on you.