I was planning to post my portfolio update last week, however, my day job was very taxing on any free time, hence this delay of 1 week...
So the Apple earnings play fell flat on its face and I lost my entire $800+ bet in a puff of dust when Apple announced that it's torrid growth was starting to slow and the unforgiving market showed its wrath and gave Apple's stock a $60+ haircut...Hell hath no fury like a market scorned...
My speculations that Apple and China Mobile had reached a distribution agreement and this would be announced with their earnings' release, turned out to be nothing but a WAG...All those history lessons of Ping Pong Diplomacy of yesteryears paid me zero dividend and I made a fool of myself on my blog... :-(
My boneheaded move in way out of the money, short term options proved its merit by wiping every single penny of my bet. However, in my own defence, I did go into this bet fully prepared to lose it all...and I did...Other than the small Apple fiasco, my portfolio is still relatively intact, up 129% for the month...
Starting today, I will a screen shot of an Excel spreadsheet portfolio summary to keep track of my portfolio here...What I would really like to have is this spreadsheet be always available and have the ability to update the postfolio's value in real time...Anyone out there who can help me accomplish my want, please connect with me...
As far as the Options2Wealth portfolio is concerned, there is not much I need to do but wait for SunPower's year end earnings release on Thursday, February 7...incidentally, Sprint too will be announcing earnings on the same day...I will try and update my blog after the earnings release...I am quite bullish that SunPower will report great earnings and the stock should move up to its recent highs of $9+...As for Sprint, my bet has nothing to do with earnings, so I need to be patient...However, should they announce a positive surprise, then the stock has the potential to come out of a 3+ years, cup and handle consolidation pattern that is so picture perfect that when I first say, I knew that I needed to be in this stock...More about the "cup and handle" formation in another blog post in the future...
Note: In the spreadsheet, there is a small discrpancy with respect to cash on hand...going forward, I will use the spreasheet numbers rather than my back of the envelope calculations...
kp
P.S. I shall be remiss if I did not state my very bullish outlook on the solar sector...I believe that the global power industry is going through a tectonic shift and this shift is a move, away from traditional, pollution causing power generation methods like coal, nuclear and oil, to this new wave of clean electricity generation that relies on solar power...I plan on writing a blog post highlighting this incredible investment opportunity called solar...Going forward, I am betting a very healthy percentage of my liquid net worth on the solar sector...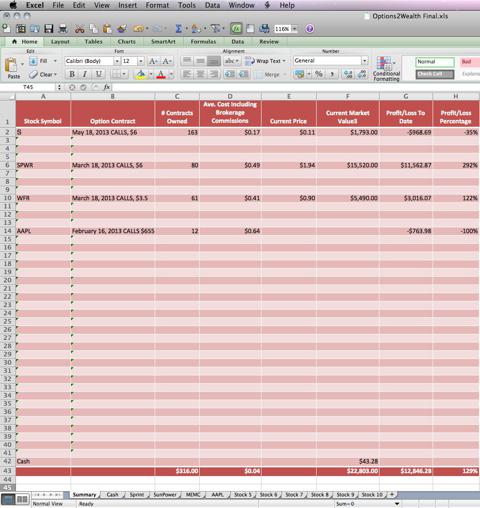 DISCLAIMER: All postings made here are strictly for my personal record keeping and in no way, shape or form, am I even remotely suggesting others to follow my Buy and Sell moves. Trading options is definitely not for the faint of heart as one's portfolio can move up, or down, anywhere between 10%-30% during a single trading day. Feel free to follow my progress here, but PLEASE do not follow my moves. However, if, in spite of all my exhortations, should you decide to do so, be advised that you, and ONLY YOU will be responsible for any losses that you may suffer...In other words, the onus is strictly on you.