When checking the technical health of a stock, I rely on its Point and Figure (P&F) chart first ...However, I also look at its candlestick patterns with emphasis on the stock's price relative to its 50 day and 200 day simple moving average lines or SMAs...
In candlesticks, one pattern in particular always gets my attention: the "Cup and Handle" pattern which was first noticed by William O'Neill, the Publisher of Investor's Business Daily, who also coined its name...
This past December I came across a blog post somewhere on the Net and its author was very bullish on the prospects of Sprint's stock price...So of course, the first thing I did was look at its P&F chart...The pattern appeared quite bullish so I pulled up its 3 year weekly candlestick chart...what I saw was a Cup and Handle pattern that was more perfectly formed than any I personally have ever seen in my 20 years of stock picking...Here is a screenshot to show what I mean: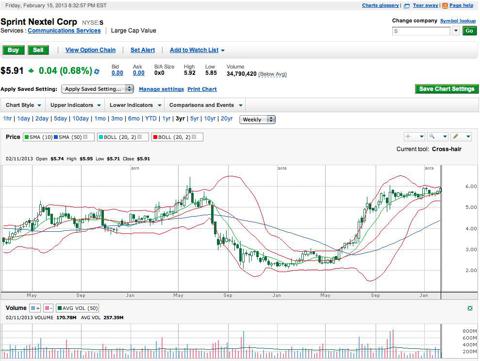 Having piqued my interest, I started to sniff around and kick the tires...Everything looked pretty good and I started to build a position by buying its May 18, 2013 CALLS, Strike Price $6.00...In the 6+ weeks that I have held and added to my position, Sprint's stock price has been relatively stable +/- less than 10%...but the CALLS have been a lot more volatile...In any case, everything seems to have stabilized somewhat, at least from the periphary...However, in the past week, I have noticed some unusual buying activity in its securities that leads me to believe that this may be a prelude to the stock breaking out, to the upside...I feel that this move may be very imminent...like, this coming week...
Based on the above, I have decided to substantially increase my position in Sprint and first thing Tuesday (the Markets are closed on Monday on account of President's Day), I will buy more of these same May $6 CALLS...For the Options2Wealth portfolio in particular, I will buy 337 contacts to help round off the portfolio's holding to 500 contracts...
I may turn out to be wrong about the move starting this coming week, but feel pretty confident that this move will take place in the next few weeks...Also, when the stock price prints $6.50, it will be the break of a double top on Sprint's Point and Figure chart as well...all very bullish indeed...
kp
DISCLAIMER: All postings made here are strictly for my personal record keeping and in no way, shape or form, am I even remotely suggesting others to follow my Buy and Sell moves. Trading options is definitely not for the faint of heart as one's portfolio can move up, or down, anywhere between 10%-30% during a single trading day. Feel free to follow my progress here, but PLEASE do not follow my moves. However, if, in spite of all my exhortations, should you decide to do so, be advised that you, and ONLY YOU will be responsible for any losses that you may suffer...In other words, the onus is strictly on you.