Further to my post yesterday, I bought the following SPWR options with the available cash in the account:
Bought 100 contracts of SunPower January 2014, $12 CALLS at $2.07, plus commissions.
Added to my SunPower June $15 CALLS by buying an additional 220 contracts @ 34¢ , plus commissions.
Since the markets are about to open, I will come back and provide further details...
kp
EDIT 4/21, 2013:
Here are the trade and account's details after the trades mentioned above...Also, I cuurently have $7,116.91 in cash in the account.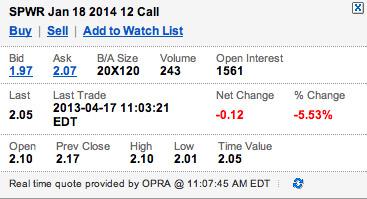 In my rush to complete the trade, looks like the above screen shot was taken just before the trade was executed as opposed to my preferred method of taking the shot immediately after the trade's execution.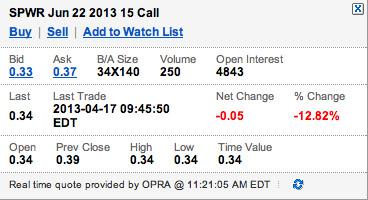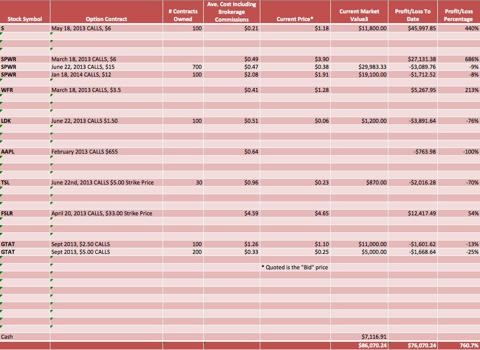 DISCLAIMER: All postings made here are strictly for my personal record keeping and in no way, shape or form, am I even remotely suggesting others to follow my Buy and Sell moves. Trading options is definitely not for the faint of heart as one's portfolio can move up, or down, anywhere between 10%-30% during a single trading day. Feel free to follow my progress here, but PLEASE do not follow my moves. However, if, in spite of all my exhortations, should you decide to do so, be advised that you, and ONLY YOU will be responsible for any losses that you may suffer...In other words, the onus is strictly on you.