My Options2Wealth portfolio is heavily weighted in SunPower options, both in medium term options (June 2013 CALLS) and also in somewhat longer term options (January 2014 CALLS).
Most will consider an options portfolio that is 56% weighted in 1 company to be a tad risky...LOL! In most cases, I would agree, however, my bullishness in SunPower is, in my humble opinion, well grounded...
Technically, the stock looks ripe for a big move up. SPWR's charts, both Candlesticks, and its Point and Figure look pretty darn good.
You may see them here: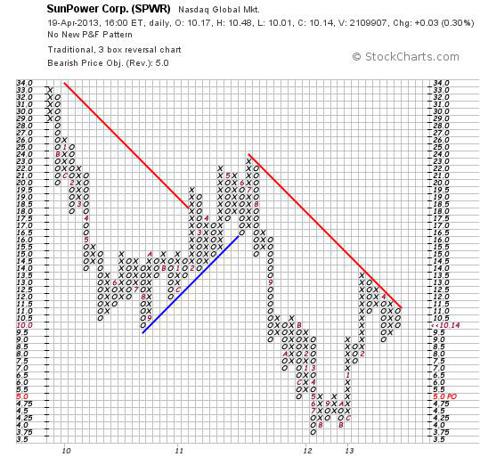 As can be seen, the stock price is currently in "Os" but in a tight triangle formation and is butting heads with the downward sloping Bearish Resistant line drawn in red. What I find particularly bullish is that 2 months ago the stock formed a tight triangle but then broke through its double bottom support and fell as low as $9. Then 2 weeks ago, it switched back into "Xs" and then consolidated by making a 3-box reversal and in the process formed a brand new triangle. When the stock price prints $11.50 and makes yet another 3 box reversal, this time into "Xs", it will, technically, have penetrated its Bearish Resistant line. A subsequent print of $12.00 will not only be a Double Top breakout but also serve as the confirmation signal of a MAJOR trend reversal: The stock should finally come out of its 18 month long 'bearish" slump and start a new, "bullish" trend...In PnF charting, this is a very important trend reversal signal and I just cannot over emphasize its importance...What it means is that after almost a year and a half, the "Bulls" will have regained control of the stock's price action and be back in the driver's seat, pushing the stock price higher. I am betting that this new trend should catapult the stock price all the way up to $23 within 2 months...we shall see...
And here is its Candlestick chart: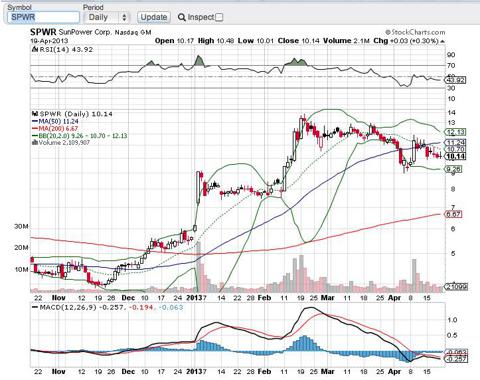 Here too, the candlesticks are trending down, but on low volume...in other words the stock's price is consolidating...The RSI is below 50 and the MACD is all the way down in oversold territory...And the Bollinger Bands are converging for a pincer move on the stock's price...all very bullish...
The fundamental side of the business is equally bullish...
SunPower will announce its first quarter earnings on May 2nd...In their last earnings call, they presented a somewhat bullish business outlook for this quarter but "wildly" bullish case for the second half of this year...Recent market trends potentially point to a more robust 2013 than even the company's management had envisioned just 2 months ago: Earlier this month, news broke that the Japanese market, which is projected to become the world's 2nd largest solar market after China in 2013 and is an important market for SunPower representing 8%-10% of the company's sales, is now slated to build solar installations totaling 6.1 gigawatts to 9.4 gigawatts in 2013, more than doubling the forecasts of 3.2 to 4 gigawatts from just a few months ago...I believe these new projections have not been baked into SunPower's revenue forecast for this year.
tinyurl.com/cuw2za7
Also, in their last conference call, they mentioned that they will be holding an analyst meeting sometime in May...I do want to point out that the most recent analyst meeting for a solar company took place 2 weeks ago and the news emanating out of that shindig propelled First Solar's stock price more than 45% in 1 trading day! I am hoping to see a similar result out of SunPower's next month's meeting as well...LOL!
And then there is Saudi Arabia...
According to Reuters news agency, this month or next, Saudi Arabia, as part of its projected $110 billion embrace of solar power, plans to issue a request for pre-qualification for its first plants...I believe that this imminent announcement should serve as a major catalyst for the start of a new rally in solar stocks and is one of the reasons why I am betting big on SunPower.
tinyurl.com/bvq974n
So there you have it. I have made my case and put my money where my mouth is and publicly placed my bets...I will either make hay while the proverbial sun shines, or, eat crow...my Options2Wealth portfolio's fate is before the Stock Market Gods and will wait and see what the future holds for my portfolio and me...
:-)
Let the games begin!
kp
P.S. And by the way, tomorrow I will be using my cash to get back into WFR CALL options...hope the stock does not gap open in the morning...
DISCLAIMER: All postings made here are strictly for my personal record keeping and in no way, shape or form, am I even remotely suggesting others to follow my Buy and Sell moves. Trading options is definitely not for the faint of heart as one's portfolio can move up, or down, anywhere between 10%-30% during a single trading day. Feel free to follow my progress here, but PLEASE do not follow my moves. However, if, in spite of all my exhortations, should you decide to do so, be advised that you, and ONLY YOU will be responsible for any losses that you may suffer...In other words, the onus is strictly on you.