In the postscript section of my Sunday, April 21st post (NYSEARCA:PST), (the date stamp of the post shows midnight April 22nd Eastern Standard Time) I had said that I was going to buy CALL options in MEMC Electronic Materials, Inc. (WFR) the following day (Monday)...I wish I had followed through and done what I had said I would...because had I bought those CALLS on Monday, I would have paid approximately 33% less than the price I forked out yesterday for those same CALLS...because, in the early part of the day on Monday, WFR stock was actually down as much as 16¢, before closing up 9¢ for the day and I could have purchased these very options for around 36¢ as opposed to the 50¢ that I paid yesterday... :-( Unfortunately, my Options2Wealth portfolio has to play second fiddle to my primary focus and passion: my day job of running my start-up and I run this portfolio more as a fun hobby...
In any case, this initial purchase consisted of only 100 contracts of WFR's July $5.00CALLS @ 50¢...in the long run, it will be irrelevant what my initial entry price is because I expect these CALLS to pay me handsome dividends before their expiry in July...
I still have some cash left and will be adding to it today after I completely exit out of my remaining 100 fat and juicy Sprint CALL contracts. I plan to deploy that cash into either WFR or GTAT CALL contracts...The markets are about to open, so I will come back and complete this post...
kp
EDIT:
Today, as per plan, I sold my remaining 100 CALL contracts of Sprint @ $1.08 and bought an additional 100 contracts of WFR CALLS, Strike Price $5.00 @ $0.54...Various screen shots, including the most current summary of the portfolio's holdings in an Excel spreadsheet is provided below:
This screen shot is yesterday's price action in WFR CALLS: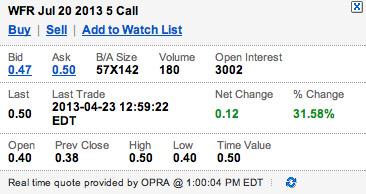 The next 2 screen shots are from today: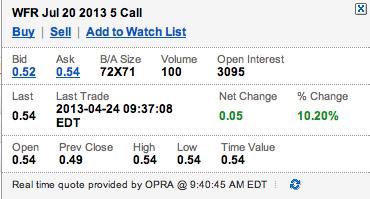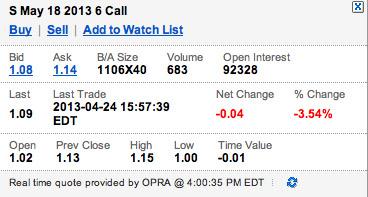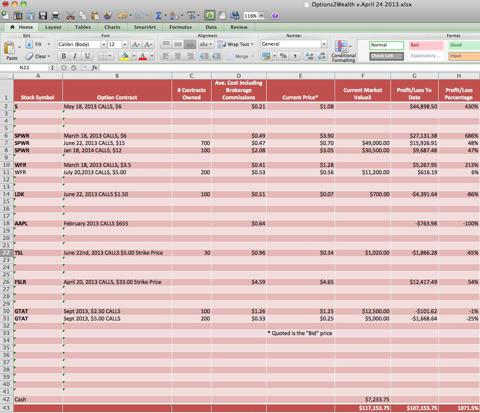 DISCLAIMER: All postings made here are strictly for my personal record keeping and in no way, shape or form, am I even remotely suggesting others to follow my Buy and Sell moves. Trading options is definitely not for the faint of heart as one's portfolio can move up, or down, anywhere between 10%-30% during a single trading day. Feel free to follow my progress here, but PLEASE do not follow my moves. However, if, in spite of all my exhortations, should you decide to do so, be advised that you, and ONLY YOU will be responsible for any losses that you may suffer...In other words, the onus is strictly on you.