Last weekend I wrote a detailed post explaining the reasons behind my extreme bullishness on SunPower and how I justify allocating 71% of my Options2Wealth portfolio (based on this Friday's closing value of my portfolio) in the company's options...
This past week SunPower stock took off and at one point on Friday was up almost 40% for the week, before settling down at a more digestable 30%+ level...lol...
Note the stock's 5 day chart since my last weekend's post...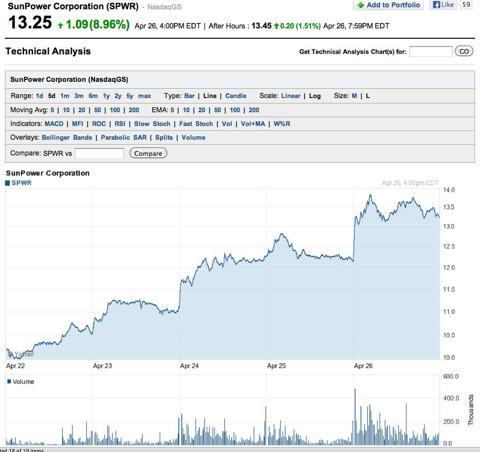 For the week, my Options2Wealth portfolio, heavily weighted in SunPower, did quite well...thank you very much...
Here is the portfolio's current value based on the individual closing "bid" price(s) of the various options in the portfolio:
With this move up, the stock pierced its bearish resistant trend line...In my last weekend's post, I pointed out the high likelyhood of this happenning and noted that this is a very impotant trend reversal signal whose value I just cannot overemphasize...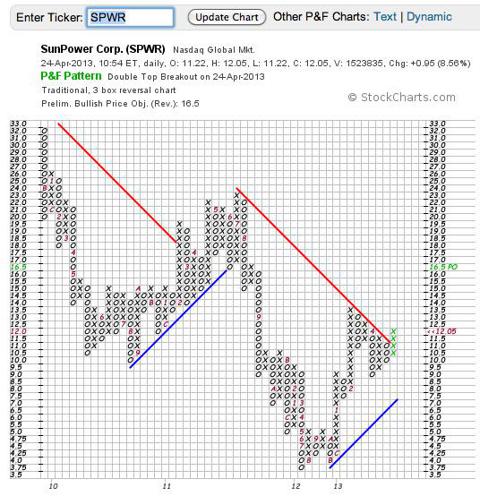 And juxtaposed with the previous week's PnF chart so that one can see the difference between the 2 charts: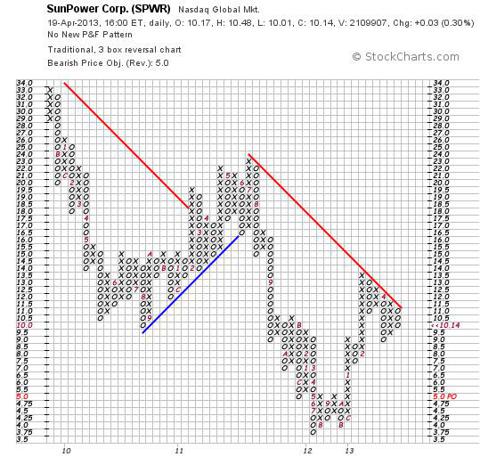 Going forward, say 1 year forward, imho, SPWR stock could be neck and neck in price with that of First Solar...however, I fear that within the next 6-9 months, the French oil company Total, SunPower's majority shareholder may tender for the remainig shares that it does not currently own and in the process, basically "rob" us, the minority shareholders, of the stock's full price potential over the next 5-10 years...LOL!
In any case, at least over the next 2 months, a pretty bullish move is setting itself up, and, imho, the stock has the potential to make a $10 move, up from its current $13 to $23 before June's option expirations...
Yesterday, to help matters, an analyst at R.W. Baird and Company seemed to agree with my last week's analysis and upgraded the stock...looks like all the stars are coming into alignment...
:-)
kp
DISCLAIMER: All postings made here are strictly for my personal record keeping and in no way, shape or form, am I even remotely suggesting others to follow my Buy and Sell moves. Trading options is definitely not for the faint of heart as one's portfolio can move up, or down, anywhere between 10%-30% during a single trading day. Feel free to follow my progress here, but PLEASE do not follow my moves. However, if, in spite of all my exhortations, should you decide to do so, be advised that you, and ONLY YOU will be responsible for any losses that you may suffer...In other words, the onus is strictly on you. On the other hand, if the move(s) result in a profit for you, I am open to discussing a split. ;-)