This was another good week for my Options2Wealth portfolio...
Thanks to continued strength in SunPower, which, to my chagrin and disappointment, refuses to make a 3 Box Reversal on its PnF chart, and a strong move by WFR, helped lift my public portfolio's value well past the half million mark and it closed the week with a value of $624,798, up 6,148%...Shared below is the screen shot of an Excel spreadsheet showing the portfolio's current holdings and value :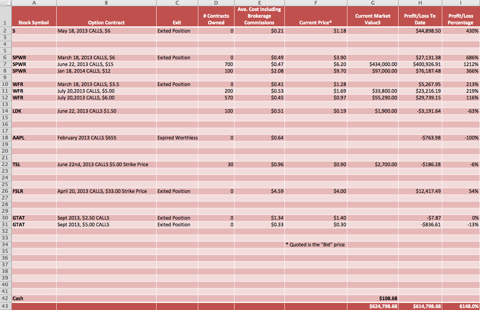 For the coming week, I expect SunPower to complete its current run up when it prints $23 on its PnF chart, at which point I will exit out of my 700 CALL contracts of its June 2013 $15 options...I am 99.9% sure that SPWR's stock price will pull back to around $19, consolidate around the new $20 floor, before resuming its next upward move towards $30...Once it has completed its upcoming consolidation phase which, btw, should last about 8 weeks, I plan to climb back with another large position...
In the meantime, my portfolio's other holdings, namely WFR, TSL and LDK are getting ready to make their individual moves up as well...of the 3, I am most bullish about WFR and almost equally so about TSL...on LDK however, my conviction is not as sanguine...
Here are the PnF charts of WFR and TSL and also the candlestick chart of TSL...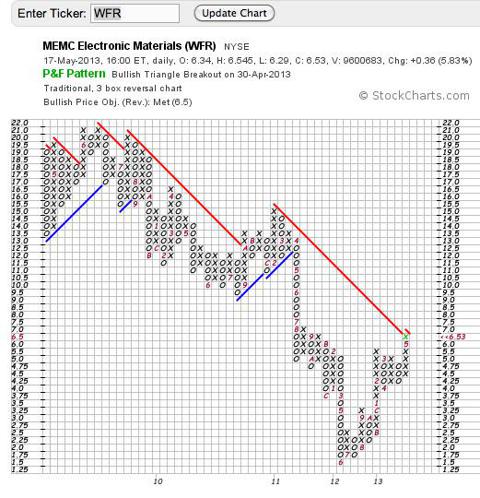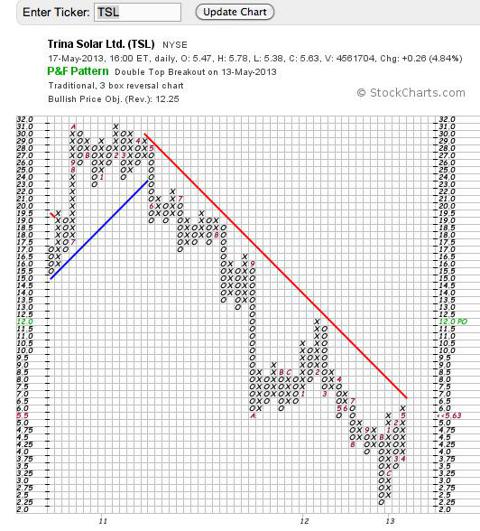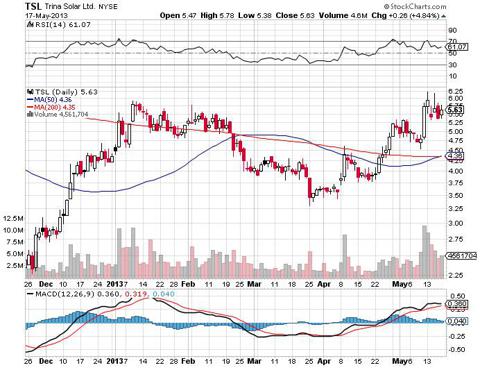 From the WFR's PnF chart, one can see that its has pushed its Bearish Resistance Line a little and when its stock price prints $7.00, which incidentally is also a double top break, it will have convincingly broken through...(As pointed out in my April 22nd post titled Reasons Behind My Big Bet on SunPower, I had highlighted the significance of this break...the subsequent move of SunPower in the last 1 month shows the validity, and importance, of this break...) I believe that WFR will make such a break this week...in fact, the chances of it doing so on either Monday or Tuesday are looking pretty good...I, however, would prefer that it delays its move until after SunPower completes its run to $23, so that I can exit SPWR and pile some more cash into WFR...
:-)
On TSL, a similar pattern is beginning to develop on its PnF chart...additionally, as can be seen from its candlestick chart, the 50 day simple moving average (NYSE:SMA) line just crossed the stock's 200 day SMA, another bullish indicator...In anticipation of the impending fireworks in TSL's share price, I plan to substantially increase my portfolio's exposure to the stock this coming week...
Hurry up SunPower and complete your darn move to $23! LOL!
kp
DISCLAIMER: All postings made here are strictly for my personal record keeping and in no way, shape or form, am I even remotely suggesting others to follow my Buy and Sell moves. Trading options is definitely not for the faint of heart as one's portfolio can move up, or down, anywhere between 10%-30% during a single trading day. Feel free to follow my progress here, but PLEASE do not follow my moves. However, if, in spite of all my exhortations, should you decide to do so, be advised that you, and ONLY YOU will be responsible for any losses that you may suffer...In other words, the onus is strictly on you. On the other hand, if the move(s) result in a profit for you, I am open to discussing a split. ;-)