The markets today were skittish, to say the least...after opening up at the bell, the air came out and down they went...all 3 indices posted substantial losses, with the NASDAQ taking the biggest decline honors...
The stocks in my Options2Wealth portfolio also took a hit, however, I was able to sell a substantial portion of the holdings at relatively decent prices...
I sold out my position in TSL CALLS at a substantial % loss, selling the 30 contracts @ 70¢, losing 26¢ on the trade, or $780 dollars less commissions...
I also sold 800 of my Jan 2014 $6 CALLS at an average price of $2.89 less commissions, still leaving 900 contracts in the portfolio...
In addition to the above, I also sold 500 contracts of my $7 strike price, Jan 2014 CALLS at an average price of $2.32, less commissions, leaving the portfolio with 500 contracts...
In my morning post before the markets opened, I had said that I will sell "more than half" of my SUNE option contracts, and I was mostly successful, selling a little less than half...
As usual, screen shots of the trades and the portfolio's current Excel spreadsheet is shared below...
My Options2Wealth portfolio has a pretty substantial cash position that I may be able to deploy, should the markets cooperate and offer my favorite stocks, SunPower and SunEdison, at Blue Light Specials...
I believe the markets are in the midst of a 10% correction and the chances of enjoying delectable prices on these favorites are quite high...we shall see...
Love market panic...
:-)
Tomorrow, I will be initiating a new position...will reveal in the morning...
BTW, for what it's worth...Apple broke a triple bottom...and just for fun, in my personal portfolio, I bought 80 contracts of Apple July 3rd, $430 PUTS...hope to round it up to 100 contracts tomorrow...we shall see how that plays out...Here is a screen shot of Apple's PnF when it broke the triple bottom...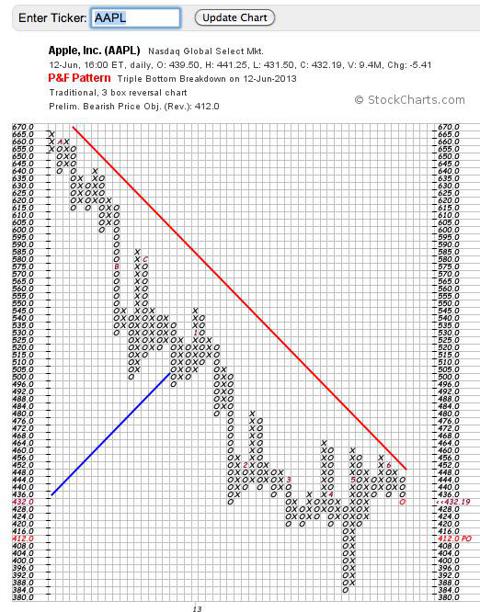 :-)
kp
DISCLAIMER: All postings made here are strictly for my personal record keeping and in no way, shape or form, am I even remotely suggesting others to follow my Buy and Sell moves. Trading options is definitely not for the faint of heart as one's portfolio can move up, or down, anywhere between 10%-30% during a single trading day. Feel free to follow my progress here, but PLEASE do not follow my moves. However, if, in spite of all my exhortations, should you decide to do so, be advised that you, and ONLY YOU will be responsible for any losses that you may suffer...In other words, the onus is strictly on you. On the other hand, if the move(s) result in a profit for you, I am open to discussing a split. ;-)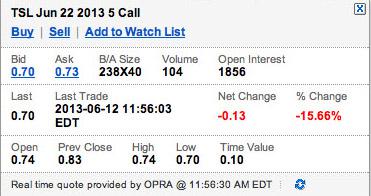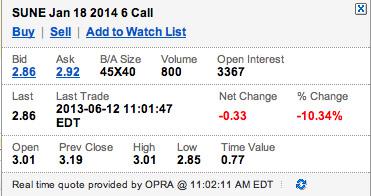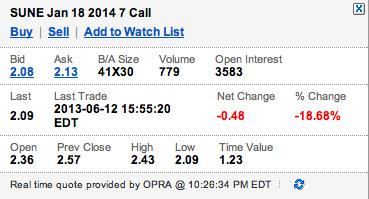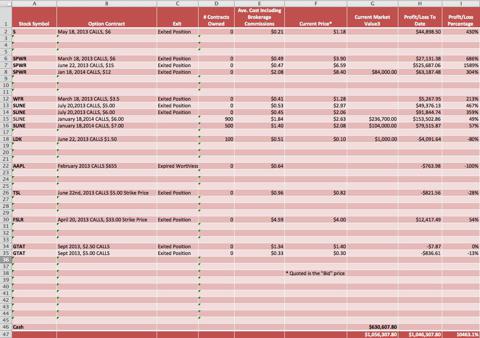 BTW, selling large option positions, especially during a market stampede is not easy...