The Impending Move In Apple (Part 3)
Technically, Apple's chart is looking real good...
On the PnF chart, thanks to Syria, Apple not only switched back into Os, it printed 5 Os...The best analogy I can give is the spin cycle in the clothes dryer...If you know what I mean...By pulling back, AAPL was able to squeeze out a lot of the froth that was built into the stock. I was hoping for a 4-box reversal and the stock Gods rewarded us with a 5-box reversal and with the potential for another box or two...LOL! As you can see from this screen shot, this is one beautiful looking chart...It is setting up for a strong up move...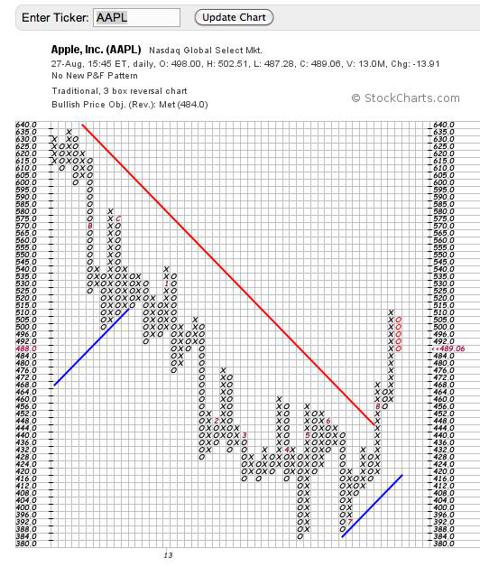 And then on the Candlestick chart, AAPL's 50 day sma is less than $15 away from colliding with its 200 day sma and light up the spark that will cause ignition...The two lines should intersect within the next 8-10 trading sessions...and the RSI has also come down from nosebleed territory...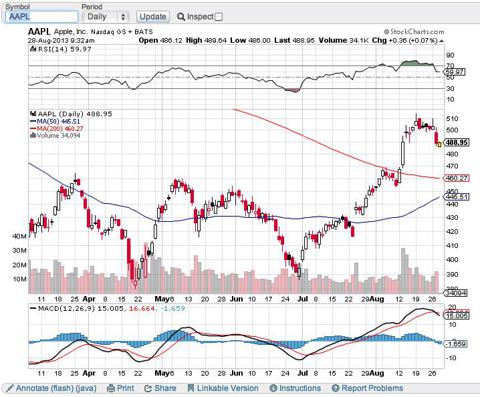 No need to panic...but rejoice, yes!
:-)
kp
DISCLAIMER: All postings made here are strictly for my personal record keeping and in no way, shape or form, am I even remotely suggesting others to follow my Buy and Sell moves. Trading options is definitely not for the faint of heart as one's portfolio can move up, or down, anywhere between 10%-30% during a single trading day. Feel free to follow my progress here, but PLEASE do not follow my moves. However, if, in spite of all my exhortations, should you decide to do so, be advised that you, and ONLY YOU will be responsible for any losses that you may suffer...In other words, the onus is strictly on you. On the other hand, if the move(s) result in a profit for you, I am open to discussing a split. ;-)