Let me start by stating the obvious...
I have egg on my face.
Am guilty as charged for straying from my original investment thesis and getting carried away in the wild-eyed spectacle surrounding Apple's iPhone 6 launch...And amid all the cacophonous "leaks" of "sapphire in" and "sapphire out" I threw my weight with the "in" crowd...and landed flat on my face...
Am bruised...but intact...
But there is a silver lining...I believe...
Actually, I am pretty certain!
So why all the brouhaha?
When Apple earlier this week (September 9th, 2014) announced their new iPhones, sans sapphire, GTAT's stock price took a tumble...The market, impulsively, and without bothering to make even a modicum of an effort to connect the dots, took the stock to the woodshed...Lost in this Stampede out of Dodge was the very high probability that the company may have snagged (at least for now) the consolation prize of supplying screens for the upcoming Apple Watch...But last Tuesday and then especially on Wednesday, Mr. Market was in no mood to give a listen to the suffering longs' whining(s) and instead bellowed, "let's just shoot the darn stock first...there will be plenty of time for forensics later..."
Unlike Mr. Market, I will try and analyze the matter calmly and rationally...
Could it really be possible that GTAT's management got blindsided by Apple's September 9th announcement that their new iPhone 6s won't include the much ballyhooed, "indestructible sapphire?"
Like, the day before I found out?
Naw...
Can't be possible, can it?
Of course not!
They had to know, heck, at least, a few months before Apple's September 9th launch...and knowing the meticulous care and painstaking thoroughness that Apple invests, especially time, in product development before lifting the curtain of secrecy, the more likely answer is: at least 1 year...On the extremely unlikely and logic defying chance that GTAT's management, for some inexplicable reason, did get blindsided, then, to avoid any potential legal jeopardy, they must file Form 8-A and divulge this new and material reality. The law dictates that they have only 4 business days to inform the SEC...
www.sec.gov/rules/final/33-8400.htm
The fact that the management has not filed this form tells me that they are quite sanguine about the company's prospects in delivering on those pretty lofty revenue projections...very bullish indeed! And hence the title of this post: Silence is Golden
So what if their sapphires don't adorn the latest reincarnation of the iconic iPhones...The fact that they haven't announced a material change in their guidance tells me that Apple continues to buy their production...For what? I don't know...and honestly, I don't give a rat's ass...lots of speculations being bandied about on various chat boards...but all that is just noise, and therefore, to me, immaterial...The parking lots at the company's Mesa, Arizona plant continue to be packed, and the worker bees coming in those cars are clearly producing sapphire that Apple needs for something and continues to purchase from GTAT...This in turn should result in pretty impressive revenue numbers over the next 6-12 months. And of course, most of the above should also get confirmed in their next earnings report, due out in early November...
Here is a quote lifted directly from GTAT's First Quarter Earnings Conference Call on May 8th, 2014...In response to an analyst's question, the company's CFO, Raja Singh Bal said:
"...the Sapphire Materials business is a book and ship business, okay. And there's no linkage to -- there's got to be an end product in the marketplace or anything else like that. We're selling sapphire. And so as we ship it, we recognize it. In the early phase of the program here, there's some things that hang-up revenue on the balance sheet, which will then release throughout the balance of the year. So you should not link, okay, that deferred revenue into any assumption as to how revenue will actually clock out once we get into the back half of the year. And again, it's not linked to any particular product launch or anything else like that. And as you know, we can't speak to whether or not there will be one or there won't."
seekingalpha.com/article/2203333-gt-adva...
Regular readers of my blog know that I am basically a chartist / technical analyst...Only when a chart points me to an interesting prospect, do I bother to kick the proverbial tires (fundamental analysis). And in my checklist of fundamental analysis, the item at the very top is: rate of acceleration in revenue growth. Absolutely the first set of numbers I look for...Period.
The original thesis that sold me onto GTAT was the rapid acceleration in the company's revenue growth, not just year over year, but even more impressively, sequential quarter over quarter...those who know me personally have seen and heard me stand up on the bully pulpit and wax superlatives about GTAT's projected rapid revenue growth...We already know that in the first half, the company reported total revenue of $81 million ($23 million in the first quarter and $58 million in the second, which btw @ 152 % sequential growth is pretty impressive in itself). Management has guided full year's revenue to be between $600 million and $700 million. I should emphasize, that management has repeated this guidance not once but twice in the last 5 weeks. Taking the low end of their guided range, I am looking at some serious acceleration in revenue growth...From $81 million in the first half to at least $519 million in the second! In percentage terms, that works out to a growth of 640%...I don't know about you guys, but in my book, that is blistering acceleration in velocity...and it is precisely the kind of escape velocity needed before a stock can leave the earth's gravity for the ride to the moon...In other words, GTAT is on the launch pad...last week, upon ignition, the engines sputtered a little, so the mission to the moon had to be aborted...but only temporarily...But thanks to the aborted mission, the true believers got to salivate Mr. Market's unexpected gift of a 30% SALE on the price of its stock...WoW! But the current sale price does not mean that Mr. Market can't become even more generous...and if so, then Praise the Lord...However, going forward, I have no doubt that we shall soon hear the magic words:
Houston, we have ignition!
And the longs should be on their way, hopefully for the ride of a lifetime...
Again, all of the above is imho...
:)
Another reason I am a believer is because the company continues to hire...Should they have lost any Apple business, they would be retrenching for God's sake...not hiring, ...Here's a link to the current job openings at GTAT...Note the more recent listings...
gtadvancedtechnologies-openhire.silkroad...
There is no escaping the fact that GTAT is the dominant company in the industrial sapphire space and the future of sapphire is very bright and getting brighter with each passing day...This link to an article in the MIT Technology Review points to a future where sapphire screens will dominate smartphone displays and the article talks extensively about GTAT and its budding partnership with Apple...
www.technologyreview.com/photoessay/5306.../
And bear in mind that GTAT is more than just a sapphire company and the next few months will reveal the company's other, very promising technologies...
In light of the above I believe that my original investment thesis on the company continues to be valid...and therefore the current weakness in the company's share price, is, imho, a gift...
:)
Again, in the absence of any intimation from the company about a reversal in its fortunes, I continue to believe that GTAT is chugging along just fine, thank you.
I have no reason to doubt management...they have forged a partnership, with one of the most admired companies on the planet, retrofitted a massive factory shell into a state of the art plant for the production of industrial sapphire, hired, trained and deployed, more than 1,000 workers, working round the clock, 24x7 and projected to generate revenue of more than a billion dollars for the company in 2015...and they have been able to deliver all this in less than a year...They obviously have done a good enough job so far to secure from Apple 3 of the 4 milestone payments with the last remaining, management expects to receive by the end of next month... This is a very credible and efficient management team and I have no reason to doubt their guidance...
When the short sellers wake up from their drunken stupor - having earned the right to party, and party hard - they'll realize that the next path of least resistance is up...They made a terrific bet on the short side, and won...more power to them! But if they intend to hold on to their shorts because they believe that GTAT is nothing but a house of cards, then they will wake up to a rude awakening...
The shorts are clearly pretty smart...they certainly got the best of me on this last bet...GTAT may, in the short term continue to act weak...may even break the Double Bottom support @ $13.00 on its PnF daily chart...But I don't expect it to pierce the more important, Bullish Support Line, currently @ $12.50...For the benefit of the uninitiated, GTAT stock price will need to "print" $11.50 intraday, for it to violate this very critical technical support line...
Here is the daily PnF chart of GTAT: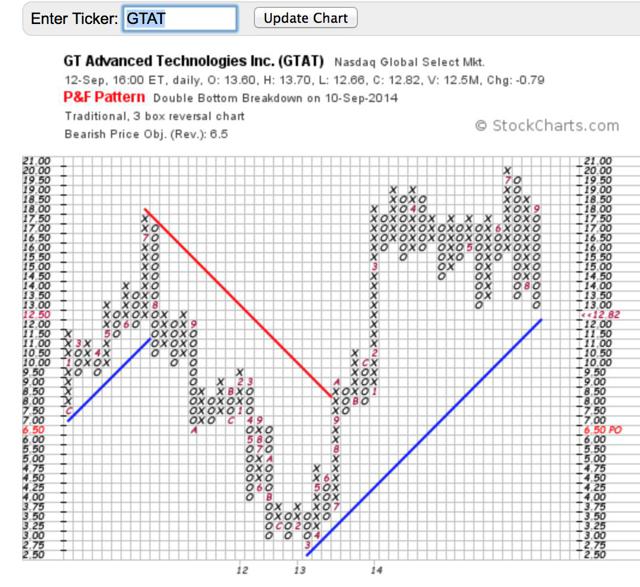 And here is the weekly PnF chart of GTAT...as you can see, on the weekly chart, the support lines are further down...However, I don't expect the stock price to break the daily supports and come down to test the weekly support...we shall see...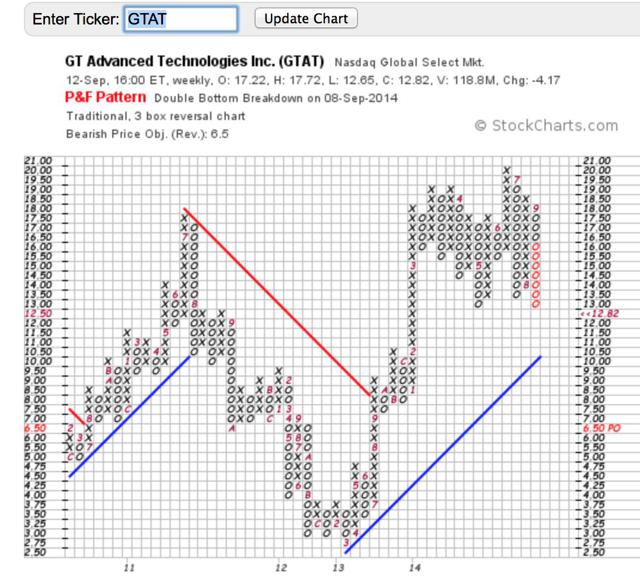 Technically, being that the stock has taken a severe beating, it needs to consolidate here......Hopefully the above mentioned supports will hold as the stock goes through the normal, and healthy, process of back testing...Once the consolidation phase is complete, GTAT will start its inevitable climb up... and soon! Of that I pretty certain...
Final Thoughts: The markets from time to time, suffer from bouts of "irrational exuberance." That's of course when it is going up...On the way down, the markets tend to suffer from a different malady...I call it irrational depression...I believe that the current malaise in GTAT's stock price is due to irrational depression and all it needs is a dose of Xanax and it will turn around in a hurry...and I expect it to receive that dose sooner rather than later...In their last earnings conference call, the CEO stated that this Fall the company will be hosting a webcast to "to provide more detail on our Hyperion and Merlin strategic initiatives and the potential we see as these reach maturity over the next several years." Last I checked, Fall starts in a week...with the current state of depression pervading over GTAT longs, I believe that Management will throw a few needed morsels by announcing this webcast soon...and that should provide the needed shot in the arm and help lift the current heavy cloud of doom and gloom...
seekingalpha.com/article/2382785-gt-adva...
Again, all imho...
Best~
karim
DISCLAIMER: All postings made here are strictly for my personal record keeping and in no way, shape or form, am I even remotely suggesting others to follow my Buy and Sell moves. Trading options is definitely not for the faint of heart as one's portfolio can move up, or down, anywhere between 10%-30% during a single trading day. Feel free to follow my progress here, but PLEASE do not follow my moves. However, if, in spite of all my exhortations, should you decide to do so, be advised that you, and ONLY YOU will be responsible for any losses that you may suffer...In other words, the onus is strictly on you. On the other hand, if the move(s) result in a profit for you, I am open to discussing a split. ;-)
Disclosure: The author is long GTAT.