First and foremost, I want to wish all of you who still follow my blog a Happy, Healthy and a Very Prosperous New Year!
My postings here have become somewhat infrequent and I will try to be more active in 2015...After reading this very detailed post, many of you may feel that I have more than made up for the radio silence and may want me to crawl back into my shell...
;)
I don't know about you guys, but 2014 was not a banner year for me...Had to navigate through a pretty dense thicket of challenges, both personal as well as professional, which in turn, sapped a lot of my energy, thus not leaving much to expend on my blog...hence the reason for fewer postings...And if that were not enough, the absolutely crazy and out of the blue implosion at GTAT didn't help matters, leaving in its wake, a pretty decent size hole in my pocketbook... :(
However, things are setting up very nicely for 2015 and I'm very excited about a number of opportunities that are currently on the proverbial vine...and between now and Spring 2015, as these opportunities ripen, I hope to be in a position to profitably pluck them one by one. I will be sharing 4 of those opportunities with you at the end of this post...
But first, getting back to my read on the US equity markets for 2015...
Thanks to a brand new dose of Quantitative Easing, I believe that the first quarter of 2015 is shaping up to be very bullish for US equities...
Did Karim just say Quantitative Easing (QE)???
But has not the US Federal Reserve changed its QE policy and decided to tighten the spigots that has allowed the markets to go up in an almost vertical climb over the last few years?
You all may be wondering if I have lost my marbles...
No, I have not taken leave of my senses...at least not yet...
But before I elucidate further, let me first share some context and background...
Many of you may recall that in a somewhat recent post here, I had mentioned a comment that I had posted back in June, 2010 on someone else's blog... This is back when I had just discovered the Seeking Alpha website and had come across a post that was all doom and gloom about the health of the US equity markets as the Dow was sinking below 10,000...In disagreeing with his very pessimistic outlook, I had posted the following:
"Th(is) is a market that is awash in liquidity and for someone who has been around the block a few times, high liquidity means high stock prices...PERIOD! All the doom and gloom is just what the doctor ordered so that all the weak hands let go of their stocks...What you are seeing is a consolidation of the 10,000 floor for the inevitable climb up...And mark my words, this market is going up and the ride is going to be a doozy!"
seekingalpha.com/user/665090/comments
Fast forward today, and surely no one can deny, that the ride indeed has been a doozy! The Dow is comfortably ensconced above 18,000 (!!!) and itching to go even higher...My prediction for DOW in 2015: 20,000
That is another 11% climb from here...
What makes me think that the markets still have room to go up from here after already making a pretty monstrous move over the last 4+ years?
Today, we are very fortunate to be blessed with yet another round of QE...except that this time around it is not the Fed that is supplying the liquidity...instead, it is OPEC that has decided to keep the coolaid flowing by allowing oil prices to fall and thereby producing the same effect as the Fed's QE policy...
Here is my reasoning: According to the government data, in 2013, US consumers bought 134 billion gallons of gas ( www.eia.gov/tools/faqs/faq.cfm?id=23&t=10 )...Now with gas prices down an average of $1 nationally from a year ago level, (actually here is San Diego, gas prices are down almost $2 per gallon), this, in effect, equates to at least $134 billion of Quantitative Easing. The $134 billion are real dollars going back into the wallets of US consumers who are all itching to spend it right here at home, thereby giving the US economy a much needed boost. In fact, as a rule of thumb, the net affect on the US economy of this latest round of QE, à la OPEC, will actually be 3 times the $134 billion number, or about $400 billion! (If anyone is interested, I will be happy to explain how the 3x multiplier comes into play.) And just like in 2010 when I predicted a doozy ride because there was a lot of liquidity in the US financial system, it is precisely for the same reason again that I predict that markets will continue to go up, at least through Spring 2015. As the sun sets on 2014, a boat load of dollars will again be chasing quality stocks in the new year and the markets will have no place to go, but up!
I have absolutely no doubt that this new round of QE will help the US equity markets to claim newer highs...Many of you may recall that for more than a year I have been predicting that the US markets will not rest until the NASDAQ makes a new all-time high. Even though the index has consistently been making new, 52 week highs this year, it is actually a laggard because unlike its siblings that have been notching new, all-time high, the NASDAQ has been unable to score its own all time high since March of 2000(!!!). In my June 8th, 2014 blog post titled "David Tepper Couldn't Be Reading Options2Wealth...Could He?" I had gone out on a limb and predicted that the NASDAQ would make a new, all-time high before the end of the year...
Unfortunately it looks like I will be wrong...again! :(
Today, the NASDAQ stands @ 4,806.86, some 326 points away from its all-time high of 5,132.52 established all the way back on March 10th, 2000...with 4 trading days remaining in 2014, I don't believe it can climb that many points to help me save face and avoid yet another embarrassment...However, I have no doubt that with OPEC's QE, there will be plenty of juice left in the tank to take the NASDAQ above my target in the first quarter of 2015...
RUSSELL 2000 ($RUT):
As many of you may have noticed, I prefer trading options in Nasdaq small caps...in other words, Russell 2000 Index ($RUT) companies that mostly sport market capitalization of less than $1 Billion...
Unfortunately, in 2014, it is the lack of performance of $RUT that had me flummoxed all year...As you will see from these charts, in 2014, the $RUT seemed to have hit a wall @ 1,200, and every time it tried to break free, it got smacked down...So while the S&P 500, the DOW and the NASDAQ were making new 52 week highs, and in fact, the DOW and the S&P were making new all-time highs almost weekly, the $RUT did nothing but marked time and consolidate...Its consolidation over the past year has turned the index into a tightly wound coiled spring that, imho, is about to breakout with a vengeance...In fact, on its PnF chart, it is less than 5 points away from breaking a Spread Triple Top...I expect this breakout to occur as early as tomorrow...but if not tomorrow, then certainly this coming trading week...Talk about New Year's fireworks...can't be any more fitting! And btw, IWM, which is an ETF and acts as $RUT's proxy, has already telegraphed $RUT's impending move by breaking out of its own Spread Triple Top resistance...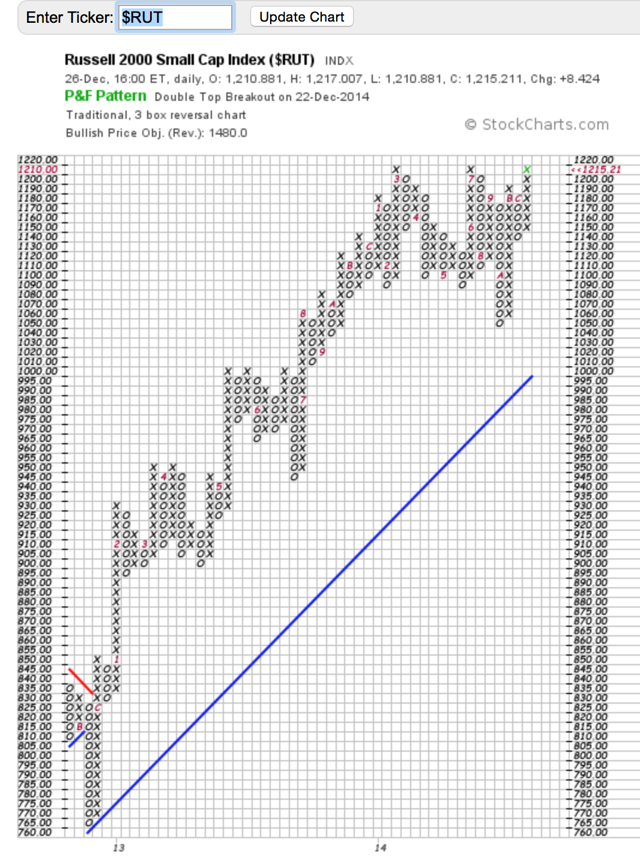 Here is the chart of IWM, proxy to the $RUT, giving us a heads up on the underlying index's upcoming move: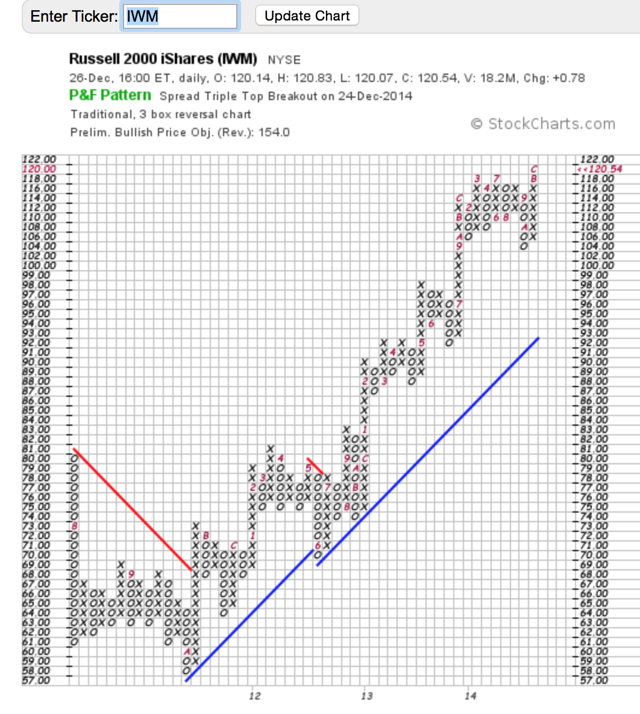 The above 2 charts helped crystallize for me the value of the opportunity developing in $RUT and hence my bet in IWM CALL options...Barring a cataclysmic event, natural or man-made, my level of confidence in this bet is darn near 100%...very exciting indeed! I hope to double the value of my bet in the next 2-4 weeks, if not sooner...we shall see...
:)
Specific Stock Tips for 2015:
1) IWM (Proxy ETF for the RUSSELL 2000)
2) Exact Sciences (NASDAQ:EXAS)
3) Halozyme Therapeutics (NASDAQ:HALO)
4) Orexigen Therapeutics (NASDAQ:OREX)
IWM: I have already explained my rationale above.
EXAS: This has been my favorite stock for the last 3 months...Its PnF chart is shaping up for yet another breakout...Once EXAS prints $30, it will come out of a very bullish "flag pattern" and score a new Double Top Breakout! Could do it this coming week, but certainly in January 2015. Also, the stock's fundamentals are rock solid.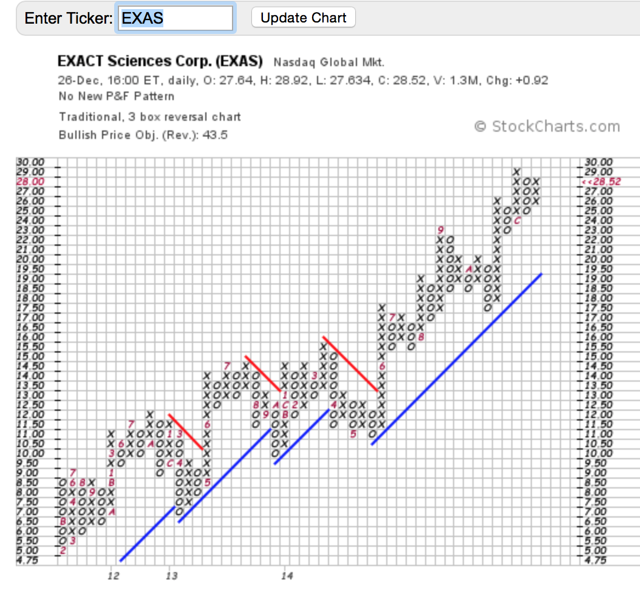 HALO: I love the way its PnF chart is shaping up...As you can see, the stock price is itching to pierce its Bearish Resistance Line (BRL) and you all know how important that break usually is...Also, based on a number of fundamental developments, I believe that it will be successful in piercing through its BRL in the next week or two...I currently have taken a small position in HALO options (CALLS) and once it pierces its BRL, I will increase my position significantly...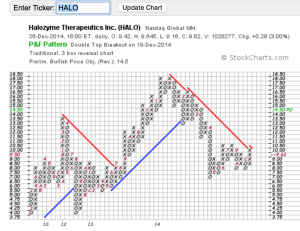 OREX: Unlike HALO, OREX's chart has already broken through its BRL and on its daily Candlesticks, its charts is about to form a Golden Cross, the widely followed technical indicator generated when the stock's 50 day moving average line pierces through its 200 day moving average line from below...this signal should not be confused with my personal favorite, the Diamond Cross® which is generated when the stocks 50 week moving average price line pierces its 200 week moving average price line from below...Based on my calculations, the Golden Cross signal should be generated in the next 4-5 trading sessions...in other words, hopefully this coming week...And like EXAS, its fundamentals are pretty solid...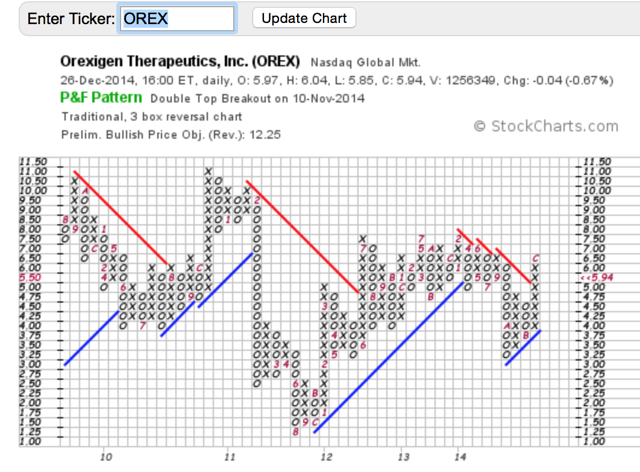 Impending Golden Cross: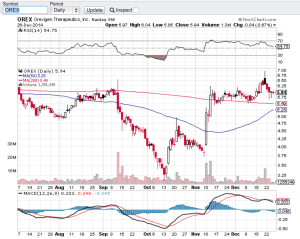 It is getting late here on the West Coast and I need to catch some sleep... Wanted to make sure I publish my post before the markets open in less than 5 hours...
Happy New Year to all of you! Stay safe and please don't drink and drive...
Best~
karim
DISCLAIMER: All postings made here are strictly for my personal record keeping and in no way, shape or form, am I even remotely suggesting others to follow my Buy and Sell moves. Trading options is definitely not for the faint of heart as one's portfolio can move up, or down, anywhere between 10%-30% during a single trading day. Feel free to follow my progress here, but PLEASE do not follow my moves. However, if, in spite of all my exhortations, should you decide to do so, be advised that you, and ONLY YOU will be responsible for any losses that you may suffer...In other words, the onus is strictly on you. On the other hand, if the move(s) result in a profit for you, I am open to discussing a split. ;-)
Disclosure: The author is long EXAS, HALO, IWM, OREX, QQQ.