In a comment by Solaron (Aron), he posed a question the answer to which I felt deserved its own blog post…so here it is...
On ZIOP, my "interim" price target is $15 and this should be met within 2 months or less…
@ $15, ZIOP will carry a market cap of $1.5 billion...and based on anecdotal information, the buzz is that because of ZIOP+XON's recent ground breaking partnership with MD Anderson, and with their announced intention of filing 5 INDs this year alone, ZIOP should be valued at par with other companies in the CAR-T space...JUNO and KITE are 2 pure-play CAR-T players and today they sport market caps much higher than ZIOP...
As of Friday's closing prices, JUNO with approximately 78 million shares carries a market cap of a little over $3 Billion and KITE with around 41.8 million shares has a market cap of around $2.63 billion…ZIOP on the other hand, after the recent secondary offering has approximately 114 million shares outstanding and has a market cap of just over $1 billion...
Therefore, once ZIOP starts filing its planned INDs and signs partnerships with other big pharmas for a number of cancer indications, I fully expect its market valuation to catch up, if not surpass both JUNO and KITE's market caps. In order for it to do that, ZIOP's share price will be around $30 and I fully expect it to do that by the end of the year.
As I mentioned in my previous blog post, upon printing $10 recently, ZIOP technically has broken out…last week's pullback should be considered a gift and taken advantage of…And there is yet another technical BUY signal about to be generated…Readers of my blog know the importance I place on my very own Diamond Cross™,,,this is when the stock's 50 week moving average line crosses its 200 week moving average line…well, as you can see from this candlestick chart, this too is setting up quite nicely and should occur within the next week or so…There is zero doubt that all systems are go with ZIOP and in the next few weeks and months, the stock should make a pretty impressive move north…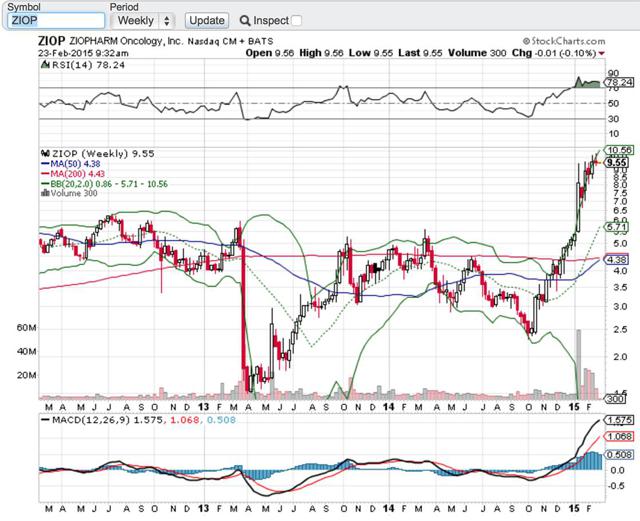 Additional Opportunities: Apart from ZIOP, there are 3 additional opportunities on my radar…And they are EXAS, HALO and RMTI…
EXAS: Exact Sciences' PnF chart is looking pretty amazing…As can be seen from this chart, the stock has formed a quadruple top @ $29 and the price is currently in Os…another up move towards $29 and the stock will have formed a penta top and a print of $30 will be a pretty explosive break which should take the stock price to $35 and beyond…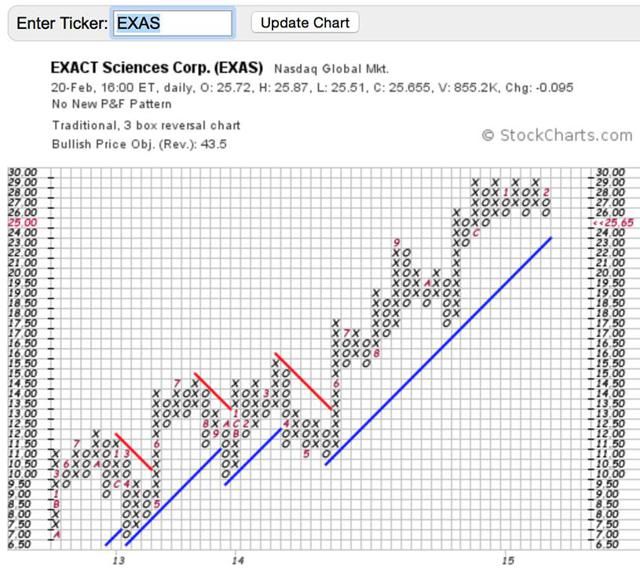 HALO: Last week, Halozyme, the other Randal Kirk stock, broke out of a spread quadruple top and a triple top flag formation…my preliminary target on HALO is at least $18 and then a print of $19 will take it into blue sky territory and it should notch multiple all time highs…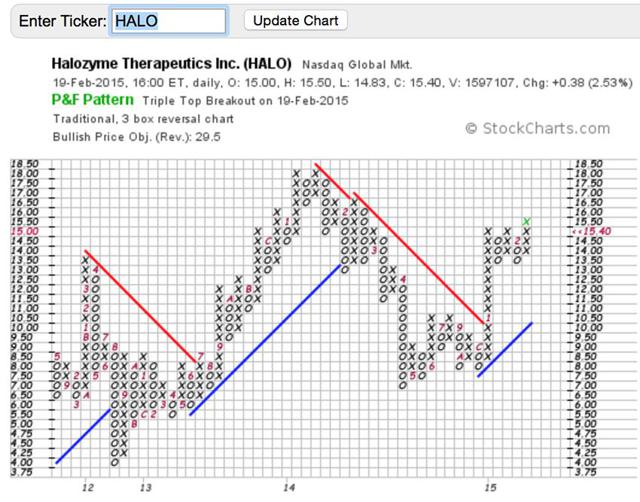 RMTI: Rockwell Medical's chart is also a thing of beauty…As can be seen on it's PnF chart, a print of $12 will take the price back into Xs and at $12.50 it will be a break of a triple top that should carry the stock to my preliminary price target of at least $15.50…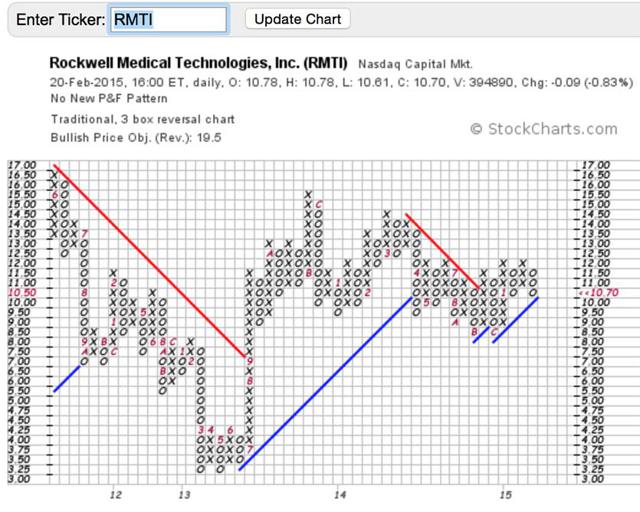 All in all, 2015 is shaping up to be very exciting indeed in my biotech universe…
Best~
kp
DISCLAIMER: All postings made here are strictly for my personal record keeping and in no way, shape or form, am I even remotely suggesting others to follow my Buy and Sell moves. Trading options is definitely not for the faint of heart as one's portfolio can move up, or down, anywhere between 10%-30% during a single trading day. Feel free to follow my progress here, but PLEASE do not follow my moves. However, if, in spite of all my exhortations, should you decide to do so, be advised that you, and ONLY YOU will be responsible for any losses that you may suffer...In other words, the onus is strictly on you.
Disclosure: The author is long EXAS, HALO, RMTI, ZIOP.