The recent price weakness in ZIOP shares have made a number of investors in the company nervous…and understandably so…I however believe that there is a very bright light at the end of the proverbial tunnel and I will use this post to explain why I still believe in ZIOP, and why I believe that the stock is now ready to rebound...
To allay everyone's fears, I will try and connect the "dots" and show why I'm convinced that ZIOP will become the leader in Chimeric Antigen Receptor (CAR-T) and T-Cell Receptors (TCR) cancer immunotherapy, the hottest fields of research in cancer treatment. I am absolutely convinced that this pullback, which has lasted for 10 weeks has just about run its course and we should start to see a move back up towards $14 in the next 4-6 weeks…
Since there are lots of "dots" to connect, this will be a somewhat long post… :)
First some background…
I have been a fan of Randal Kirk, the CEO of Intrexon for a number of years and ZIOP first came to my attention a few years ago when as an investor in HALO, where Kirk is a major shareholder, I noticed that he took a significant stake in ZIOP...
The thing that I most admire about Kirk is that he has never sold a single share in the open market in the companies that he has invested in…Therefore, he does not need to hype the companies to artificially inflate the value(s) of his shares so that he may sell them for a small gain…When Kirk decides to sell, he negotiates to sell the entire company, richly benefiting himself, and also his fellow shareholders. Another thing about Kirk that I really admire is that he is always very honest with his shareholders and in one form or another, telegraphs clues of important developments to his investors…
In this post, I will try to connect the dots that I believe should help us see the intricate but beautiful web that Randall Kirk, the CEO of Intrexon and ZIOP's largest shareholder has masterfully weaved for the benefit of the shareholders of Intrexon and Ziopharm,
So let's start connecting the dots…
Last year, on November 14th, 2014 to be exact, on XON's 3rd quarter conference call, in reply to an analyst's question on CAR-T and Ziopharm, Kirk said the following: "As you know, it's a field of intense interest around the world. We alluded in the press release to significant transactions underway and I think we'll just leave it - we'll just leave the statement with that." (seekingalpha.com/article/2681305-intrexo...)
Let's take a minute to parse what Kirk really said in his above quoted response…He said: "significant transactions." He did not use the word "discussions," but " transactions." Also, do keep in mind that on that day of XON's conference call, ZIOP closed the trading session @ $3.73
Fast forward almost exactly 2 months: on January 13th, 2015, Intrexon and ZIOP announce transaction #1: A blockbuster CAR-T partnership with MD Anderson (MDA), one of the the world's largest (if not the largest) and most prestigious cancer research hospital. Kirk told us it was coming and he delivered! To truly appreciate the significance of this partnership deal, I strongly recommend you to read the press release of the announcement.
finance.yahoo.com/news/ziopharm-intrexon...
Then, a month and a half later, on March 30th, 2015 (my birthday), Kirk delivers, again as promised, Transaction #2: Another blockbuster partnership, this time with Merck Serono, around…you guessed it: XON / ZIOP's CAR-T platform! Since this is already going to be a very long post, I don't want to get into the nitty-gritty of the deal that Kirk was able to finagle out of Merck Serono, but please take my word, it is a pretty astounding deal!
finance.yahoo.com/news/ziopharm-intrexon...
Then just 2 days later, Kirk delivers Transaction #3: Intrexon signs a CRADA (Cooperative Research and Development Agreement with not just any institution, but the very prestigious, National Cancer Institute, this time in the area of T-Cell Receptors, but using ZIOP / XON's Rheoswitch™ technology. And top it all, none other than the legendary Dr. Steven Rosenberg himself, will be the Chief Investigator on this research study and on XON's side, Dr. Greg Frost, the former CEO of HALO, and now Intrexon's Senior Vice President and the Head of its Health Sector, will serve as the co-investigator.
finance.yahoo.com/news/intrexon-signs-co...
Kirk promises: Kirk delivers!
Couple of weeks after the MDA deal, ZIOP announced a secondary...At the Dog and Pony Show to promote the secondary, the very respected fund manager for Legg Mason, Bill Miller ( http://25iq.com/2013/11/17/two-dozen-things-ive-learned-from-bill-miller-and-mohnish-pabrai-about-investing/ ) asked Dr. Laurence Cooper of MDA, I am paraphrasing from memory, but I was listening in, "There must have been many other, more established companies wanting to partner with MDA, so why did you choose this small company instead?" And Dr. Cooper said, and here again I am paraphrasing, "Yes, you are right, there were many companies who were interested in partnering with us, but when I saw their technology, I was salivating." Yes, I heard with my own ears Dr. Cooper use the word "salivating" when describing ZIOP / XON's technology! Of course, that secondary was not only oversubscribed, Randall Kirk personally bought 12.5% of the offering (finance.yahoo.com/q/it?s=ZIOP+Insider+Tr...). And in the recently released form 13F that funds have to release after the end of every quarter, Bill Miller's fund not only took a new position in ZIOP during the quarter ending March 31, 2015, he went in BIG with 3 million shares, and making it the largest new position of his fund...BTW, his largest holding is in XON! (whalewisdom.com/filer/lmm-llc-md) Since he bought those shares in the first quarter I would have to assume that since he is very bullish on ZIOP, he could be adding during the current price weakness. Here is a link to another Bill Miller video where he talks about both XON and ZIOP (video.cnbc.com/gallery/?video=3000366163)
One of the reasons that ZIOP has not received its due is because the market, rightly or wrongly, believed that its former CEO, Dr. Jonathan Lewis, though a very good scientist was not an effective manager...earlier this month, the same Dr. Cooper who had been "salivating" on ZIOP's technology, suddenly jumped ship and became the company's new CEO! I believe that his decision to come on board is very significant and we should start to see positive results of his move relatively soon...
Little over 2 weeks ago (May 11th, 2015), Intrexon, in its 1st Quarter 2015 earnings' release announced the divestiture of its 17.8 million ZIOP shares as a special dividend to XON's shareholders...and during the earnings' conference call, Kirk made a number of cryptic remarks that indicated that the divestiture of those shares could be a prelude to a sale of ZIOP...Should ZIOP be sold, Kirk, being that he owns ~62% of Intrexon and would receive the majority of the ZIOP share dividend, would be the biggest beneficiary of such a sale...Though I must caution that there is no guarantee that ZIOP will get sold sometime this year...
In that same conference call, while grading the performance of XON's health sector, which is partnered with ZIOP, Kirk gave the company an "A" and said that "we're totally smoking hot!" Having followed Kirk for a number of years, I have learnt to take his pronouncements very seriously...If he says that in health "we're totally smoking hot," then I have no reason to doubt him and am convinced that some kind of a blockbuster news that proves that XON / ZIOP are miles ahead of the competition should be released relatively soon...
I strongly urge you all to read the transcripts of Interexon's 1st quarter 2015 conference call: seekingalpha.com/article/3171816-intrexo...
When connecting the dots on ZIOP, I am kinda doing just that: following the money... :)
BTW, since it takes 3 days to settle a stock trade, therefore, in order to be considered "shareholder of record," one will need to buy XON shares latest by June 1st, 2015, to be eligible to receive the special dividend of ZIOP shares...I believe that both Frost and Krishnan's decision to convert their XON options into XON shares years before the options expiration was specifically done to avail themselves of those free shares...I also believe that once this special dividend has been distributed, a flurry of news from Intrexon and Ziopharm will start to come out...
Therefore, when we connect the dots...
• Blockbuster partnership with MDA and Dr. Laurence Cooper salivating over their technology
• Collaboration and License agreement with Merck Serono
• CRADA with NCI with Dr. Steven Rosenberg signing on as Chief Investigator
• Bill Miller of Legg Mason making XON his fund's largest investment and making ZIOP its largest new investment
• Dr. Cooper jumping ship and joining ZIOP as its CEO
• Randal Kirk making cryptic remarks about possibly putting ZIOP up for sale
• Kirk grading XON / ZIOP health sector an "A" and stating that "we're totally smoking hot."
• XON's COO, Krish Krishna spending almost $600K to convert 84,000 XON options into shares 6.5 years before expiration!
• XON's Sr. Vice President, Dr. Greg Frost spends more than $4.5 million to convert 200,000 XON options into shares 8.5 years before expiration!
...a beautifully bullish pattern begins to emerge and it all points in the direction of an imminent release of some blockbuster news that will be the ignition that should take XON and ZIOP to new highs relatively soon...How soon? Based on ZIOP's daily and weekly charts, I believe within 4 weeks...
Now let's look at the charts...
Let's start with ZIOP's daily candlestick chart...as you can see from this chart, the stock's price has been consolidating nicely and the Bollinger Bands have started to converge, the RSI is starting to move up and the MACD have also flipped into the positive...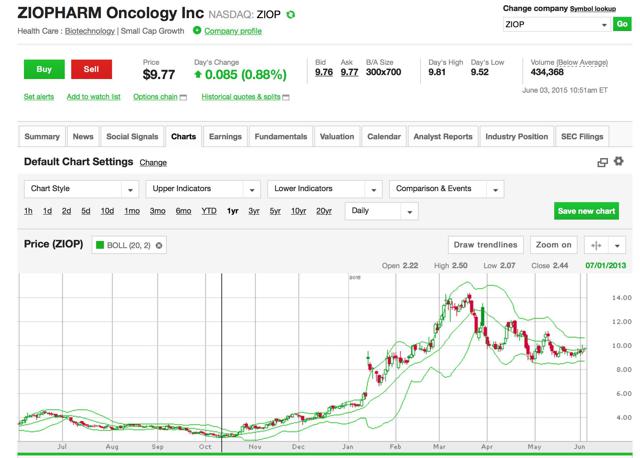 Same is the case with the weekly chart...Here you will notice that during the week of May 18th, ZIOP printed a high of $9.95 and this week it surpassed that high...this sets it up to go higher and try and take out the high of the tall red candle sitting to the left of the small green candle of May 18th...the high of that week of May 11th candle is $11.17...I expect ZIOP to make an attempt to do that by next week, even without any positive news...should the company release any positive news, then taking out that high would be a cinch...now please understand that ZIOP does not have to close next week above $11.17...just making an intraday high of $11.18 will be sufficient for the stock to make its move towards the $12 mark the following week...
Additionally, those who have followed me on my Seeking Alpha blog know the importance of a minimum of 8 weeks of consolidation after a stock has made a big run...ZIOP went from $2.50 back in October, 2014 to $14.40 in March, 2015, an almost 500% move in only 5 months...the stock needed to catch its breath...it has completed the requisite 8 week consolidation phase, it actually has done even better by completing 10 weeks of consolidation!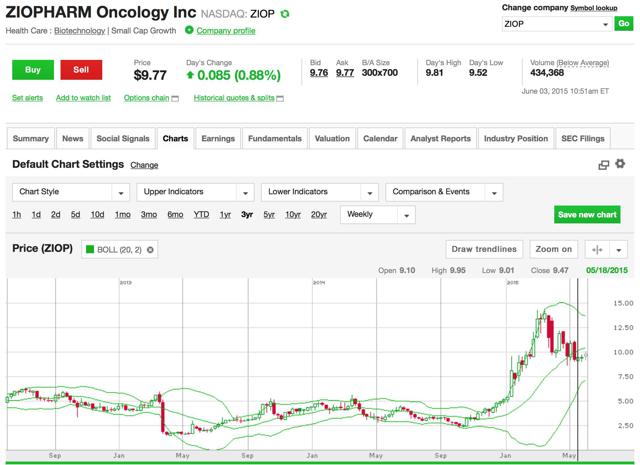 And now the most bullish looking chart...Drum Roll Please...
On ZIOP's 6 month chart, I have drawn trend lines to show resistance and support areas on the chart and as you can clearly see, yesterday, for the first time since ZIOP made an intraday high of $14.40 way back on March 20th, the stock finally was able to penetrate through that resistance line! Even though the stock could not park itself above that line, but just the mere fact that it was able to pierce through it, is very significant...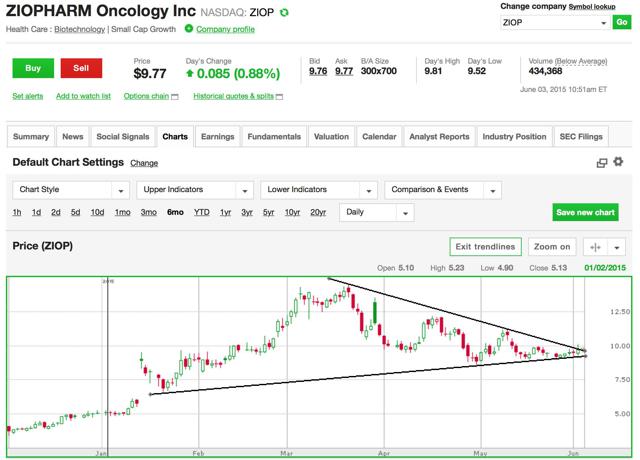 I believe that ZIOP has completed its consolidation, squeezed out every remaining drop of froth, and will start its move back up...the upcoming move should be just as ferocious as the recent downward move was grinding...
My stallion is now ready to run again...
:)
karim