With the futures up BIG this morning and expecting a bullish start to my week, I woke up all happy and jazzed but immediately got a rude wake up: Analyst Jim Birchenough of BMO Capital, ZIOP's biggest bull, who just last week reiterated his Market Outperform rating and his $15 price target had a freak accident: He apparently had fallen out of bed, suffered a severe concussion resulting in complete amnesia...Forgetting the bullish call he made only last week, Jim, in his infinite wisdom, or lack thereof, promptly changed his mind, downgraded ZIOP one notch to Market Perform and slashed his price target by 33% to $10, which, interestingly was more than $2 below ZIOP's last traded price on Friday...
How could any analyst give a stock a Market Perform rating and set a price target $2 below its most recent price? If Jim was expecting ZIOP to go down in a bull market, then he should have rated the stock a "SELL" and not Market Perform!?! This should be Investment Banking 101...He must have flunked that basic course...
But really, I should not be so harsh on Jim, especially after he suffers a concussion... ;)
Ok, enough kidding around! Enough, Jim Birchenough!
The fact is that there are approximately 30 million shares short in ZIOP and the short sellers needed a ruse, any ruse, to kill the stock's recent strong upward momentum and force its price down in order for them to close their untenable position...so they went and found Jim Birchenough, who clearly was more than willing to sell his reputation to help the shorts out...Whether or not there was a tacit agreement between Jim and the shorts, a quid pro quo of sorts, I don't know, but there certainly was a big stink emanating out of his sudden about face, and the market instinctively smelled a dirty rat in his bogus call, thanked its lucky star and pounced all over the stock...Even though ZIOP opened the trading session down more than a $1, but more importantly, it closed the day up and in strong volume and in the process broke a formidable, double top resistance on its Point and Figure chart, its second in less than a week...(In a recent post ZIOP: Connecting the Dots, I had stated the following: "The upcoming move should be just as ferocious as the recent downward move was grinding..." )
Looks like ZIOP is following that script...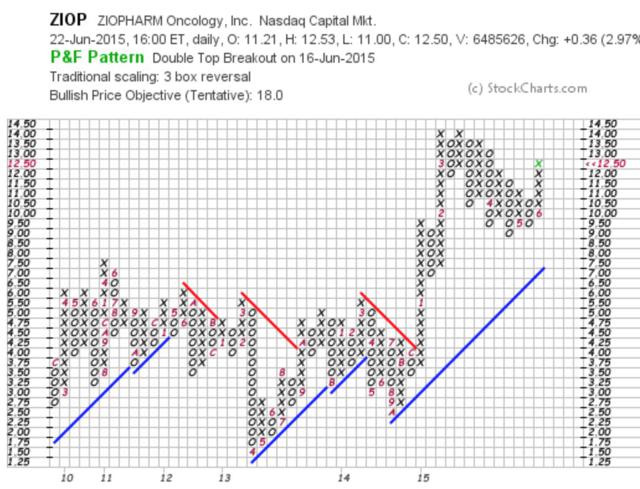 In my 20+ years playing the markets, I personally do not recall a more bizarre analyst call that publicly and humiliatingly boomerangs, slaps the analyst in the face and leaves his reputation in tatters...
To be honest, I am personally chagrined because just a few months back, on this very blog, I had quoted from a Jim Birchenough report on ZIOP and noted that he was a "highly respected" analyst...After the shenanigan he tried to pull today, I, just like the market, have changed my mind and now stand corrected!
As can be seen on ZIOP's Pnf chart, clearly there was resistance @ the $12 mark...With today's early morning downgrade and a hefty shaving off of the target price, initially there was a lot of downward pressure on the stock, with weak hands throwing in the proverbial towel(s) on very heavy volume: more than 1.8 million shares changing hands...and all through the trading day, volume continued to be heavy...but clearly there were lots of buyers eager to take advantage of Birchenough's bad call...However, in my opinion, most of today's buying was not mom and pop retail, but instead had the hallmarks of institutional interest...
Perfect segue to my next point...
One of the nations largest and most respected biotech and healthcare funds is Orbimed Advisors LLC...As of its most recent 13-F filing for quarter ended March 31st, 2015, (funds are required to file form 13-F at the end of every quarter, detailing its ownership stake in companies), Orbimed had positions in 125 publicly traded companies with more than $11.7 Billion invested...
I found it remarkable, not to mention surprising, that in the white hot space of CAR-T immuno-oncology, Orbimed only had one pure-play investment...that's right, only one!
And it was not in any of the usual suspects: JUNO or KITE...
Sure, they have placed a decent size bet on BLUE, but then, I don't consider BLUE to be a pure-play in CAR-T, though they do play in this space as well...
One of the nations most respected biotech and healthcare funds had decided to bet on only one horse: ZIOP!
And per their last reporting period ending March, 31st 2015, their ZIOP bet was actually a brand new wager and clearly was made after ZIOP, along with XON, signed its landmark partnership deal with MD Anderson! Even though JUNO and KITE were considered much further along in the CAR-T space back in the first quarter, Orbimed decided to place its bet on the new kid on the block...not sure about you guys, but I found that to be pretty shocking, albeit, pleasantly shocking! :)
www.nasdaq.com/quotes/institutional-port...
Best~
karim
DISCLAIMER: All postings made here are strictly for my personal record keeping and in no way, shape or form, am I even remotely suggesting others to follow my pronouncements / prognostications. However, if, in spite of all my exhortations, should you decide to do so, be advised that you, and ONLY YOU will be responsible for any losses that you may suffer...In other words, the onus is strictly on you. On the other hand, if the move(s) result in a profit for you, I am open to discussing a split. ;-)
Disclosure: I am/we are long ARIA, CRMD, EXAS, HALO, ONTY, RMTI, TPIV, TSL, VBLT, XON, ZIOP.