Author's Note: This is the very first time that I have written a post in collaboration with someone...
I first "met" Rob Cos, virtually, a few months ago, when he posted a couple of very insightful comments to my post, ZIOPHARM (NASDAQ:ZIOP) Is The Stock To Watch!, under the pseudonym, "biothoughts."
We then met a couple of times in Las Vegas...once at his Celgene celebration weekend at the Wynn when some 170 of Rob's followers from Investor Village came to celebrate Rob and his Celgene pick from more than 15 years back(!), and then when Rob came over to my LV apartment and we had dinner and wine together, not necessarily in that order, and basically got to know each other...since then we have gotten together one more time in Dana Point, CA...
About 2 weeks ago, Rob suggested that the two of us collaborate and write a post, "100 reasons to Buy ZIOP." Many years back, Rob had written a similar post, but on Celgene...this is when Celgene was a small biotech company...Since we both believe that ZIOP has Celgene like potential, I thought this was a terrific idea and we decided to put our heads together and ended up doing one better than Celgene...Instead of 100 Reasons, we came up with 101!
This post is from our joint effort...
------------------------------------------------------
In 1971, when then President Richard Nixon declared a War on Cancer, little did he know that 40 years after his famous declaration, science would still be battling this dreaded disease.
However, there is light at the end of this long, dark tunnel and this tiny ray of light could be the beginning of a beautiful dawn that scientists believe will turn the tide of this War into a victory march and the word "cancer" may finally be banished from the list of terminal diseases that have plagued the human race for centuries.
That ray of light has a name: Immuno-Oncology and for those not familiar with the term, we suggest that you click on the above link and bring yourself up to speed with this very exciting frontier in medicine.
Since cancer treatments cost governments, insurance companies and individuals worldwide literally 100s of billions of dollars every year, finding a cure for any cancer indication will be worth a lot of money for that fortunate biotech company and its equally fortunate investors. Needless to say, Immuno-Oncology has started a gold rush of sorts and companies big and small along with cancer research hospitals are all vying to get their share of what is sure to be a massive pot of gold.
We are still in the top of the first inning of what will obviously be a very exciting World Series of Cancer Research and Cure, and today there are but a handful of companies that are competing in this space.
This 101 Reasons list has been compiled to bring investors' attention to a particular company in the immuno-oncology space: ZIOPHARM Oncology and it trades on the Nasdaq under the ticker symbol: ZIOP. We believe that when investors, both current and future, read through this list, they will come to appreciate the opportunity that this company represents.
A strong word of caution is in order: Investing in early stage biotech companies is definitely not for the faint of heart because these investments come with inherent risks that may be detrimental to the health of an individual's investment portfolio. Each individual investor should take into account his or her risk tolerance before investing in early stage biotech companies.
In the past 12 months, shares of ZIOPHARM have gone from a low of $2.31 to a high of $14.40 and are currently changing hands around $11. The stock is heavily shorted with more than 35% of the shares currently outstanding having been sold short. Short sellers have used every communication medium to spread fear, uncertainty and doubt "FUD" about the company and its technology and this list has been compiled to present facts and help counter the FUD.
We will start this countdown by highlighting a few important facts that should help the readers, especially those who are new to ZIOP, to understand why we strongly believe that an investment in this company is very compelling. What we have done is try and compile, as best as we can, a list of mostly facts and sprinkled in what we believe to be a few well founded conjectures. We have also shared a few bits and pieces of information that we were able to obtain from a number of well-connected sources who have direct access to XON and ZIOP management. But more than 80% of the information that we have compiled in this document are pure, hard facts gleaned from SEC documents, press releases and various reputable websites. But let there be no doubt that not a single piece of the information shared here has been manufactured by us.
So let us count the ways...
101 Reasons to Own ZIOPHARM Oncology
In order to appreciate the projected market size of immuno-oncology space, ZIOP's main business focus, we will share 2 published forecasts, one from two years ago and the other from just last year. In the 2 year old report, Citigroup analyst Andrew Baum had forecasted that immuno-oncology, which was used in less than 3% of cancer treatment plans back in 2013, was expected to grow rapidly and in less than 8 years would become the biggest drug class in history with over $35 billion in sales. Unfortunately, Baum's forecast was made in 2013 and is already woefully outdated! A more recent forecast predicts that the market size will grow even faster, reaching over $67 Billion by 2018! Talk about torrid growth!
To help set the stage for readers of this "101 Reasons to Own ZIOPHARM" and appreciate some of the reasons discussed down the list, it's important to first understand the core of our investment thesis in ZIOPHARM: Both Rob and I are big fans of billionaire biotech investor, Randal J. Kirk, the CEO of Intrexon and the largest individual shareholder in both XON and ZIOP. What we admire most about him is that he's extremely shareholder friendly, having never ever sold a single share in these 2 companies. The only time Kirk will sell his shares is when he negotiates the sale of the entire company to a large biopharma, netting a big fat profit for himself and his shareholders.
His other trait we admire is that he usually telegraphs his companies' moves to his investors well in advance. Let's share an example to help illustrate this point:
In November 2014, on Intrexon's 3rd quarter conference call, Kirk, replying to an analyst's question on CAR-T and ZIOPHARM, said the following: "As you know, it's a field of intense interest around the world. We alluded in the press release to significant transactions underway and I think we'll just leave it - we'll just leave the statement with that."
If we parse his statement, he revealed to those paying close attention, that there were a number of significant "transactions," not discussions, "transactions" underway. Two months later, Kirk, in rapid succession, revealed not 1, but 3 significant transactions! Those who were paying close attention to Kirk's comments, bet on ZIOP and XON and in a matter of months ended up with significant profits.
One of the most important reasons ZIOPHARM makes such a compelling investment: It owns the rights (and 50% of all related profits) to every cancer drug RJ Kirk's Intrexon (NASDAQ:XON) will ever make, in perpetuity! With the MD Anderson and Merck deals this now will also include every drug made in collaboration with these organizations and using their in-house technologies, like MDA's Sleeping Beauty technology.This very important fact has not been priced into ZIOP's current market cap.

NOTE: We shall be remiss if we did not thank ZIOP's former CEO, Dr. Jonathan Lewis for his foresight in obtaining an agreement from Intrexon on such favorable terms for ZIOP shareholders.
In addition to ZIOP's value due to its 50% ownership rights to every cancer drug that Intrexon makes, ZIOP shareholders also get to enjoy the fruits of i) the incredible gene therapy science / platform / Intellectual Property / developed by Intrexon over many years and also its vast body of pre-clinical work, ii) the very deep and seasoned executive management team at Intrexon and iii) the incredible RJ Kirk investment track record in biotech and billions of dollars in shareholder value that he has created over the years.
One must bear in mind that when it comes to immuno-oncology, XON / ZIOP are interchangeable and for all practical purposes, one and the same company. They are like two peas in a pod.
XON and its executives have extensive experience in DNA technology, synthetic biology and gene therapy starting from the earliest days in the space in 1998 when Dr Tom Reed (Current Chief Science Officer) founded Intrexon 17 yrs ago. Dr. Reed is a molecular geneticist with over twenty years of experience in recombinant DNA technology. He has developed sophisticated transgenic model systems for studying the role of gene products in neuronal, cardiovascular, and cancer systems. Dr. Reed has published numerous peer-reviewed articles in the fields of subcellular modulation, gene regulation and cardiac function and is an inventor on numerous patents. There are few in the world with as much experience in genetic and synthetic biology as Dr Reed.
The addition of RJ Kirk to Intrexon as Chairman in February 2008 and CEO in April 2009 brought the company, its commitment and vision to a new level...Kirk's track record in biotech investing is almost unprecedented with sales of Scios (to JNJ) , New River (to Shire) and Clinical Data (to Forest Labs) as well as appreciation in XON, HALO, ZIOP and FCSC bringing those who follow him incredible returns...But what amazes even the most seasoned biotech investors, biotech executives and cancer clinic executives is Kirk's vision and knowledge of synthetic biology….We have personally heard 2 of the most accomplished gene therapy experts say that they need to do their homework by brushing up on their science knowledge before going to meet with Kirk. While he has surrounded himself with top tier executives in the space, Kirk is not a figurehead chairman but a visionary that drives science and deals with partners most on Wall Streets could never imagine.
While grading the performance of Intrexon's health sector during its recent 1st quarter earnings conference call, Kirk gave his company an "A" and remarked "we're totally smoking hot!" Having established Kirk's credibility in #2 above, one must not take his supremely confident pronouncement lightly. When Kirk says that in health, Intrexon / ZIOP are "smoking hot" we should take him at his word. For those who are skeptical you should at least dig further to try and unearth as to why is he so supremely confident. Once you have read the rest of this document, we are confident that even the hardened skeptic will become a believer and understand the reason(s) behind Kirk's boast.
In January 2015, Kirk delivered Transaction #1 when in a precedent setting move, MD Anderson (MDA), the world's most respected cancer research hospital, dodged every Big Pharma and biotech company dangling all kinds of inducements for a partnership, and decided to ink an "Exclusive XON / ZIOP Licensing Agreement for CAR T Cell, TCR, NK Cell Programs and Associated Technologies for the Development of Non-Viral Adoptive Cellular Therapies." http://tinyurl.com/kq3wt3l
Let there be no mistake: this MDA / XON / ZIOP joint-venture is a real BIG deal! Quoting further from the press release: "Combined Technologies to Leapfrog Clinical Pipeline of Next Generation Therapies Using Synthetic and Personalized Immunology." http://tinyurl.com/kq3wt3l
Hailing the MDA / XON / ZIOP partnership in the white-hot CAR-T space, MDA's President, Dr. Ron DePinho said, "Genetically engineering our patients' immune-system T cells to efficiently attack and destroy cancer cells represents one of the most exciting approaches with curative potential in oncology today. We believe coupling MD Anderson's unique CAR T cell approach with the powerful technologies of ZIOPHARM and Intrexon will allow us to build T cells that hit cancer harder, with greater precision, under tighter control and with potentially fewer side effects for patients. This agreement ranks as one of MD Anderson's most substantial collaborations and will provide significant resources to fuel its mission of Making Cancer History®." http://tinyurl.com/kq3wt3l
Furthermore, as a show of confidence in the 2 companies' technology, MDA opted to take ZIOP and XON stock instead of cash, in exchange for sharing its treasure trove of data compiled over decades of research in cancer immunotherapy. http://tinyurl.com/kq3wt3l
MDA's decision to take XON / ZIOP stock in lieu of cash has already earned the cancer hospital very impressive dividend as the value of its stake in ZIOP alone has more than doubled in just 6 months, from $50 million when the deal was announced to more than $130 million today! Its stake in XON has almost doubled, from $50 million to $97 million today.
Based on their January 2015 press release, MDA / XON / ZIOP plan to leverage the combined synergies between their platforms "to accelerate a promising synthetic immunology pipeline, with up to five CARs expected to enter the clinic in 2015." http://tinyurl.com/kq3wt3l
The partnership with MD Anderson allows XON / ZIOP unprecedented access to the world's most extensive database on cancer research. This competitive advantage cannot be matched, neither by JUNO or KITE and therefore should catapult XON / ZIOP ahead of their competitors in the not too distant future.
Another advantage of their partnership with MDA is that XON / ZIOP now have access to a very significant population of cancer patients, allowing the companies to take their targeted CAR-T therapies into the clinic in a relatively short(er) period of time, potentially resulting in faster development of drugs for those who are fighting life threatening illnesses and don't have the luxury of time.
By piggybacking on MDA's decades of advanced research, XON / ZIOP should, in a relatively short period of time, a) Identify a mryiad of cancer targets that they should develop treatment protocols for, and b) Start clinical trials in less time than their competitors.
It has been about 6 months since MDA / XON / ZIOP announced their ground-breaking partnership and they have yet to announce their first CAR. Therefore, it stands to reason that the 3 organizations should unveil their first CAR-T target any day now...
After the MDA agreement, Griffin Securities said Sleeping Beauty was a sweet deal for XON / ZIOP. "The licensing agreement with the MD Anderson Cancer Center and the University of Minnesota garnered the companies access to the most well defined nonviral gene insertion technology for oncology related immunotherapeutics. It also came with a clinical-stage therapy for hematological malignancies, preclinical therapies for other cancers, and the right to use the technology for additional applications. Moreover, scientists at MD Anderson will collaborate with Intrexon's partner, Ziopharm Oncology, over the next three years. Hence, we believe the deal has catapulted Intrexon into the forefront of immunotherapeutics development".
ZIOP stock has been undergoing textbook consolidation since its very impressive 500%+ run in just 5 months: from the October 8th, 2014 low of $2.31 to March 20th, 2015 high of $14.40 . Based on the technicals, the stock seems to be getting ready to run again. An MDA / XON / ZIOP announcement of their first CAR, could serve as the perfect spark to put this rocketship back into "lift-off" mode...
When acclaimed money manager Bill Miller of Legg Mason, attending ZIOP's February roadshow for its secondary offering, inquired of Dr. Laurence Cooper, the world renowned scientist at MD Anderson, as to why MDA choose ZIOP / XON instead of one of the more established companies with active CAR-T clinical programs, Dr. Cooper replied that ZIOP / XON technology was so impressive that he was "salivating."
Dr. Cooper's response clearly made an impression, because Miller decided to splurge during ZIOP's secondary and purchased more than 3,000,000 shares, increasing his fund's ZIOP position by a whopping 628%! http://tinyurl.com/novm9c8
In an interview on CNBC, Bill Miller reiterated his excitement in XON and ZIOP as seen in this video replay.
Bill Miller will be speaking at CNBC's "Delivering Alpha" conference this coming Wednesday, July 15th. Being that recently, every time Miller has come on CNBC, he has mentioned ZIOP and XON, chances are good that he will mention both companies again. Over the past 5 years as this conference has grown in stature, so has its viewership. Companies mentioned there have seen a pop in their stock price. Should ZIOP and XON get mentioned, we can expect a pop in their stock prices. Edit 7/15/2015 : Since this post we now have Bill Miller's interview video from Delivering Alpha conference: www.mediafire.com/watch/l5x5ji652o9si82/...
Samuel Isaly, who runs the nation's largest and most respected biotech fund with more than $11 billion under management, came away just as impressed as Bill Miller and decided to make ZIOP his fund's largest new investment in the first quarter reporting period ending March 31, 2015, buying more than 2.5 million shares! http://tinyurl.com/npd8nt8
Another big buyer of ZIOP shares in the secondary was none other than Randal Kirk, purchasing 1.44 million shares for $12.6 Million.
In fact, when Orbimed initiated its ZIOP position, it was an indisputable fact that the other 2 CAR-T pure-play companies, JUNO and KITE, were much further along in their respective clinical programs. But in spite of those companies' lead, Orbimed decided to bypass them both and made its CAR-T bet on only one company: ZIOP! Why? (For the answer, see #29 & #31 below)
Michael Dell's investment vehicle MSD Partners LLC, manages his personal fortune and as of March 31st, 2015, his firm is the 3rd largest institutional owner of ZIOPHARM stock. http://tinyurl.com/o8zn678 Also, the Michael and Susan Dell Foundation owns a small position in Ziopharm as well.
Did we mention that Michael Dell's MSD Partners and Bill Miller's LMM LLC, like Sam Isaly's Orbimed, have placed all their CAR-T chips only on ZIOP!?!
We should take a minute to let this sink in: It's been established in #1 above that CAR-T / Immuno-Oncology is the hottest and the fastest growing field in biotechnology. A gold rush type of mania has engulfed this sector and institutional investors cannot get enough of companies that are looking to start CAR-T research programs. JUNO and KITE are clearly the established companies with not only clinical trials well under way, but they have also released some very impressive interim data from those trials. ZIOP is the new kid on the block and unlike JUNO and KITE, it has yet to announce its first CAR-T target, let alone the start of a clinical trial. But in spite of that, Orbimed, the nation's largest and most respected biotech fund; Bill Miller, one of the country's savviest fund managers, and those tasked with managing Michael Dell's vast fortune, have, in their infinite wisdom, decided to bet only on one CAR-T company: ZIOPHARM. Most would rightly ask: Why? For those who have not taken the time to do proper due diligence, betting it all on only one CAR-T company, and that too on a company with, as of yet, no track record in this field, may sound like a very risky bet. We of course don't think so because to us it is clear that Samuel Isaly, Bill Miller and Michael Dell have done proper due diligence and have connected the dots and they all see a big, bright rainbow ahead...
We have learned through very reliable sources that Orbimed recently met with ZIOP's new CEO and not only were they very impressed with Dr Cooper, they left the meeting confident that ZIOP could lead the immuno-oncology field.
If Isaly and Miller, two of the nation's savviest fund managers believe that ZIOP is the investment in the white-hot field of CAR-T, then, upon comparing the company's market cap with two of its better known rivals, ZIOP is still way undervalued: ZIOP currently has a market-cap of $1.41 Billion, while JUNO sports a market-cap of $4.7 Billion and KITE carries a market-cap of $2.7 Billion for an average market-cap of those two companies at $3.7 Billion. In other words, for ZIOP to be valued on a par with JUNO and KITE, it's share price will need to at least double to $22!
An ever present concern of investors in small, pre-revenue stage biotech companies is that their company will need to raise cash and thus dilute existing shareholders...Investors in ZIOP can breathe a sigh of relief because the company currently has sufficient cash to fund its operations well beyond 2017. Furthermore, they also have installed a brand new ATM in their back office that will dole out cash to fund the company's future development needs for years to come...And best of all, this cash infusion will not penalize its shareholders with dilution. In other words, ZIOP investors need not worry about future secondaries! So what exactly is this ATM? For answer, see #33 below:
This past March, Kirk delivered Transaction #2 when Intrexon signed a very lucrative agreement with Europe's Merck Serono to develop CAR-T therapies for MS with its technology partner, Ziopharm...It is a testament to the value of the two companies' underlying technology that MS agreed to pay an upfront fee of $115 million to XON and ZIOP + another $826 million in milestone(s) payments + tiered royalties...and all this for developing therapies for two initial cancer targets! Furthermore, MS has the right of first refusal on any additional therapies that XON / ZIOP may develop for other cancer targets. Of course should MS decide to buy manufacturing and distribution rights for therapies other than the initial two targets, they will have to dole out additional cash to XON and ZIOP. That's the Cash ATM we alluded to above! http://tinyurl.com/plu2s75
Any CAR-T targets identified with the help of MDA will of course first be offered to Merck Serono for development. Should MS agree to pursue any of the offered targets, additional monies will have to be paid to XON and ZIOP.
For ZIOP, pursuing research in cancer immunotherapy with a partner like MDA not only helps reduce cost(s) it also speeds-up time-to-market for drugs developed.
We have learned through reliable sources that Merck Serono has nominated the initial two CAR-T targets and those targets have also been approved by XON and ZIOP! Unfortunately ZIOP and Intrexon management is tight-lipped about their identities but an announcement should be coming any day now.
Based on the agreement, once Merck Serono nominates the two CAR-T targets, the $115 million initial milestone payment from Merck Serono to XON is triggered. Further to #36 above, we believe that ZIOP has either already received its 50% share of the $115 million from XON or should be receiving the payment relatively soon.
Just two days after announcing the Merck Serono deal, Kirk delivered Transaction #3 when Intrexon signed a CRADA (Cooperative Research and Development Agreement) with the prestigious National Cancer Institute to investigate RheoSwitch® controlled IL-12 cancer therapies using T-cell receptors (TCR) derived from peripheral blood. The lead investigator on this collaboration will be none other than the legendary Dr. Steven Rosenberg.
After the MD Anderson deal (see #8 above) prestigious Bioinvest Medical Technology Stock Letter ("Bioinvest") recommended ZIOP as a new buy recommendation in January with an initial target of $14.
And this was before XON / ZIOP signed the Merck Serono deal and the CRADA
with NCI and the appointment of Dr. Cooper as CEO!
Bioinvest - Was Ranked #1 top performing newsletter of 2013, out of more than 200 newsletters by Hulbert Financial Digest. They have an excellent track record and their picks have generated impressive returns over last few years.
In the initial report Bioinvest called the MD Anderson deal "Game Changing News for ZIOP" and said "The technology licensed from MD Anderson, known as Sleeping Beauty, is, in our view, much better than recombinant viral DNA delivery methods used to create first generation CAR-T cells. Sleeping Beauty is a faster, simpler and more nimble process for customizing T cells, while also being far less expensive. The system is named Sleeping Beauty because it is able to "awaken" an extinct transposon - DNA that can replicate itself and insert the copy back into the genome."
SECOND GENERATION - In conclusion of its initiation report BioInvest further stated "ZIOP has all the tools to be a second generation gene therapy leader in the exciting field of I/O. The ability to package multiple genes combined with a non-viral delivery system all precisely controlled by RheoSwitch has the potential to create off-the-shelf therapies that will treat solid tumors in addition to hem/onc. We believe the Sleeping Beauty delivery system is a critical key to unleashing ZIOP's technology".
In a recent article in Nature, Joern-Peter Halle, Merck Serono's Head of Strategy Realization, Operational Excellence and President's Office, was asked about his company's recent agreement with Intrexon / ZIOP and this is what he said: "In the CAR-T area the ability to regulate the response after you've infused the T cells back into the patients is an important element and may overcome some of the challenges we see with the current generation of CAR-T now in the clinic." It's clear from this quote that Halle considers XON / ZIOP technology as 2nd Generation! Halle further said: "The other big area for improvement is the complexity of the procedure itself, says Halle, and Merck Serono will work with Intrexon on allogeneic, 'universal' T cells and other approaches 'that are reliable and effective on one hand, and commercially viable on the other. We're committed to innovating in the space for the long run."
After the Merck Serono and the NCI deals Bioinvest provided an April update that included: "...The principal goal of the CRADA is to develop and evaluate improved adoptive cell transfer-based immunotherapies (NASDAQ:ACT) using NCI proprietary methods for the identification of autologous peripheral blood lymphocytes(PBL) possessing naturally occurring anti-tumor activity combined with Intrexon's RTS gene switch for introducing spatially and temporally controlled interleukin-12(IL-12) expression"
Bioinvest calls ZIOP partner, NCI's Rosenberg, a CAR-superstar: "The CRADA will be run by a CAR-superstar, the NCI's Steven A. Rosenberg, who will be the Principal Investigator for the study….Rosenberg is a true leader in this revolutionary field and has delivered favorable data using IL-12 to treat melanoma with a very impressive 63% response rate, but had to stop because of excessive toxicity. Rosenberg and the NCI clearly need RTS and its ability to control the dose or turn off gene expression to safely manage the inherent toxicities than come hand in hand with the therapy's amazing effectiveness...The fact that the NCI chose XON / ZIOP and RTS to tackle the holy grail of gene therapy for solid tumors is a potential game changer for ZIOP and its shareholders"
The RheoSwitch Therapeutic System (RTS®) is a proprietary XON technology that ZIOP uses in the clinic and it offers transcriptional control of a wide variety of therapeutic genes by regulating the timing and dose of an oral activator ligand. Especially in CAR-T therapy, it is absolutely critical to be able to regulate T-Cell activity during treatment because failure to regulate has proven to be fatal for the patient.
In February when Dr. Laurence Cooper said that XON / ZIOP technology made him salivate, it is clear that whatever he saw had to be something extraordinary. Because after 10 years at the world's premier cancer hospital, Dr. Cooper surprised the medical world when in May 2015 he suddenly left MD Anderson to become the ZIOP CEO. In the press release announcing his appointment, Dr. Cooper said: "By harnessing and enhancing the power of the immune system, adoptive cell therapy holds the promise of curing many cancers. Central to achieving this objective is our ability to solve the puzzle of linking together different proteins, receptors, cell types, gene switches and associated technologies to target a broad spectrum of malignancies.Together, I believe ZIOPHARM, Intrexon, MD Anderson and Merck Serono have the technologies, programs and know-how to lead this effort, and I look forward to driving our success in this new role. ZIOPHARM has unique potential in the human application of immune cells. The synthetic biology of Intrexon is being combined with ZIOPHARM's ability to deliver potent therapeutics. Together with our partners, we have a unique opportunity to bring new immune-based therapies into the war on cancer."
A few days after Dr. Cooper's appointment, Intrexon released its 1st quarter earnings report and sprung a surprise: They announced that they were divesting Intrexon's holding of ZIOP shares and returning it back to Intrexon's shareholders as a special dividend. An analyst at the earnings conference call pointed out that there had been rumors in the market that Intrexon may decide to acquire ZIOPHARM but since the company is divesting the shares it already owns, therefore those speculations should be put to rest. Randal Kirk disagreed and said the following: "No. It doesn't rule out. So according to all the lawyers, and first of all let me preface this by saying we have no ongoing discussions with ZIOPHARM concerning merger. But obviously given the significant economics that we share, it's a prospect that could at some point be attractive in the future. But it's also the case that there are other parties for whom ZIOPHARM acquisition might be very attractive in the future as well. In either case, our dividending these shares to our shareholders actually would simplify any such transaction."
In response to yet another question on this subject, Kirk elaborated further: "So, perhaps I was too subtle, and -- no, we got a question on this call that related to whether our dividend and new shares meant that we are foreclosing the possibility of us acquiring ZIOPHARM and the answer to that is absolutely not. In fact it would just be the other way around. It actually would simplify that process in the event we would actually be interested and square it off to do that."
As we have established in #2 above, Randal Kirk is not given to making flippant remarks. On the call he's clearly stating that either ZIOP is being prepared for an acquisition by Intrexon, or by an outside company. Who will be the acquirer or when this acquisition will come to pass, we don't know. But it clearly sounds like a ZIOP acquisition may be in the cards
.
The day after the Q1 call RJ Kirk and COO Krish Krishnan, presented at the BAC/ML Healthcare conference in Las Vegas and Kirk made this bold statement: "XON / ZIOP have by far the broadest and deepest pipeline of any company in gene and cell therapy...I promise you we can go toe to toe with ANYBODY in this field!"
At this same conference Rob asked Kirk "Yesterday you said the dividend of ZIOP will make an acquisition of ZIOP by XON simpler and more tax efficient...Can you expand on that and would it also allow for a simpler and more tax efficient acquisition by another large pharma or bio company other than XON?" and Kirk replied "yes definitely the acquisition by ANY company was just made much easier and more tax efficient. (actually said that as question was being asked)...First of all I will be able to vote my shares including the new shares...second of all from a tax standpoint you get favorable tax treatment with capital gains vs XON holding and selling and paying a much higher corporate tax on the large gains...Yes and it is certainly now much easier and more tax efficient if the companies interested in ZIOP now decide to make the acquisition. Yes."
On TCR, Rob asked Kirk: "I talked to both you and Dr Cooper at JP Morgan in January and you both seemed VERY excited about the TCR (T Cell Receptor) area almost as if you think it could be bigger than CAR T....would you say that is accurate?" RJ Kirk reply: "Well we are excited about our CAR T ventures but I will say I am VERY excited about our TCR technology and I am not the only one...this could be a very exciting area which I think we can lead in"
A week after Intrexon's announcement of the special distribution of ZIOP shares, the company's long serving COO and Randal Kirk's right hand man, Krish Krishnan, along with his wife, decided to spend $598,080 of their own money to convert 84,000 of their XON options into XON shares...what is especially interesting is that all 84,000 of those options had more than six and a half years left before expiration! So why the rush? One plausible explanation being that waiting until 2021 will have negated the possibility of them receiving the ZIOP share dividend.
A few days after Krish Krishnan decided to take advantage of the special dividend, Dr.Greg Frost, Sr. Vice President of Intrexon's Health Sector decided to spend $4.55 million dollars to convert 200,000 of his XON options into XON shares at the conversion price of $22.77...In Frost's case, his options did not expire for another 9 years! Why the sudden rush? (more on this in #93 below)
On recent calls with investors XON / ZIOP executives have stated their goal is to share initial trial results from their recent CAR-T collaborations at ASH 2015 to be held in Orlando, FL in December.
In recent presentations (including the Boston Bus Tour), ZIOP has publicly stated to expect trial results from Phase 1b/2 Study of IL-12 gene therapy in locally advanced / metastatic breast cancer later this year. Possibly at the San Antonio Breast Cancer Symposium Dec 8-12. http://www.sabcs.org/
This Ziopharm Breast Cancer Trial is being conducted by one of the most prestigious cancer centers in the world - Memorial Sloan Kettering Cancer Center, increasing the odds of positive results.
ZIOP has initiated a highly anticipated Phase 1 Study of IL-12 Gene Therapy in Recurrent or Progressive Glioblastoma/Gr.III Malignant Glioma this year that could solve the blood-brain barrier issue other GBIM therapies have encountered.
XON & ZIOP executives appear unusually excited about this Glioblastoma IL-12 trial. During the March XON Q1 earnings call Kirk stated: "We are VERY excited about ZIOPHARM's GBM trial." Dr Cooper has stated that interim results should be available later this year...The most likely venue appears to be at the Society of NeuroOncology <SNO> meeting Nov 19-22 in San Antonio .http://www.soc-neuro-onc.org/
The fact that a large number of very prestigious institutions are conducting the Glioblastoma trial adds credence to the underlying science. Hospitals where the trials are being conducted include Stanford School of Medicine, Dana Farber Cancer Center (Harvard), Northwestern Memorial, The University of Chicago Pritzker School of Medicine and Cedars Sinai. These institutions clearly understand the value that gene therapy could bring to this very difficult and still unmet medical condition.
MD Anderson's Sleeping Beauty's non-viral approach is less complex, less costly and safer than other gene therapy - RJ Kirk and Dr Cooper have said publicly that they believe merging early CAR-T, TCR, NK cell and RheoSwitch technologies will greatly enhance the already good efficacy they are noticing and may prove an easier path for FDA approval given the uncertainty of viral safety over longer periods of time.
The RheoSwitch is the only control mechanism that has been proven to work in clinical trials (in the recent ZIOP IL-12 melanoma trial)....Given historical off target toxicity and other safety issues with gene therapy, it is much more likely that a gene therapy that can be "turned on" simply by swallowing an oral ligand may be a more desired approach for the FDA and the NCI. Unlike RheoSwitch's unique modulating ability, the competitors have a "suicide" or "kill" switch but once their switch is activated, the patient's ability to resume therapy becomes difficult. It is important to repeat this: XON / ZIOP's RheoSwitch is the only technology that can modulate (turn on and off) the gene therapy. No other competitor has something similar. Not JUNO, not KITE and especially not BLCM with their Kill Switch!!
XON and ZIOP executives have said publicly that they think they have a unique approach to T-Cell Receptor (TCR) gene therapy. The merger of MD Anderson and XON / ZIOP technologies will allow for controllable multigenic attacks utilizing the RheoSwitch to help control off target toxicity.
The XON / ZIOP enhanced TCR approach uniquely targets multiple receptors and boost expression / efficacy. XON builds receptors on T-cell that will lock onto cancer antigens.
In June, during the Boston Bus Tour, ZIOP disclosed that their TCR work would target intracellular TAA's dependent on HLA and would use "Private" Antigens.
XON / ZIOP have said at healthcare conferences that they believe their approach will increase T-cell production / affinity / response and also allow for more targeted use of potent IL-12 therapies (laser missile) vs the old IL-12 approach (more like a nuclear bomb by blasting everything).
IL-12 allows for the immune system to increase production of T cells and NK cells however the XON / ZIOP approach of expressing IL-12 within cancer also allows for exquisite control of all toxic side effects using RheoSwitch technology. In trial results, Ad-RTS-IL-12-Oral Veledimex precisely controls (in vivo) expression of IL-12 and improved persistence and survival in tumor microenvironment and limited on-target, off-tumor toxicities.
Although great detail has not been provided (Kirk says for competitive reasons) there is a clear excitement at XON/ZIOP about earlier stage areas like Natural Killer (NASDAQ:NK) cells, CLMs, exosomes, artificial antigen receptors expressed on outside or inside on cancer tumor/cells itself. Still early, but management has expressed excitement verbally and these areas are starting to show up in slides in their healthcare presentations. You have to believe some of these things are what had Dr Cooper "salivating" during the due diligence that led to the MD Anderson deal and his leaving MD Anderson to become ZIOP CEO.
Adding sleeping beauty technology to the XON / ZIOP approach will increase efficacy, enhance safety and significantly reduce cost and complexity. This last point should not be overlooked. With the huge cost of Cancer Treatments and the large concern made public by both public and private payers, any advantage on reducing costs and complexities will benefit an organization tremendously on becoming the defacto SOC moving forward.
XON / ZIOP / MD Anderson vision is to have cheaper, less complex "off the shelf" therapy that allows for CAR therapy point of service at local cancer centers or hospitals - eliminating the need for patient to travel to one of the dozen CAR-T clinics that can deal with the cytokine storm.
At the June ZIOP Boston Bus Tour ZIOP disclosed that their Natural Killer cell work will target tumor with loss of HLA with no "antigens".

At an investor conference in mid June 2015, ZIOPHARM presented pre-clinical data for a new CD19 CAR design using the non-viral gene transfer Sleeping Beauty to express the CAR in T cells. In a minimal residual disease model, a single infusion of the new CD19 CAR controlled tumor growth more effectively than the old CAR, but crucially, the benefit persisted between days 28 and 35 while the benefit for the old CAR was exhausted by day 28. In a bulky tumor model, the new CD19 CAR controlled tumor growth through day 44, while the old CAR was less able to control tumor growth and uncontrolled tumor growth after 20 days.
ZIOP has stated that near-term milestones include initial data from the phase 1 glioblastoma rheoswitch study potentially in 4Q15, initial data from the new CD19 CAR potentially in 4Q15, and phase 1 initiation for a novel CAR targeting myeloid malignancy. (ZIOP Boston Bus Tour presentation) http://ir.ziopharm.com/secfiling.cfm?filingID=1193125-15-226597&CIK=1107421
In 2016, ZIOP expects to start other leukemia and solid tumor CAR-T trials and begin clinical evaluation of an off-the-shelf allogeneic CAR per ZIOP Boston Bus Tour presentation.
Company has told investors publicly that Allogenic, off-the-shelf T-Cell studies will commence in 2016
ZIOP CEO Dr Cooper has suddenly become much more visible and has met with analysts and investors in June to provide updates on progress of key initiatives.
Cooper will be participating in an institutional investor roadshow in July and August visiting large institutional investors. This could be another stock catalyst given the feedback we have received from multiple institutions and investors who have met with Dr Cooper recently--which has been universally positive and in many cases resulted in purchase of additional ZIOP shares after the meeting.
Additional feedback we have received is that many investors and institutions have gained more confidence after talking with Dr Cooper and that has spurred them to add to their ZIOP position.
ZIOP is executing on a staged strategy building up to a point-of-care cellular therapy based on non-viral gene transfer. With safety of non-viral gene transfer established in humans, protocols for efficacy including manufacturing modifications will begin in the summer. Progress on preclinical technology development has increased throughput and screening, which in the case of CD19 CARs has negated the need for the previously announced bake-off trial.
"Beyond autologous" cell products are off-the-shelf (OTS) T cells with the first product candidates expected in the clinic next year, but the ultimate goal is to use ZIOP's HLA sculpting technology in induced pluripotent stem cells to achieve universal HLA matching on the background of sophisticated genetic engineering. In ZIOP's view, key to broadening such OTS cellular therapy into solid tumors are personalized targets and inducible switches.
Validation of the inducible IL-12 rheoswitch is ongoing with breast and GBM studies, and with NIH learnings will be used for ZIOP's cellular therapy; data from the GBM trial is expected by the end of 2015 (more detail below).
Dr Cooper has stated that ZIOP's ultimate goal is to achieve point of care cellular therapy, noting that the key challenge is device engineering, and that partner Merck Serono, with significant experience in bioengineering, will be able to help meet that challenge. Also, XON/ZIOP have said publicly they have taken steps towards the "point of care" distribution where T-cell manufacturing time can go from months to weeks to days and eventually hours enhancing efficacy and reducing costs.
ZIOP currently has an unsustainable short interest of 32.8 million shares. While officially its about 30% of the float, there are many who estimate that the actual short interest is now approaching the real tradable float. Short interest has actually doubled since last October and yet the stock has not gone down - but instead has quadrupled. All this is positive for ZIOP investors.
The stock, which has been consolidating for more than 3 months has started to trend back up...which means that the path of least resistance is now up...Just one new piece of positive news, and the stock will breakout towards its March 2015 all-time high price...And shorts or no shorts, a print of $14.50 on its PnF chart, and ZIOP will be off to the races…
Technically, ZIOP is trading in a very tight range and is getting ready to breakout. As can be seen from this candlestick chart, in order for it to break out from this ever tightening triangle, the stock needs to print $12.50 . Once it does that, it should move to $13.50 in a hurry. The stock closed at $11.17 this past Friday, so it only needs to move up less than $1.40 for breakout to occur...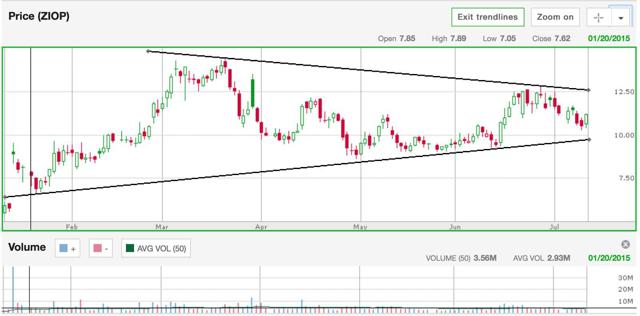 Point and Figure Technicals: Looking at ZIOP's PnF chart...As can be seen here, last month the stock broke 2 double tops...the first one @ $11 and then the next @ $12 when it printed the $12.50 box. The stock then made a 4 box reversal and came down to $10.50 and by doing that, it got rid of the froth that had built up in the stock...in other words, it got rid of all the riff-raffs who knew nothing about the fundamentals and had just piled on because it was moving up…(Note the low volume on the downward move on its Candlestick chart)...this was a very healthy consolidation. Now the stock is back on an upward trajectory and when it prints $11.55 to breakout from the tightening triangle on its Candlestick chart, it's price will quickly move up to $12, which means that on its PnF chart the price will switch back into a column of Xs...Then a print of $13 and that will be a new double-top break--and this break should be explosive! I then expect it to quickly move to $14.50 which will be the final break from its March high and that will take it into blue sky territory. All this should happen soon--even without any news. And if there is any positive news...watch out!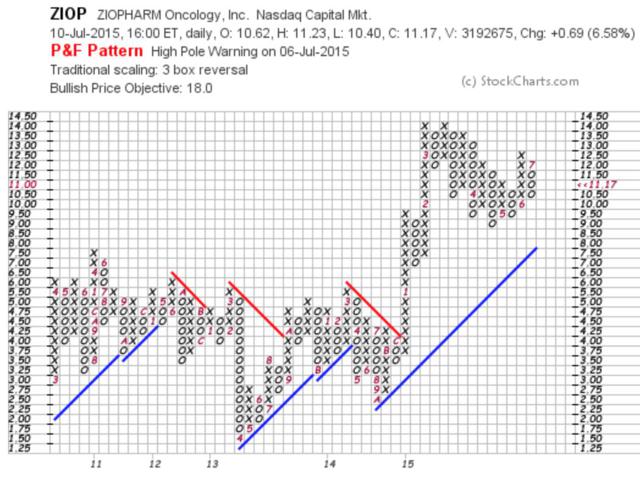 The following comment is from a recent June ZIOP update of the #1 rated Medical Technology Stock Letter "Intrexon's Kirk is a known short slayer and is the mastermind behind all the ZIOP moves. He has an excellent track record for not just slaying shorts, and most importantly creating huge value for his shareholders". MTSL expands further: "In addition, we note the major increase in short interest that has doubled since the start of the year to $300 million - about a quarter of ZIOP's market value. In our view, a significant partnership would send the stock right though the previous high of $14 as the short squeeze would fuel the advance. It seems almost impossible that the short interest would be this large given the impressive academic and scientific validation that has been amassed since January by ZIOP. ZIOP has had a very productive year to date with the three deals (M.D. Anderson, Merck Serono, and the NCI) and the hiring one of the world's leading immune oncologist, Dr. Cooper as CEO".
Last month, in a newspaper story, Wall Street veteran Joe Barton went on record stating that ZIOP could be worth $5 to $10 billion ($40 to $80 a share based upon the 128 million shares outstanding) to a Big Pharma in the next 18 months or "in the tens of billions" if it happens later.
Barton's track record is stellar including his insistence to go "on the record" with CNBC and Herb Greenberg, pounding the table on ZIOP partner XON in Nov when stock was in the $17's...(Tripling since that call to a high of $51.44 in June with Friday's close at $46.54) See Greenberg's report with the Barton XON call here: http://www.investorvillage.com/smbd.asp?mb=16353&mn=8170&pt=msg&mid=14247642
ZIOP/XON partner MD Anderson is holding a Making Cancer History® Seminar in Aspen this Thursday July 16th This year's seminar focuses on the institution's Moon Shots Program, an accelerated effort to convert discoveries into clinical advances that will dramatically reduce cancer deaths.
In mid June Bioinvest issued a ZIOP update: "Raising BUY LIMIT to 12 & TARGET to 18, "Spidey Sense Tingling."
Bioinvest commented "In our view, ZIOP is poised for a huge move based upon what might seem like random events that continue to dovetail seamlessly. The recent distribution of ZIOP shares to Intrexon shareholders is yet another positive tealeaf. Intrexon's Kirk, when asked why now, said "there are other parties for whom a Ziopharm acquisition might be very attractive in the future… our dividending these shares to our shareholders actually would simplify any such transaction."Recently, two Intrexon executives exercised their options seven years early in order to be shareholders of date for the recent ZIOP distribution. Kirk and Intrexon are clearly signaling more good news for ZIOP."
Bioinvest concludes : "In our view, we are witnessing stellar execution of a master plan to create the leading gene therapy cancer company as all the pieces are coming together.Dr. Cooper came from M.D. Anderson to ZIOP because he now has the potential to shepherd his cutting edge cancer treatments all the way to the market. Merck-Serono was already working with NCI on IL-12 cancer therapy and had run into toxicity problems before ZIOP came in and stitched the program back together. The key, or actually, two keys to why ZIOP is attracting such outstanding partnerships/talent are RheoSwitch and Sleeping Beauty. RheoSwitch provides the unique ability to both titrate dosing and be an excellent safety switch. Sleeping Beauty is a non-viral delivery system that will allow repeat dosing which cannot be done with viral vectors due to safety concerns. The bottom line is that ZIOP has the best toolbox for cancer gene therapy in the business and is poised to deliver multiple value creating deals for their shareholders. Intrexon's Kirk is a known short slayer and is the mastermind behind all the ZIOP moves. He has an excellent track record for not just slaying shorts, and most importantly creating huge value for his shareholders. As a reflection of our increased confidence in ZIOP's cancer platform and overall execution, we are raising our BUY LIMIT and TARGET"
Recently institutional and large investors who have spoken with XON and ZIOP executives including Kirk, Frost and Cooper noted that they appear "more confident than we have ever seen them." These seasoned executives have never lacked confidence and especially since they inked the MD Anderson deal, but now we are hearing from multiple sources that just in the last month or so, their confidence level has increased immeasurably. While nothing specific has been disclosed, it feels like some type of breakthrough or data set or something they have seen that has increased their confidence. Fund managers and institutional investors with years of experience in the biotech space have become quite adept at reading management's "body language" and it is one of the "intangibles" that they take into account when they make their investment decisions. Since we have heard this from a number of very reliable sources we decided to share it here as well.
Including some additional color to #93 above, we would like to talk a little more about Dr. Greg Frost and his decision to fork out $4.5 million to convert a boatload of XON options 9 years early! Dr. Frost is the co-founder of Halozyme and up until last year, served as the company's CEO...Then in March of last year he suddenly quit his CEO position and became the Senior Vice President of Health at Intrexon...Why? We all know how well Halozyme is doing...all we need to do is to look at its stock price, which has been on fire lately. BTW, Frost still owns more than 3.5 million shares of Halozyme, making him one of the largest shareholders in the company...And clearly Halozyme is his baby and he's still tethered to it in a big way...The fact that he left his baby, which is based in San Diego and moved to the other side of the country to join Intrexon in a somewhat junior capacity tells us that clearly he saw an opportunity that he just could not pass up...In a recent private conversation, Frost said: "We are building the largest adoptive cellular therapy consortium on the planet!" BTW, this quote is neither speculation and nor is it conjecture...it's a fact! And when we juxtapose the above quoted remark with his decision to spend $4.5 million of his own money to convert his Intrexon options so that he could get his hands on some free ZIOP shares...and then add to all this, the supreme confidence in the collective demeanor of XON / ZIOP management team, noticed by a number of folks who have recently met with them, is all beginning to add up…something is definitely cooking and that "something" is pretty substantial...and both Rob and I are betting our reputations on it!
Also those who have recently spoken with Dr Cooper understand and appreciate the possibilities...they say that Cooper believes that XON / ZIOP will play a very significant role in the fast emerging immuno-oncology space...With Sleeping Beauty being safer, cheaper and less complex than JUNO, KITE or BLUE's technologies and then combined with the modulating RheoSwitch that can be turned on and off at will, XON / ZIOP have unique capabilities that none of the other CAR-T companies possess. The only thing left is to prove it in the clinic. The chatter that we have been hearing of unbridled excitement emanating out of XON / ZIOP executives, the swagger in their collective strides, and Kirk's recent "totally smoking hot" comment leads us to believe that they are supremely confident that they will be able to prove their technologies in the clinic.
One of the major complaints from ZIOP investors over the years has been that they never hold quarterly earnings calls like most biotech companies. That is about to change...Dr Cooper has told a number of investors that going forward they can expect quarterly calls, starting in August! His first ZIOP quarterly earnings webcast will of course be eagerly anticipated...
Ultimately, for the shareholders, there are two possible paths to financial reward: a) The continuation of pipeline progress, positive data and offering additional "targets" to Merck Serono, their cash ATM, or, by signing a large TCR deal with a company like Roche, GSK, Novartis or BMY which could quickly vault the stock into the $20s; and b) the possibility of Intrexon either buying out ZIOP or negotiating the outright sale of the company to a Big Pharma (see reason #48 & #50 above). We feel very confident that at least some of these milestones will occur in 2015, bringing further appreciation to ZIOP's share price. However, what is even more exciting is that all of the above could also come to pass in the remaining five months of 2015.
On June 29, Celgene and JUNO announced an estimated $1 Billion deal whereby Celgene gave JUNO a large upfront cash payment, potential additional milestones down the road and it also agreed to purchase 9.1 million shares of JUNO for $93, which was more than double JUNO's previous day's trading price of $46.61. This CELG / JUNO deal can only be good for the economics of all future XON / ZIOP partnering deals.
We believe that Kirk, Frost and Cooper are currently looking to negotiate a TCR and / or a NK Cell deal. Clearly the Celgene deal gives Kirk more leverage in negotiations and should allow XON / ZIOP to secure a more lucrative deal with favorable terms / economics. Many big pharmas and large biotech companies know they need to get into the gene therapy space as quickly as possible and with JUNO now married to Celgene, there is one less gene therapy player available to partner with. This scarcity only enhances the value of a company like ZIOP that already has established partnerships with the likes of MD Anderson and NCI.
During the past three XON quarterly earnings calls Kirk has made a number of positive statements with respect to ZIOP including the "significant transactions underway," and related statements in November on the Q3 call. The many comments on the Q1 call in March including Kirk stating "we feel we are ahead of the others in CAR-T area, while we may be a bit behind chronologically, we definitely feel we have the best technology suite to compete in the CAR-T Space," and, "We are very excited about ZIOPHARM's GBM trial....we are very excited about this trial" and "as our partner has said...there are multiple large companies interested (in CAR / cancer partnering) around the globe, both large biotech and large pharma companies are interested." XON Q2 call is coming up on August 11 - stay tuned, because Kirk always tends to throw a few morsels as to what's going on at Intrexon and Ziopharm during these calls...
On March 2nd, 2015 at Intrexon's 4Q, 2014 earnings conference call, Randal Kirk, in his closing remarks, said: "I think 2015 is really going to be a tremendously vindicating year for all of us and our shareholders…"

We believe that as always, Kirk will prove it with actions and transactions!
The way everything is shaping up, we too feel an almost palpable sense of excitement...and we are absolutely certain about one thing: These are very heady and exciting times for ZIOP shareholders!
DISCLAIMER: All postings made here are strictly for my personal record keeping and in no way, shape or form, am I even remotely suggesting others to follow my Buy and Sell moves. Trading options is definitely not for the faint of heart as one's portfolio can move up, or down, anywhere between 10%-30% during a single trading day. Feel free to follow my progress here, but PLEASE do not follow my moves. However, if, in spite of all my exhortations, should you decide to do so, be advised that you, and ONLY YOU will be responsible for any losses that you may suffer...In other words, the onus is strictly on you
Disclosure: I am/we are long CELG, XON, ZIOP.