Now that my ZIOP rocketship is on its way to the moon, I have a lot of time to kill...Instead of sitting around and getting bored, I might as well do something constructive... :)
To all those who are new to my blog, I offer you the follwoing tip...
Buy Intrexon (NYSE:XON)...Based on its PnF chart, XON is getting ready to explode...and I mean: E-X-P-L-O-D-E!!!
Current Price: $41.88...Inital target: $53 Time to target: 2 weeks (approx)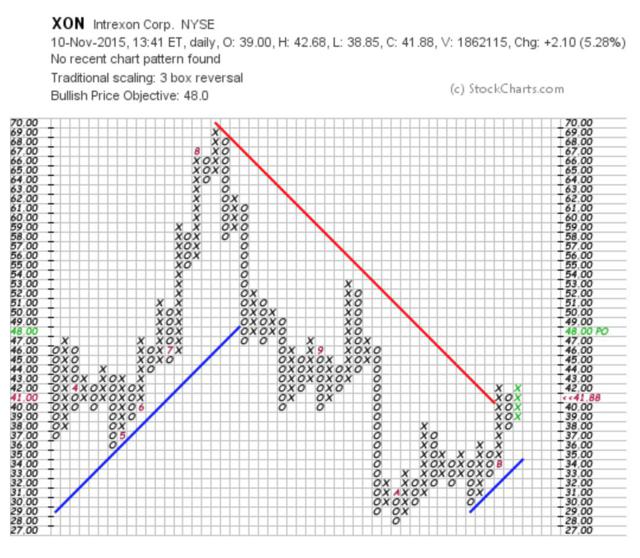 Good luck!
kp
DISCLAIMER: All postings made here are strictly for my personal record keeping and in no way, shape or form, am I even remotely suggesting others to follow my Buy and Sell moves. Trading options is definitely not for the faint of heart as one's portfolio can move up, or down, anywhere between 10%-30% during a single trading day. Feel free to follow my progress here, but PLEASE do not follow my moves. However, if, in spite of all my exhortations, should you decide to do so, be advised that you, and ONLY YOU will be responsible for any losses that you may suffer...In other words, the onus is strictly on you. On the other hand, if the move(s) result in a profit for you, I am open to discussing a split.
Disclosure: I am/we are long HALO, XON, ZIOP.