Yesterday the US stock market made a sharp pull-back, bringing XON and ZIOP with it...Technically, both of my stocks are in fine shape and I will try and explain it with the help of charts...But before I do that, I want to say a word about the overall market sentiment and the NASDAQ...
The NASDAQ has a gap from Friday, October 22nd, when it closed at 4920.05 and then the next trading day, it gapped up and the low set that day was 4999.536...The next 2 charts show that gap (note the black line in both the charts that shows that gap):
Yesterday, the NASDAQ's low was 5004.463 and the October 23rd low is just 5 points below @ 4,999.536...and that is the critical number...should the index violate the low set on October 23rd, then expect it to come down another 85 odd points to close that gap...Chances are pretty good that it will do so...should it, then expect both XON and ZIOP to come down in sympathy...
One of the indicators that I like to follow is the Fear and Greed indicator created by the folks at CNN and still in beta testing...Yesterday, the indicator was pointing towards Greed and today it has moved towards neutral @ 55 and I expect it to move even further left towards fear...should the NAZ go down to fill that gap, then I expect it to do so for sure...which actually is bullish...because the more the fear, the easier it is for the markets to go up...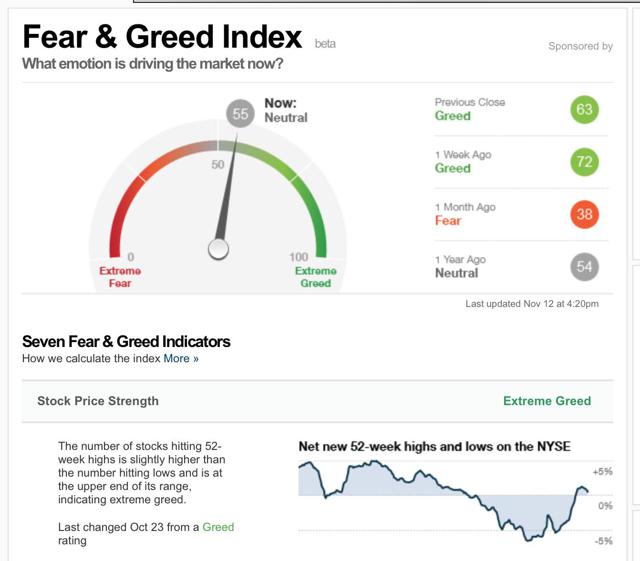 Yesterday, my ZIOP closed the day @$13.11...Should it print $13 it's PnF chart would make a 3 box reversal and switch into Os...Technically that would make its chart even more explosive...Needless to say that would be one heck of a buying opportunity...The stock Gods may be even more magnanimous and bring it down another box to $12.50...which would be an even hecker ;) buying opportunity and I will surely be taking full advantage of it...LOL!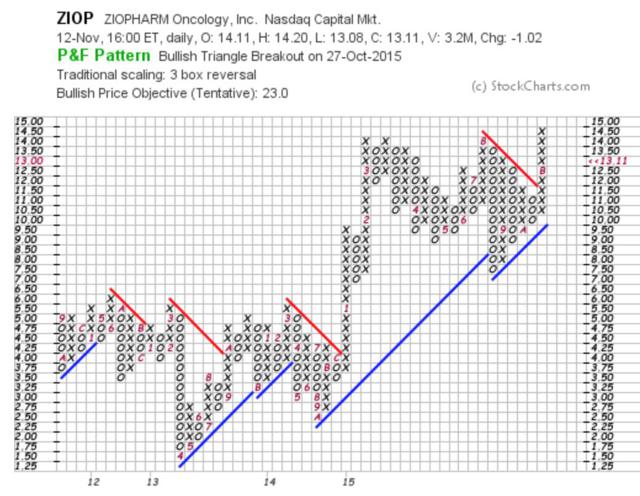 Yesterday, XON pulled back and not only made a 3-box reversal, it went down even further and made a 4-box reversal...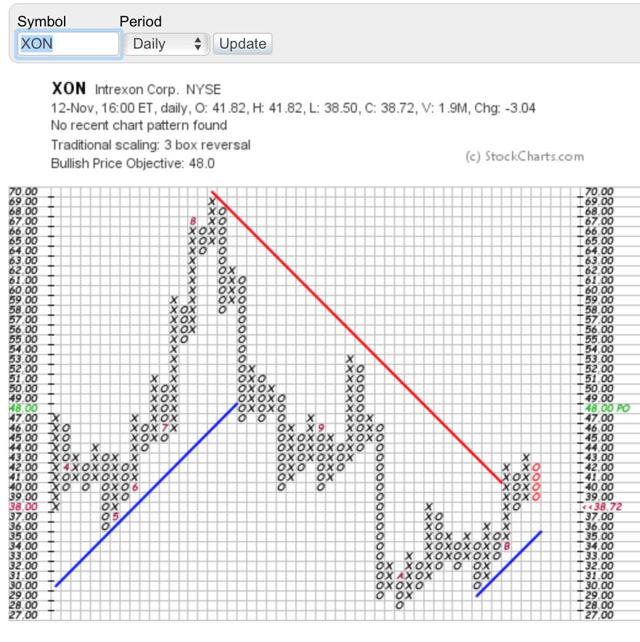 It could go down even further today and test support at $38...should it break support then that would be a little troubling...it will then go down to test its Bullish Support Line which currently sits at $36...I fully expect that line to hold...in case it does not, then I will have egg on my face as the XON tip will start to have a terrible stink...as long as XON's BSL holds, then I fully expect XON to rebound and rebound with a vengeance!
Should XON and ZIOP pullback to the price points indicated aove, they will not have violated their overall technical health...everything is still in place for them to make explosive moves up...and soon!
All pull-backs are buying opportunities, imho...
:)
Best~
karim
DISCLAIMER: All postings made here are strictly for my personal record keeping and in no way, shape or form, am I even remotely suggesting others to follow my Buy and Sell moves. Trading options is definitely not for the faint of heart as one's portfolio can move up, or down, anywhere between 10%-30% during a single trading day. Feel free to follow my progress here, but PLEASE do not follow my moves. However, if, in spite of all my exhortations, should you decide to do so, be advised that you, and ONLY YOU will be responsible for any losses that you may suffer...In other words, the onus is strictly on you. On the other hand, if the move(s) result in a profit for you, I am open to discussing a split. ;)
Disclosure: I am/we are long XON, ZIOP.