On October 26th when ZIOP was trading @ $10.61, I penned the post ZIOP: Breakout Imminent! and since then, ZIOP's stock price has appreciated 25%...Most folks will be thrilled if one of their stocks went up 25% in a month...but not me...I am anything but thrilled, and believe that a much bigger move is lurking in the shadows...I will try and explain my rationale...
In another recent post The Chuckle That Lifted The Veil, I highlighted ZIOPHARM's CEO, Dr. Laurence Cooper's presentation at the Wells Fargo Healthcare Conference...The "meat" of Dr. Cooper's presentation, imho, was Slide #4 shown below along with Dr. Cooper's explanation:
(click to enlarge)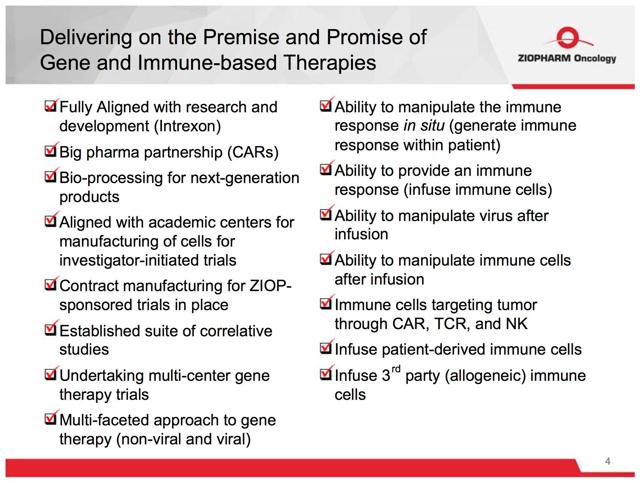 I will let Dr. Cooper's own words describe the slide:
"So I thought this was sort of a 'compare and contrast' slide because many of you are experts in this area so it is a way for you to look at our company with respect to other companies in this space so I took the opportunity to sort of go down a checklist and you can make the same checklist <chuckle> if you wish when you're comparing other stakeholders in this field."
*Note the reference to NK cells in the slide...
Now let's try and connect the proverbial "dots..."
DOT #1: Importance of NK Cells in the Fight against Cancer
Wikipedia has this to say about NK cells:
Over the past 2 decades (the cell line was established in 1992) researchers worldwide have used NK-92 cells to test their anti-cancer activity in mouse models. and also use it as a model to learn more about the biology of NK cells. NK-92 cells are a very close match with blood NK cells: they express on their surface the characteristic CD56 antigen and are negative for CD3 which is typical for T-lymphocytes. In addition they express a number of adhesion molecules such as ICAM and LFA that facilitates binding to infected and cancer cells. Blood NK cells, NK-92 recognize "invaders" or foreign cells only if those cells do not express self MHC molecules. This means if cancer cells maintain their MHC phenotype they may go unnoticed by NK cells but not of NK-92 cells. The reason for this difference in target cell recognition relates to the fact that NK-92 cells do not express killer cell immunoglobulin‑like receptors (KIR) that are negative regulators of NK cell activity through interaction with self-MHC.
NK-92 cells can be genetically engineered to recognize and kill human cancer cells. Chimeric Antigen Receptor <CAR>engineered T-lymphocytes are currently the buzz in Immuno-Oncology, having shown that infusion of those engineered cells can achieve remissions in some patients with acute and chronic leukemia. In contrast, NK cells (either from peripheral blood or cord blood) have not generated sufficient interest as CAR‑engineered cytotoxic effector cells, largely for two reasons: the extent of NK cell expansion can be dependent on the donor; secondly, transfection efficiency, even with lentiviral or retroviral vectors is only moderately efficient. NK-92 cells on the other hand, have predictable expansion kinetics and can be grown in bioreactors to billions of cells within a couple of weeks. They can easily be transfected either with viral supernatant or physical methods. Even mRNA can be shuttled into the cells with high efficiency. Since no integration of mRNA into the genome occurs, this transfection is less risky and the regulatory burden is equally reduced.
The cell line has been licensed to Conkwest.
DOT #2: NantKwest IPO
On July 28th, 2015, in the largest biotech IPO of the last 10 years, Dr. Patrick Soon-Shiong's NanktKwest started trading on the Nasdaq with an initial market-cap of $2.6 Billion.
Dr. Soon Shiong on NantKwest: "Our human bodies have evolved. These receptors on NK cells occurred 500 million years ago in the ocean and they evolved so that it would overcome viral infections in mammalian species." Once the NK cells lock onto their target, they call T cells into the micro-environment to destroy the target. But cancer cells developed receptors that "outsmarted" NK cells, creating receptors that left the NK cells dormant or "sleeping."
What distinguishes NantKwest, Soon-Shiong adds, is that the company discovered NK cell lines that can't be faked out by cancer cells.
"I saw this company (when it was named Conkwest) in 2006. We've been very patient in building this platform."
DOT #3: The Connection between NantKwest and ZIOPHARM via Intrexon
Curiously, on July 28th, as if in celebration of NanktWest's huge IPO day, Intrexon's stock shot up 11%!?! Hmmm..Upon digging NantKwest's IPO related SEC documents, it was revealed that:
"In February 2010, we entered into a 17-year agreement with Intrexon Corporation pursuant to which we granted to Intrexon a worldwide, sub-licensable license which may be exclusive with respect to certain indications designated by Intrexon, under certain patents relating to NK-92 cells to develop and commercialize modified NK-92 cells that express Intrexon's proprietary gene sequences for use as therapeutic and prophylactic agents in humans in specified therapeutic areas."
In the health sector, ZIOPHARM of course is Intrexon's research arm.
DOT #4: NOAH Protocol
On October 23, 2014, it was announced that the FDA had granted approval to the NOAH Protocol. "The NOAH Protocol will treat cancer directly at the site of the tumor and avoid harsh side effects of chemotherapy and radiation. Doctors will retrieve NK (natural killer) cells from the patient, which are part of the immune system, and strip them of their typical hunting abilities. Then, the NK cells are introduced to the patient's cancer cells and trained to fight the tumor, cell by cell. A new surgical technique, in which a port is implanted at the site of the cancer, delivers the newly trained NK cells to do their duty and kill the cancer."
Lead Investigator of NOAH Protocol: Dr. Laurence Cooper, CEO, ZIOPHARM
www.noahslightfoundation.org/the-noah-pr.../
NOTE: Watch the fascinating video showing NK cells kill Cancer cells in the above link.
DOT #5: American Society of Hematology Conference December 2015
Next week, ZIOP will be sharing data via a number of oral and poster presentations at the American Society of Hematology conference...A couple of abstracts from those presentations revolve around clinical trials using NK cells:
Phase 1 Trial of IL-21 Ex Vivo Expanded NK Cells Administration to Prevent Disease Relapse after Haploidentical Stem-Cell Transplantation for Myeloid Leukemias
And
Infusion of Ex Vivo Expanded Allogeneic Cord Blood-Derived Natural Killer Cells in Combination with Autologous Stem Cell Transplantation for Multiple Myeloma: Results Phase 1 Study
As per the abstract: "This is the first clinical study of CB-NK cells for MM"
DOT #6: CAR-T Cells Clinical Trials
At the recently concluded Intrexon Investor Day meeting, Dr. Cooper said: "We already have clinical data. These work stems from my work when I was at MD Anderson just a few short months ago in May of this year. Now we finished these clinical trials we will report on this officially at ASH in December of this year."
DOT #7: Crossing the Blood Brain Barrier
Last week ZIOPHARM presented preliminary Phase 1 results at the Society of Neuro-Oncology's Annual Scientific Meeting, titled "Intratumoral Regulated Expression of IL-12 as a Gene Therapy Approach to Treatment of Glioma." In the current, on-going Phase 1 study, five patients are available for initial assessment, two with recurrent grade III malignant glioma and three with grade IV. Results show IL-12 was detectable in peripheral blood along with downstream IFNg, indicating that veledimex crossed the blood brain barrier activating IL-12 expression from intra-tumorally administered Ad-RTS-hIL-12.
I don't believe that the market has adequately priced in this important, medical advancement in ZIOP's stock.
DOT #8: RheoSwitch Proof of Concept
At the same SNO presentation, the company proved the ability of its RheoSwitch technology to turn on and off and precisely modulate, gene expression in order to improve therapeutic index.
Intrexon's propreitary RheoSwitch technology's affords ZIOPHARM a significant competitive edge over JUNO, KITE, NantKwest or Bellicum...And again I don't believe the market has assigned an adequate value for this very important and unique technology into ZIOPHARM's current stock price.
Conclusion from Connecting the 8 Dots in this Post:
a) NK Cells: Today, before the company has even announced any clinical trial data using Natural Killer cells, NantKwest carries a market-cap of $1.3 Billion ... At next week's ASH conference, by presenting Phase 1 data from its** clinical trial using NK cells to fight cancer, ZIOP will leapfrog NantKwest...Here is a quote from one of the abstracts: "This is the first clinical study of CB-NK cells for MM (Multiple Myeloma)." Clearly the market has yet to assign a value to ZIOP's NK program...
Next week after ZIOP presents NK cel data at ASH, the market will have no choice but to factor in additional value to ZIOP's currently meager market-cap of $1.6 Billion.
b) CAR-T Cells: As we know, two of ZIOP's competitors, JUNO and KITE have shown very impressive clinical results in CD-19 targeted CAR-T cell therapy on acute lymphoblastic leukemia patients...and both of these companies enjoy market-caps substantially higher than ZIOP's. KITE: $3.8 Billion, JUNO: $5.6 Billion, ZIOP: $1.6 Billion...Next week ZIOP will, for the first time, present its CD-19 targeted CAR-T cell therapy data...from what Dr. Cooper revealed at Intrexon's Investor Day, ZIOP's** results should be equally as impressive.
Next week after ZIOP presents CAR-T cell data at ASH, the market will have no choice but to factor in additional value to ZIOP's currently meager market-cap of $1.6 Billion.
c) Back in September when Dr. Cooper chuckled while presenting his so-called "compare and contrast" slide at the Wells Fargo Healthcare Conference, he was telegraphing to the investment community that ZIOP was conducting groundbreaking research in the field of immuno-oncology on a number of fronts and therefore was far ahead of its competitors. By presenting CAR-T cell and NK cell data at next week's ASH conference, ZIOP will have a leg up over its other immuno-oncology competitors, namely JUNO, KITE and NantKwest because none of these companies will have published data from clinical programs using both CAR-T cells and NK cells.
Next week after ZIOP presents CAR-T and NK cel data at ASH, the market will have no choice but to factor in additional value to ZIOP's currently meager market-cap of $1.6 Billion.
d) Immediately after ZIOP's ASH presentation, the company will be presenting at the San Antonio Breast Cancer Symposium its Phase 1b/2 data from its IL-12 Gene Therapy in Locally Advanced / Metastic Breast Cancer clinical trial currently being conducted at Memorial Sloan Kettering Cancer Center. Being that it's an open-label trial, Dr. Cooper has hinted that the data is going to be positive...
Ten days from today, after ZIOP presents data at San Antonio Breast Cancer Symposium, the market will have no choice but to factor in additional value to ZIOP's currently meager market-cap of $1.6 Billion.
e) Add into the mix the successful Crossing of the Blood Brain Barrier and the RheoSwitch's on/off capability as well as its ability to precisely modulate gene expression to control toxicity, it seems quite clear that the market will have no choice but to factor in additional value to ZIOP's currently meager market-cap of $1.6 Billion.
** ZIOP's clinical results stem from its takeover of MD Anderson's clinical trial program(s) thanks to their unprecedented January 2015 partnership agreement.
Considering that ZIOP has proven a number of technologies and has additional bullish catalysts in the offing, I find it extremely perplexing that it is one of the most shorted stocks on the NASDAQ...Last week, Goldman Sachs had ZIOPHARM listed on its 50 most shorted stocks list...
My only question for the short sellers: Why?
I will end my post the same way I started it, by quoting the doctor widely credited with solving the AIDS epidemic and subsequently being appointed by President Ronald Reagan as Director of the National Cancer Institute, the internationally renowned and respected, Dr. Samuel Broder, Senior Vice President of Intrexon's Health Sector:
You ain't Seen Nothin' Yet!
kp
DISCLAIMER: All postings made here are strictly for my personal record keeping and in no way, shape or form, am I even remotely suggesting others to follow my Buy and Sell moves. Trading options is definitely not for the faint of heart as one's portfolio can move up, or down, anywhere between 10%-30% during a single trading day. Feel free to follow my progress here, but PLEASE do not follow my moves. However, if, in spite of all my exhortations, should you decide to do so, be advised that you, and ONLY YOU will be responsible for any losses that you may suffer...In other words, the onus is strictly on you. On the other hand, if the move(s) result in a profit for you, I am open to discussing a split. ;)
Disclosure: I am/we are long XON, ZIOP.