On Monday, July 20th, 2015, the IBB Index, which is the most followed proxy for the Biotech sector, hit an intraday high of 400.79 and 204 days later on Tuesday, Feb 9th, 2016, it notched an intraday low of 240.03, a 40% correction in less thn 7 months!
The drop was anything but gradual...
Two weeks after scoring its all-time high, the index dropped below its 50 day moving average (DMA) line support and then after another 2 weeks, it dropped below its 200 DMA line...The index made a couple of feeble attempts to regain those important support levels but failed to hold, and pretty much had been in a free-fall until it hit the intraday low of 240...
Since printing that low, the index has basically been in a consolidation mode, with the price always being significantly below its 50 DMA, which incidentally, is now its first major resistance...Only after the price of the index closes above this important moving average line for 2 consecutive days, will most market technicians feel safe enough to bet on the long side...
Today, March 30h, 2016, about 8 months after scoring its intraday high and after more than 2 months of relatively tight consolidation phase, the index, imho, gave a clear technical BUY signal...The IBB index, intraday, pierced through its 50 DMA from below, before pulling back to close down for the day...Also in the process, on its PnF chart, the index switched back into Xs and made a double-top @ 260...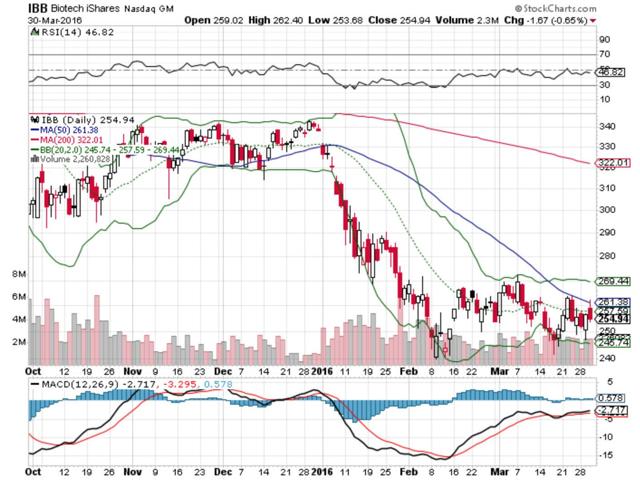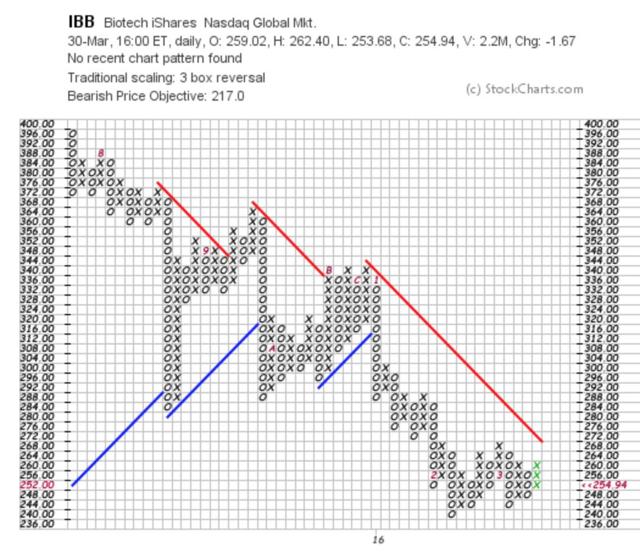 I therefore strongly believe that the correction in the Biotech sector is technically now over and a new uptrend has begun...A close above 262 on its candlestick chart and a print of 264 on IBB's PnF chart, which will be the break of the double-top, will further confirm my hypothesis...
I expect the market to most probably flash both the confirmatory signals in the next 2 days...
But certainly by next week...
Giddy Up!
karim
DISCLAIMER: All postings made here are strictly for my personal record keeping and in no way, shape or form, am I even remotely suggesting others to follow my Buy and Sell moves. Trading options is definitely not for the faint of heart as one's portfolio can move up, or down, anywhere between 10%-30% during a single trading day. Feel free to follow my progress here, but PLEASE do not follow my moves. However, if, in spite of all my exhortations, should you decide to do so, be advised that you, and ONLY YOU will be responsible for any losses that you may suffer...In other words, the onus is strictly on you. On the other hand, if the move(s) result in a profit for you, I am open to discussing a split. ;)
Disclosure: I am/we are long IBB, ADXS, PETX, XON, ZIOP.