A couple of weeks ago I indicated my plans to share my 10 stock picks for 2017 here on Options2Wealth...In my December 25th post, I shared a detailed analysis on my first pick, Asterias Biotherapeutics (NYSE: AST)...
Today, in the interest of brevity, I will quickly share the names of 5 additional picks; a brief synopsis of the rationale behind each and the stocks' PnF and its weekly Candlestick chart...and with my previous in-depth post on AST, I've now shared 6 of the 10 companies...and hopefully, over the next few weeks, and whenever time permits, I'll try and share the remaining 4 and more detailed analysis on all my picks for 2017...
So, fwiw, my first 6 picks for 2017, in alphabetical order, including my first, Asterias Biotherapeutics (NYSEMKT:AST):
1) Amyris (AMRS) ; Price on 1/6/2017: $0.808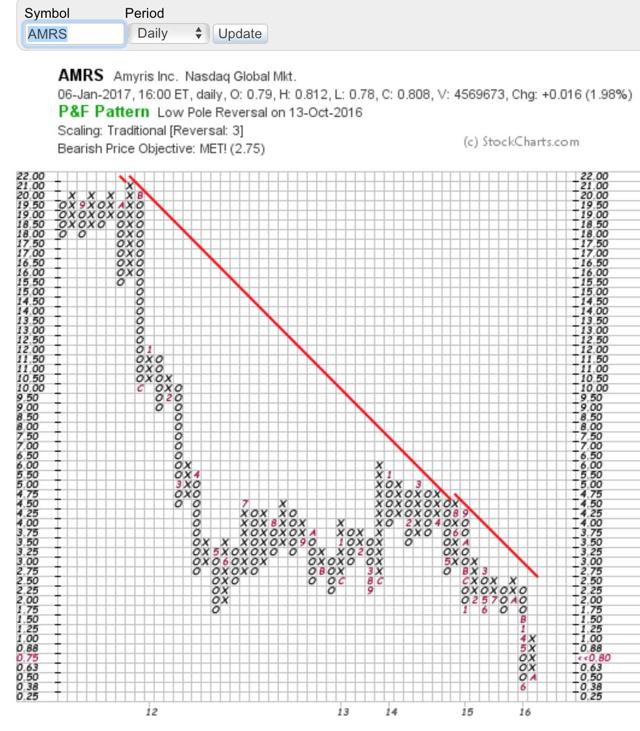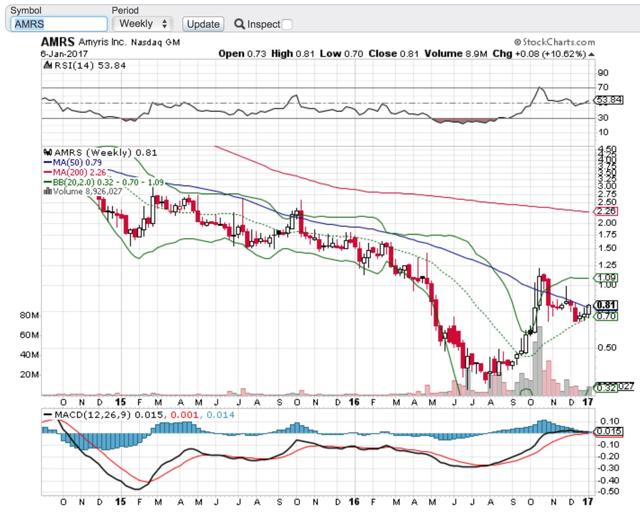 Quick Note: Been following Amyris now for about 3 years...Held a lot of promise but did not deliver...Today after a pivot on their strategy, I feel very confident in the company's current business focus...The stock's candlestick chart acurately reflects the company's strong and speedily developing fundamentals...unfortunately its PnF chart has not caught up, yet, with its candlestick partner...all imho... :)
2) Asterias Biotherpeutics ; Price on 1/6/2017: $4.70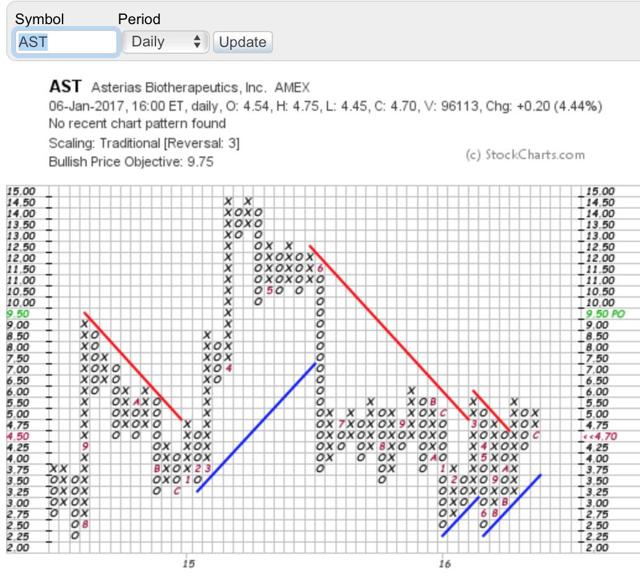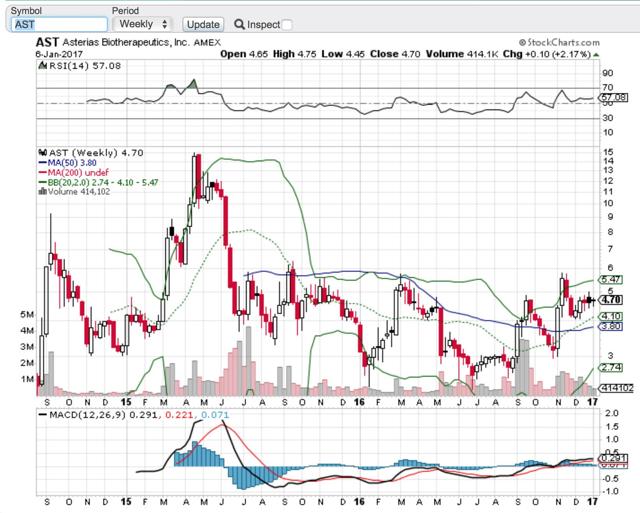 Quick Note: Have already done an indepth on AST in my December 25th blog post...The above 2 charts are its most current.
3) Aquinox Pharmceuticals (AQXP) ; Price on 1/6/2017: $17.75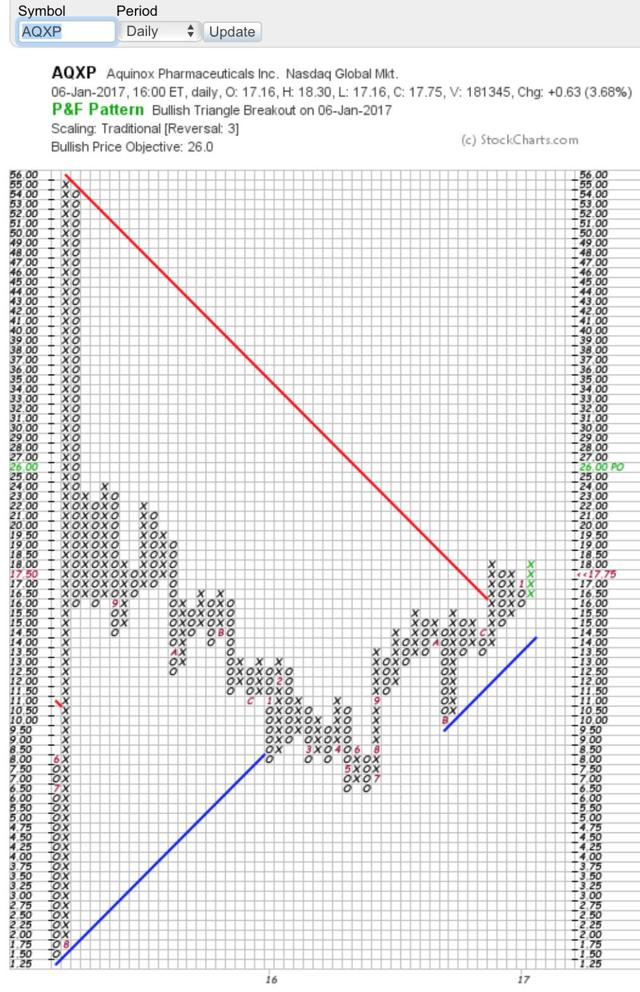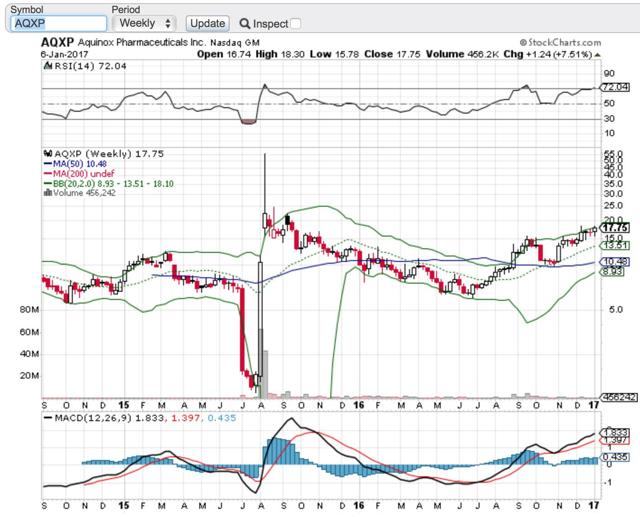 Quick Note: Beautiful charts...famed biotech investors, the Baker Brothers recently increased their position in Aquinox to almost 45%...need I say more... :)
4) Biotime, Inc. (BTX) ; Price on 1/6/2017: $3.72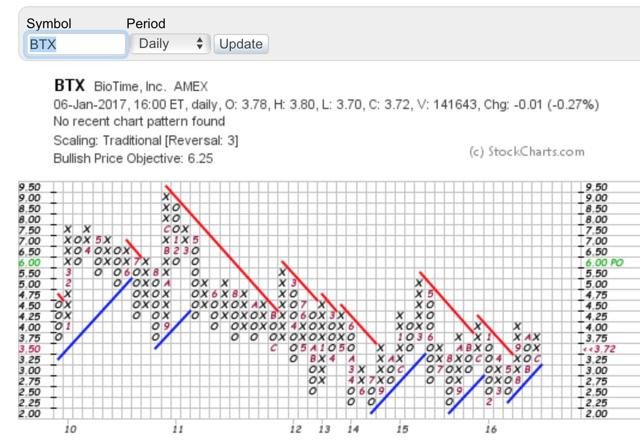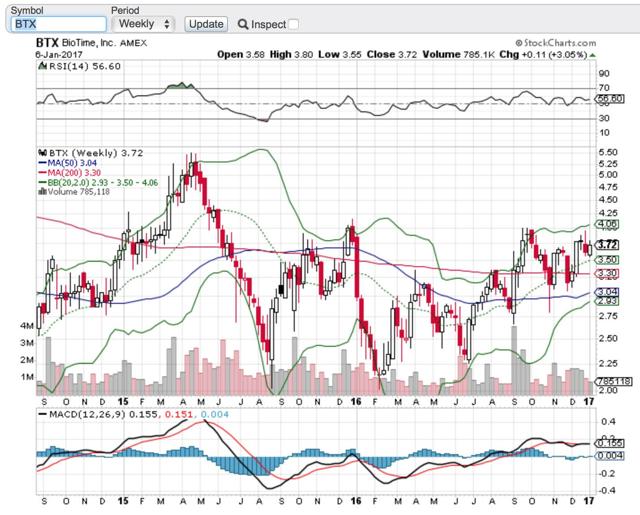 Quick Note: Good looking charts...internationally renowned expert in regenerative medicine, Dr. Michael West is the CEO...additionally, the company is the largest owner (46%+) of it spinoff, Asterias ...
5) Cara Therapeutics (CARA) ; Price on 1/6/2017: $10.28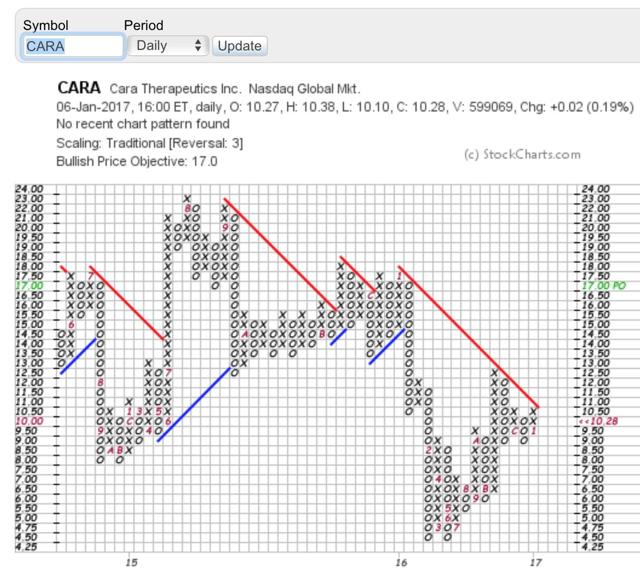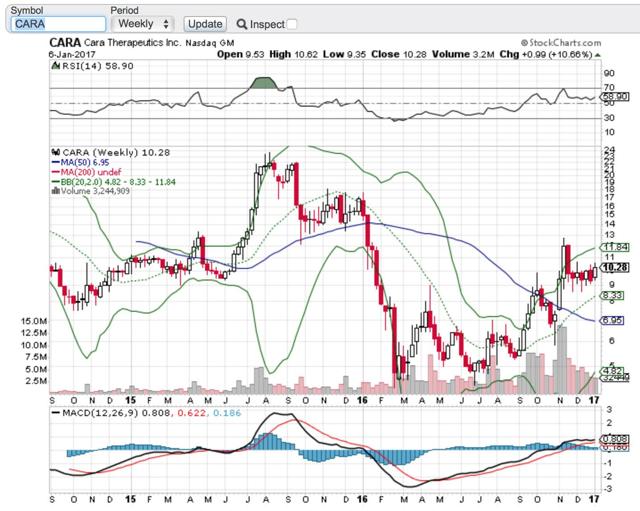 Quick Note: Good looking charts...stock looks ready to pierce its Bearish Resistance Line (BRL)...a play in the hot Marijuana sector...
Icahn Enterprises LP (NASDAQ:IEP) ; Price on 1/6/2017: $62.22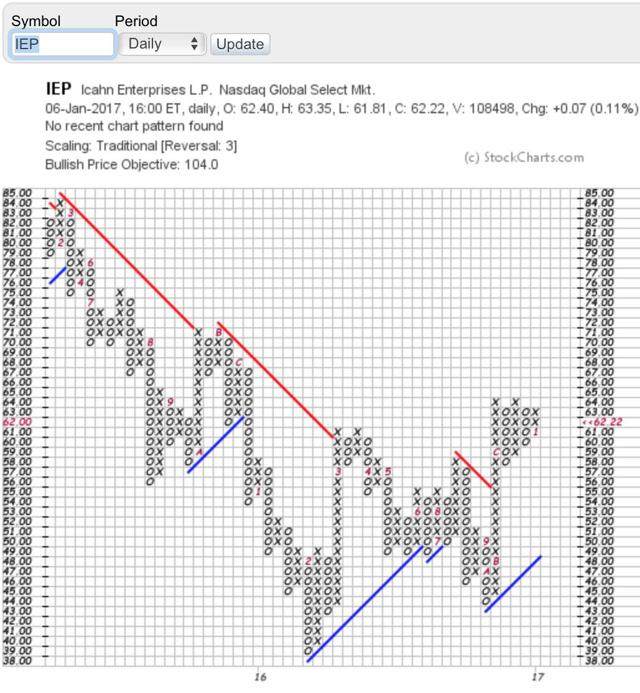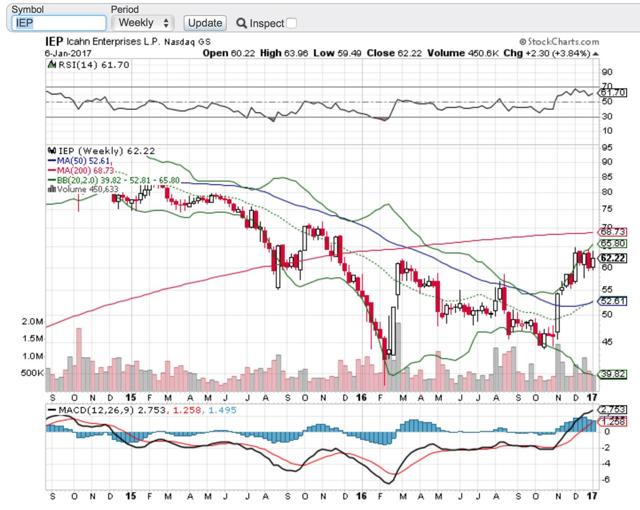 Quick Note: Picture perfect triangle flag pattern on its PnF chart...stock above its Bearish Resistance Line (BRL)...the closest thing to a pure play on the forthcoming Donald Trump presidency...Legendery billionaire investor Carl Icahn owns more than 90% of the outstanding...
6) Energous Corp. (WATT) (Speculative play short-term) ; Price on 1/6/2017: $17.42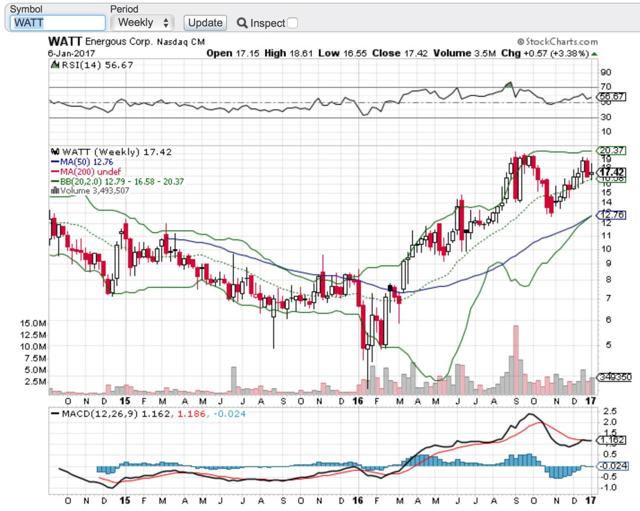 Quick Note: A speculative play short term but medium to long-term, it is one of my picks for 2017...Going into the New Year chart was looking strong but its latest weekly Candlestick chart is telegraphing some weakness..I believe that Apple will use the company's wireless charging technology in its upcoming iPhone 8 but short-term there won't be any Apple related announcement at this week's CES show in Las Vegas and stock could pull-back sharply due to the accompanying disappointment...would be a good buying opportunity...will need consolidation before resuming the uptrend that started last year...
Now let's see how my picks perform...
Best~
karim
DISCLAIMER: All postings made here are strictly for my personal record keeping and in no way, shape or form, am I even remotely suggesting others to follow my Buy and Sell moves. Trading options is definitely not for the faint of heart as one's portfolio can move up, or down, anywhere between 10%-50%, or more, during a single trading day. So tread with extreme caution...
Disclosure: I am/we are long AMRX, AQXP, AST, BTX, CARA, IEP, WATT.