The post published below is a guest post by my friend, Rob Cos, a perennial ZIOP bull...Rob, is a very successful biotech investor and a big time believer in ZIOP and XON technology...Being that I too am bullish on the science that underpins XON and ZIOP technologies, Rob requested that I publish his research on my blog to ensure maximum, widespread dissemination...so here it goes:
Five Things We Learned From ZIOPHARM CEO's JP Morgan Presentation & the National Cancer Institute's CRDA
Last week, former MD Anderson immunotherapy expert now Ziopharm (NASDAQ:ZIOP) CEO Dr Laurence Cooper stepped to the podium at the JP Morgan Healthcare conference and delivered one of the best company healthcare presentations I have ever heard. You can listen to the replay and judge for yourself at these links:
Replay:
jpmorgan.metameetings.com/confbook/healt...
Slides:
www.sec.gov/Archives/edgar/data/1107421/...
During the presentation, the biotech indices were nicely green and the stock was rallying and then right as the brilliance of Dr Cooper was winding down, President-Elect Trump made his now infamous "Pharma is Getting Away with Murder" comment and the IBB and XBI reversed about 5%. ZIOP gave up its gains. Lost in the Trump comments and sector declines were some very important disclosures coming from a very upbeat and confident Ziopharm CEO. Here are five important things we learned.
1 - After publishing twice on Ziopharm TCR and Neoantigen Targeting science, the National Cancer Institute's <NCI> Dr. Steven Rosenberg contacted Ziopharm's CEO Dr Cooper about utilizing ZIOP's Sleeping Beauty System to Generate T Cells Targeting Neoantigens which lead to the Cooperative Research and Development Agreement (CRDA)
On January 10th, ZIOP issued the following Press Release announcing the CRDA with NCI:
http://ir.ziopharm.com/releasedetail.cfm?ReleaseID=1007305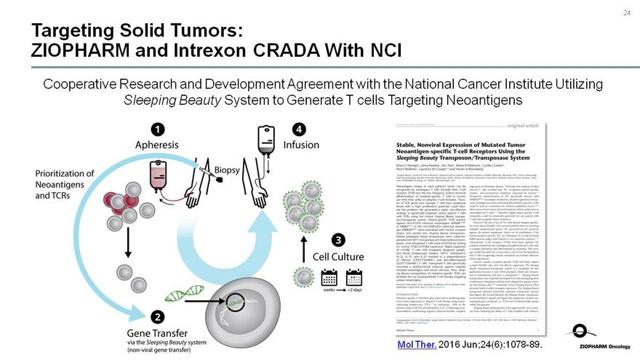 Now CRDA's are not all that uncommon and since there is no upfront cash they usually do not get a stock price reaction, but when you connect the dots on this one it seems to me to be much more interesting and important than maybe investors initially thought. I have been talking for months about two very important Scientific Publications by Dr Steven Rosenberg - who many consider to be the "Godfather of Immunotherapy" and also was one of the stars of the PBS series "Cancer, the Emperor of all Maladies". Dr. Rosenberg is an extremely busy man and publishes maybe 10 scientific publications as lead author or co-author a yr, and yet two of his publications recently (one co-authored with ZIOP CEO Dr Cooper) related to Ziopharm science as noted below:
Molecular Therapy: (Dr Cooper and Dr Rosenberg) Stable, Nonviral Expression of Mutated Tumor Neoantigen-specific T-cell Receptors Using the Sleeping Beauty Transposon/Transposase System
https://www.ncbi.nlm.nih.gov/pubmed/26945006
Nature Medicine (Dr Steven Rosenberg) - Prospects for gene-engineered T cell immunotheray for solid cancers
http://www.investorvillage.com/smbd.asp?mb=16353&mn=40851&pt=msg&mid=15627786
Now understand solid tumors are about 80% of the cancers and Dr Rosenberg has been trying to crack the solid tumor cancer code for decades and suddenly publishes not one but two Scientific Publications on Sleeping Beauty TCR science and Neoantigen Targeting of Solid Tumors. Then as one analyst reported this CRDA "resulted from the NCI approaching ZIOP to expand and formalize their existing activities using Sleeping Beauty <SB> to transduce T cells with patient-specific neoantigens"
Now further connecting the dots, Dr Rosenberg, Dr Cooper and ZIOP (and NCI CRDA) partner Intrexon's Chairman RJ Kirk related quotes are included below:
"The Sleeping Beauty transposon-transposase system represents a unique non-viral system for introducing encoding T-cell receptors and chimeric antigen receptors into lymphocytes that can be of great value in the development of personalized immunotherapies for patients with cancer"
Dr Steven A. Rosenberg MD Ph.D.
National Cancer Institute
'You are welcome to talk to other companies and ask them about how they're going to do gene transfer for the purpose of targeting neoantigens. We have the keys to the kingdom for this biology"
Dr Laurence Cooper
Ziopharm CEO
So while we've seen several companies plow ahead running basically with a very high set of costs and therapies that really have to be administered in, you know, very top-flight research institutes in order to manage the side effects that are associated with the on-target toxicity and so forth, we just didn't consider that the motif as practiced by the first-generation of companies in this field is really workable, or to kind of put it in drug development parlance, is it a drug? Our conclusion is no, it's not.
So we weren't interested in joining that race because it's -- we think it's a race that ultimately leads to nowhere, except for the fact that obviously three or four companies are going to have a successful CD19 CAR T. But beyond that, I'm not really sure what they're racing for or toward. What we realized was that there were significant technical hurdles that needed to be overcome. We focused on those hurdles. We highlighted how some of our technology could help us get over those hurdles. And based on all that, I will say we're very, very pleased….in summary, let me just say, please remember that our strategy here is not to race to the clinic as fast as we can go with a me-too CD-19 CAR T or TCR. Our strategy here is to leapfrog the others technically. We think we've shown a lot of really encouraging data that lead us to believe that we'll be able to do that.
Mr Randall Kirk
Intrexon CEO
Those are some powerful statements. So, the question, is what else have the trio above seen, but the investors have not, that has them so excited about ZIOP TCR and Solid Tumor neoantigen targeting solution. And again, unlike when KITE and others go to the NCI to in-license things invented at the NCI, why has the NCI gone to Ziopharm and Intrexon twice now to bring these companies' technologies into the NCI - the latest CRDA is to help with their solid tumor solution.
Let it sink in, MANY companies go to the NCI to get NCI's assistance and in-license NCI technology or discoveries into their companies. But NCI here is coming to Dr Cooper and Ziopharm and Intrexon to expand their use of those companies' solid tumor neoantigen targeting technology at the National Cancer Institute.
So now Ziopharm has key partners in MD Anderson - the largest cancer clinic in the world and The National Cancer Institute - perhaps the most important cancer research organization in the world assisting them with their advanced immunotherapy trials.
There is much more to the story above, but in the interest in getting to some of the other things we learned about Ziopharm at JPM, I will simply provide this link to my more detailed discussion of the above with additional "connecting the dots" exercise:
http://www.investorvillage.com/smbd.asp?mb=16353&mn=70427&pt=msg&mid=16766500
2 - The FDA granted Ziopharm an "End-of-Phase 2" meeting on ZIOP's Phase 1 GBM trial.
Now when Dr Cooper presented the above with understandable excitement, we got the immediate expected tweet from our not to be named twitter critic that the "$ZIOP CEO hypes ordinary FDA mtg as if it's big deal" and that "such meetings are routine". The problem is the author of those very inaccurate comments was not listening closely enough and clearly had not done any real due diligence before opining instantaneously. You see an "End-of-Phase 2" meeting on a Phase 1 trial is indeed a VERY BIG DEAL.
You see Ziopharm 's GBM/Glioma trial is a PHASE 1 trial whose Primary Endpoints were not even efficacy but "Safety and tolerability". But what Ziopharm discovered during the trial was not only acceptable safety and tolerability but 12.7 months Interim Median Overall Survival (NYSE:MOS) in the 20 mg dose that they have selected to be used in a pivotal trial in 2017. This MOS is better than the expected 6 to 8 months in relative historical trials. (see slides below). An excerpt from Cancer Journal reminds us:
"Overall survival (OS) is the gold standard primary end point to evaluate the outcome of any drug, biologic, intervention, or procedure that is assessed in oncologic clinical trials. OS is universally recognized as being unambiguous, unbiased, with a defined end point of paramount clinical relevance, and positive results provide confirmatory evidence that a given treatment extends the life of a patient."
So, the meeting with the FDA is "imminent" and as shown on the slide below the purpose is "to determine design of pivotal trial to be initiated in 2017" (this yr). So, while the twitter trolls can say what they want, what the FDA appears to be saying is - we will consider your Phase 1 data in an "end of Phase 2" meeting - which could lead to a pivotal registrational trial which if successful could lead to approval much sooner than originally expected.
In addition, the company announced they will advance to the clinic in 2017 an IL-12 in combination with a checkpoint inhibitor (like Merck's Keytruda) in recurrent GBM and a Pediatric trial in brain tumors.
See related slides below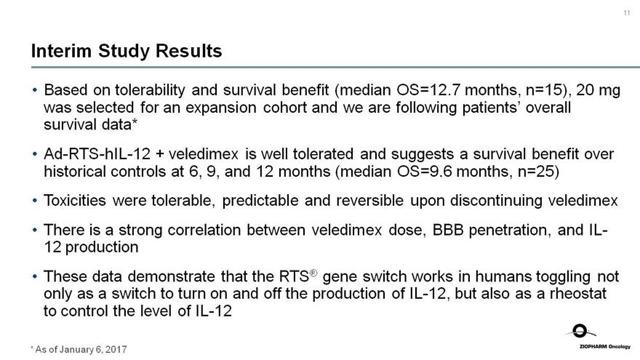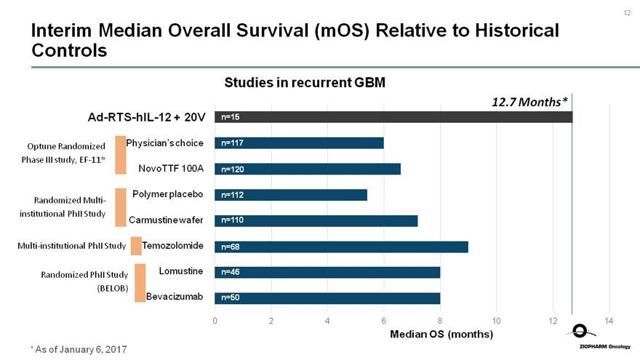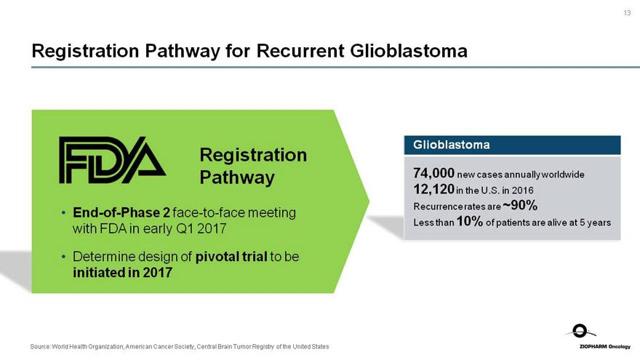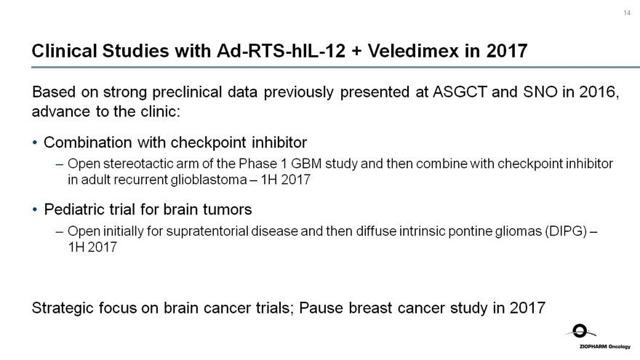 3 - The Ziopharm Glioma study has again shown that the RheoSwitch "works terrifically and can rapidly reverse all related side effects", can now be used in TCR trials with IL-15 control and Ziopharm discloses it has a new Her1t kill switch This Glioma study also has again shown the company's RheoSwitch to be effective: "all related side effects were rapidly reversed upon cessation of (the oral ligand) veledimex". The company also said they are able to turn back on the gene therapy by restarting veledimex. (unlike competitor "kill" or "suicide" switches where gene therapy is terminated permanently). Dr. Cooper noted "This switch works and it works terrifically - on, off, and then back on again --- grade up and down" In the "Cost and Control" section of the presentation, Ziopharm also disclosed for the first time the existence of a HER1t kill switch activated by cetuximab for the CD33 program and discussed in breakout sessions that Intrexon and Ziopharm have dozens of internally developed switches in their pipeline. Best just to use Dr. Cooper's brilliant explanation (under slide) here: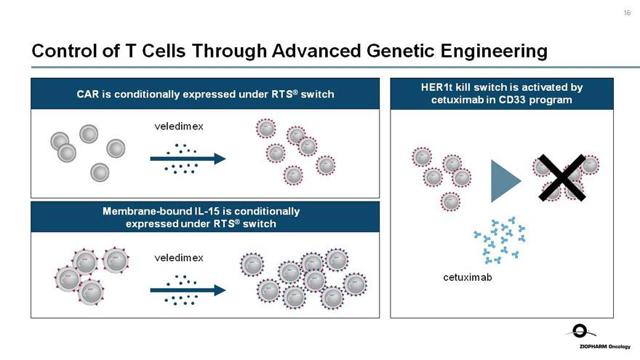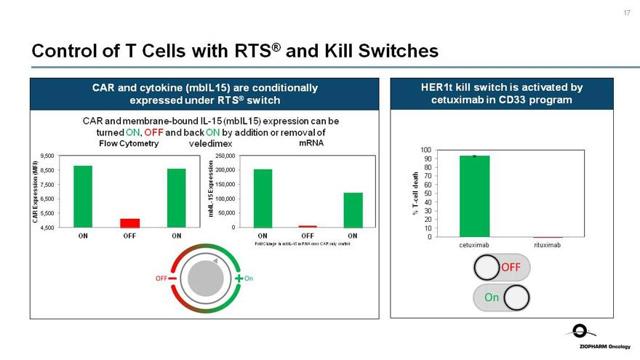 Dr Cooper: "Let's pick up on our theme of Cost and Control, we have developed some significant technologies, really advanced genetic engineering which we can turn on and off and up and down genes and T cells and we have done this in two different settings - one in the signaling molecule called CAR and the other setting is in IL-15. So, this has very useful properties. For instance, if a patient has a cytokine storm, we can turn on and off the CAR expression….to dial down the cytokine inflammatory events. If the patient's T Cells are "running away" and proliferating too fast, we can turn off the IL-15 and then turn it back on again. If the patient enters into a Serious Event and we need to get rid of the T cell, together with our partners at Intrexon we have developed a kill switch - using a tag and an antibody shown on the right….it's being advanced to the clinic. And it's done with a clinically validated system, the RheoSwitch system. IL-15 same system coming to the T cell clinic so we can use Veledimex - a clinically appealing drug - so we can turn on and off the expression. Similarly, we have the ability to kill T Cells should we wish.
4 - Dr Cooper is working hard on Point of Care Rapid Production of T Cells from 28 days down to current 14 days to "in 2017 less than 2 days then no days" No ex-vivo propagation. Enhances efficacy and reduces cost - a "game changer"!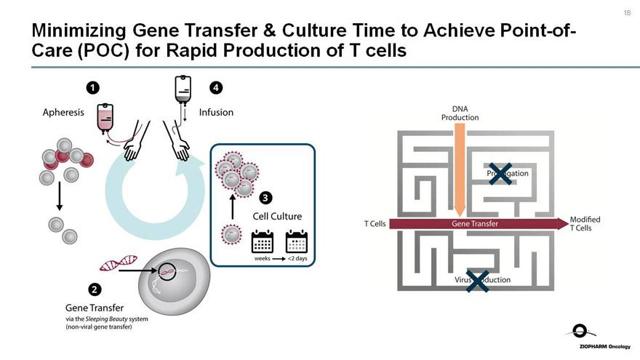 Dr Cooper "These Technologies have enormous importance not only for their individual value. But when we put them in our manufacturing process, we can really transform the field. Because we're now taking on the challenge of getting rid and eliminating the need to propagate T Cells outside the body. To do this we call this point of care or POC - schematized on the left-hand side where patients have a blood draw …we electroplate - to put the Sleeping Beauty into the T cell and then we immediately infuse those T Cells. So, this will be a "game changer" - No longer like wandering around a maze. We now know how to put the two pieces together - Sleeping Beauty System with the IL-15 and electroplate followed by infusing the T cells"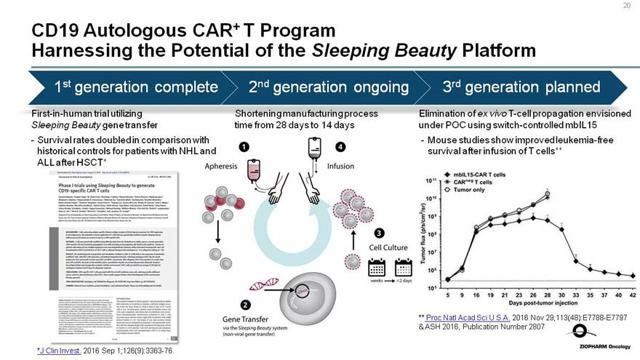 Dr Cooper: "So, let's tunnel into that - I have spent a lot of time shortening the manufacturing process at MD Anderson. So, we have started on the left-hand side and we published these human data where we have shown that a 28-day manufacturing process doubles the survival in patients with NHL or ALL, published in the literature you can pull it…We have now shortened the manufacturing time to 14 days - this is where we stand right now and we are about to start in 2017 to go to less than two days and eventually no days. And that's represented on the right-hand side…. what we can share with you now is if we immediately infuse the T cells we can get rid of mouse tumors. Again, no ex-vivo propagation may be needed".
5 - At start of 2nd generation Sleeping Beauty human trials, this rapid T cell infusion has resulted in a sustained complete remission in this ALL patient, who came to trial at point of death failing all known therapies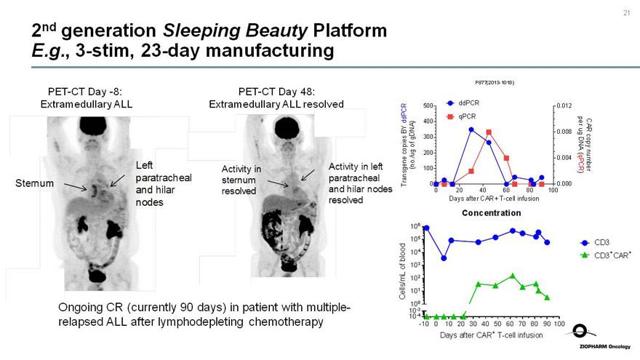 Dr Cooper: "As we have moved our technology along, as we have shortened the manufacturing down from 28 days to 14 days, we've had the opportunity to look at see how we are doing and essentially examine human patients and here for instance is a patient whose midway through this process - so in our analysis they are going from 28 days to 23 days, we are at 14 days now but the data are too early, so I'll just show you the 23 days. Here's a patient with multiple relapsed ALL, who has failed all known therapies, came to us in extremis (point of death) we infused our car modified T cells, in this truncated manufacturing process, and the patient has a Complete Remission (currently 90 days) and that's now obvious to you as you can see the PET signal - in other words the tumor signal…that was in this person's chest has now gone away - as a direct result of giving these CAR modified T Cells, and this is a SUSTAINED REMISSION - this patient is still in remission and this patient would not have made it to Christmas - and here they are.
Summary : Ziopharm has had a roller coaster ride the past two years in a difficult biotech market. But its fundamentals and management, the addition of Pharma star Geno Germano as President of partner Intrexon, and the fact that they are currently working on trials with partners' MD Anderson (the largest cancer clinic in the world) and the National Cancer Institute (with Dr Steven Rosenberg coming to ZIOP for their Sleeping Beauty Neoantigen Targeting science to help conquer solid tumors) has me more excited than ever about its near term and long term prospects. I believe the NCI CRDA, Dr Rosenberg's two ZIOP related publications and the new disclosures during Dr Cooper's JP Morgan presentation last week certainly are infinitely more important than the stock price (held down by a ridiculous short interest and a biotech nuclear winter followed by recovery and then President-Elect Trump's comments pullbacks) indicates. With 12 Big Pharma and Biotech companies needing an immunotherapy platform, and ZIOP one of the few unencumbered platforms, I expect 2017 to be a very good year. When you partner with Ziopharm, you get Dr Cooper's brilliance, Intrexon switches and other DNA science, MD Anderson's trial expertise and the NCI's Dr Steven Rosenberg using ZIOP technology to try to conquer solid tumors with "The Keys To The Kingdom" Sleeping Beauty Neoantigen Targeting that clearly NCI's Rosenberg wanted in house.
Disclosure: I am/we are long XON, ZIOP.